Tuesday, May 06, 2003
WILLOW ON LEATHER

Ah, English summers. Well, we seem to be having summer in spring. So, why not trot along to the Oval for some cricket?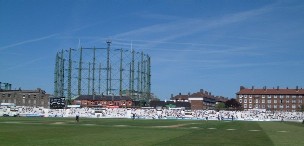 Despite a spirited fightback by Warwickshire, including a century by Nick Knight, Surrey triumphed by 25 runs. Fifties by ex-England players Ramprakash and Thorpe helped Surrey knock out 281-8 in their 45 overs. A hostile opening spell by Martin Bicknell (2 for 30) and 4-45 from Alex Tudor (who then limped off in true English fast bowler style) pegged back the visitors. The tailend made it a bit closer, but were always up against a high run rate. Warwickshire finished 265 all out.

Over 500 runs in a day. A fabulous feast of a picnic for me and my wife. Sun. Excellent stuff! Only complaint - the pisspore beer.