Tuesday, June 10, 2003
CONFERENCE CALL

Talking today to one of my friends from way back, we were on the subject of Exeter City FC as usual. Poor lad has support his local side man and boy. In case you missed it, the Grecians got relegated out of Division 3 into the Conference. The club, which "boasts" Uri Geller as a director (and Michael Jackson, yes that Michael Jackson, a vice-president), is in disarray. The supporters' trust has taken over day to day running of affairs. Relegation, despite a £100k parachute payment, is a big blow financially and they are close to the brink.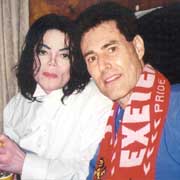 News this week is that Steve Perryman, long time Spurs captain and most recently a coach in Japan, has agreed to step in as Football Director.

"Perryman will work unpaid for the Conference club" - remarkable! - "for two days a week" - that's 48 hours a week - "as well as on matchdays" - handy.

See you at the away games - Farnborough, Aldershot and Dagenham & Redbridge.