Wednesday, August 18, 2004
MEMORY LANE

Here's a couple of favourite self-portraits whilst living the good life in the U.S. of A.




That's me against the razor like peaks of the Grand Tetons (or big tits) in Wyoming. This was my first holiday as a newly single person back in 1998. I'd taken a few (long) weekend drives – up to the Baseball Hall of Fame in Cooperstown and down to the Great Smokies. But, this marked the first extended stay on my own.

There's great freedom in travelling on your own, but on long drives you can get a bit lonely, even stir crazy. It was a bit like that driving from Salt Lake City to Yellowstone. I remember stopping off in Idaho Falls just looking for someone to talk to settling for an ice cream and a wander around town.

Yellowstone was also my first experience of camping for nearly twenty years. The tent pegs that easily went into the lawn back home in a trial run bent in the first campsite in the park. On the second day it rained. If you've camped, you'll know that once you get wet, it's pretty hard to dry out.

Jenny Lake campsite in the Grand Tetons, about a week and a deluge later, was where I finally dried out. It's also where I started a twenty mile round trip hike up into the mountains. I was complete with bear bells and lunch. There were bears around as every hiker I met told me, but I never saw them. Perhaps the bells helped or maybe my lunch put them off.

Anyway, I look a happy hiker.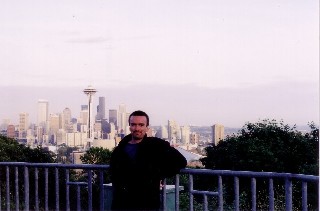 A year later it was off to Alaska. Having originally planned to drive up to Alaska, I was politely told I was mad by everyone I met. "Take the ferry" they said. And, they were right. The ferry trip was truly memorable despite no cabin, bad back, bad cough and dreadful food. I felt proud too that I was one of the few passengers who rode out the waves when the ferry hit open water. No puking for me!

But, first I had to get to Bellingham, WA to catch the ferry. So, I had a few days in Seattle: got soaked bike riding on Bainbridge Island, caught a few games at the Kingdome, drove up to Mount St Helens and drank plenty of coffee. Oh yeah, and used my new tripod to set up a picture of myself against the Space Needle.

Of course, you will recognise this classic picture as the basis for Iamadonut's banner. Check out the beard. That's about as hirsute as I get!