Saturday, November 06, 2004
"J" IS FOR JOLLY ROGER

Don't ask me why, but late '90s indie-rockers June of 44 had a seafaring fixation. All the more incongruous given they hailed from Kentucky or Chicago (or somewhere a long way from the sea).

"Tropics and Meridians", released in June of '96, contains June of 44's crowd pleaser "Anisette" and a nice set of home made, seafaring inspired stamps.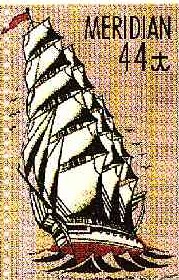 June of 95 saw "Engine Takes on Water". No stamps, but more of the same hard edged indie-rock.

Postscript: Shortly after June of 1999, Jo44 dispersed. Jeff Mueller and Jason Noble went on to follow up their other seafaring inspired creation Shipping News (yep, named after Annie Proulx's book), sometimes known as RMSN.