Wednesday, November 10, 2004
LUMP IT UP THE FIELD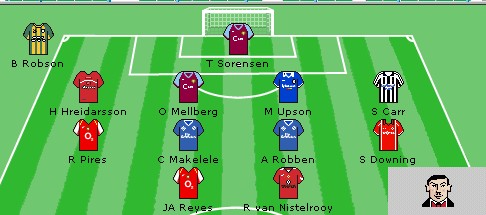 Poor neglected boys, languishing mid-table in the Guardian Unlimited Fantasy Soccer League.

Chairman Colin Combover has brought in drinking pal top flight manager, Bryan Robson. GBH had got just about all there was to get out of Harry Redknapp - should've dumped him immediately after the Man U win. Robbo is a temporary measure - and he was the only affordable option (unless you count Ian Dowie or Steve "will he last the south coast derby" Wigley).

In midfield, "Combs" transferred the underperfomring Simon Davies. In his place comes Stuart Downing, whose price has shot up nearly 3 million - a million in demand alone. Arjen Robben is a not very straight swap for Francis Jeffers.

There's still a few passengers - step forward Stephen Carr and Hermann Hreidarsson. But, Combover needs to winkle out a few more tenants to raise some cash.

Clever readers will note that there are now no Tottenham players in my squad and two Arse cloggers. The shame of it.