Wednesday, December 22, 2004
BAH HUMBUG 3

Anti-Christmastarians strike back...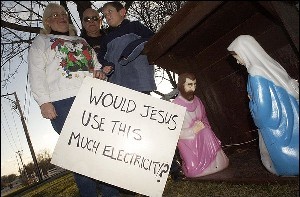 "...the glowing plastic Joseph and Mary and the three wise men sitting in front of the house look dejected. The manger between them is empty, as it has been since someone swiped the baby Jesus two weeks ago. Several days earlier, a sign was left at the house asking, "Would Jesus use this much electricity?""
Washington Post (registration may be required and virulent pop-ads)

Over the pond this year, conservative christian groups are "fighting back" against what they see as anti-Christmas campaign by civil liberty groups (see another Post article - before it expires). For years, the American Civil Liberties Union and other groups have campaigned to ensure that the US Constitution's precept of separation of church and state (though even this liberal thinks that the writers of the constitution didn't really mean that) is vigorously abided. So, in what for many christian groups is politically correctness gone mad, state buildings cannot display nativity scenes or any Christmas oriented decorations with an overt religious feel to them. The re-election of the Shrub with his 17th century brand of "christianity" has perhaps emboldened conservatives to take on the liberal humbugs.


"From Mustang, Okla., to Maplewood, N.J., they are filing or threatening lawsuits to win the inclusion of manger scenes in school plays, Christmas carols in school concerts and Christmas trees in public buildings."
It's madness of course. But, then so is orgy of consumerism and bad TV programmes that the 21st century Christmas has become.

So, I'm a humbug. Yep. I stopped celebrating Christmas about 4 years ago. For many years Christmas had lost its "magic". Every year, my family (well, the ex-Mrs D, me and the hounds) schlepped all over southern England around the 24th or 26th. We ate too much; bought too much; gave presents that people didn't need; and, tolerated overheated houses full of relatives.

Enough.

The consumerist side of Christmas went on for me for another couple of years. But, separated from wife and separated by an ocean from the family meant that I didn't have to put up with the forced bonhomie, the endless treks around the M25 in gloomy, wet and cold weather.

Returning to the UK, I decided to make the complete break. After awhile, the family has comprehended that I don't celebrate, but I know they don't understand.

It's a shame really. My family remains important to me, particularly in the current circumstances. It's just this damn Christmas thing that I don't like. I'm not the only one and I don't think it makes me special. I would just prefer to give presents to the ones I love when I feel like it. The calendar should make no odds. As a veggie and an atheist, I don't want turkey or Christmas carols or midnight mass. (Though I do miss Eric and Ernie.)

For a couple of years I worked at a homeless shelter on the 25th. That was an eye opening experience, but not to be repeated. It gave little in the way of "satisfaction". It certainly made me think of what other people don't have. Yet, my volunteering made but a small difference. So much more needs to be done by society to make society inclusive. That includes bringing those of other faiths (or no faith) together.

It didn't make me a better person and I don't deserve a medal. And, it didn't really get me away from Christmas as all the "guests" had a Christmas meal, there was a tree, carols...

If you do celebrate, Happy Christmas dear reader. Enjoy the day in the way you think best. I'll have a day up with my parents this year. At least the roads will be quiet.