Wednesday, January 05, 2005
WHERE'S THAT BLOODY RUSSIAN LINESMAN* WHEN YOU NEED HIM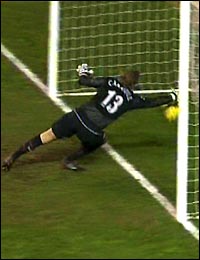 the most amazing blunder ever by match officials
according to the Currant Bun. I reckon it was the worst one since Sol Judas scored against Portugal (N.B. I ain't lovin' it).


[FIFA] President Sepp Blatter (sic) is convinced [a micro-chipped ball] could stop any repeat of last night's Old Trafford fiasco.
It's the old "technology can solve it" gambit. The Donut's solution? Get bloody better referees and line-os.

* - of course, he was an Azeri, not a Russian, but back in Soviet days there wasn't such a distinction and the Russian "slur" stuck.