Tuesday, November 22, 2005
COUGHING FEATHERS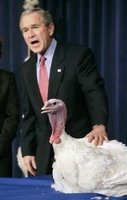 Please. No jokes about which one is the turkey.

Received my first Tamiflu for sale e-mail. Tamiflu: the new Viagra. At this point, I could bore you to death with facts about Avian Flu and the expected flu pandemic. Instead, you can read about Avian Flu here and flu pandemic here. Confused? Read more here, here, here and if you really want to shit your pants here. You can even get scared in Welsh. Pass me the Tamiflu.

Free coffee: thank you young lady in the sandwich shop.

Do birds get lost in the fog?

Annie Mole reports: trains overcrowded shock horror. Article probably written by journalist who has never travelled on a train in their life.

If you like horses and/or donkeys, get over to Supermum.

Then go irritate your brain with this optical illusion. (pointed to by Mr BWA)

No thought provoking quote or song lyrics today. Just hum along with the music, if you can.

Try this for humming - "Insomnia" is good.