Friday, December 16, 2005
FIREY HANDS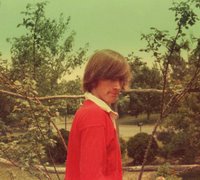 The locks need a tidy, but not nearly as bad as they did when I was a surly teenager.

"Ladies and Gentleman, you are advised to give yourself plenty of time to get home tonight as it is likely to be the busiest night of the year. If you are out on the town, don't wait for the last train home." According to the Northern Line tube driver this evening.


we've got firey fingers
and we've got firey hands
when I get up to heaven, Lord
gonna play in that firey band
shout out over the water
I won't be there long
my soul is anchored in Jesus, Lord
he won't do me no wrong
Santa travel firm goes bust.

So, the moon was at it's highest elevation in the British sky for some 18 years. Extra madness or just cracking cheese?

My office backs on to another one. Through their window this evening I saw people dressed in radiation suits. Thankfully a fancy dress party.