Sunday, December 11, 2005
I HEART OPERA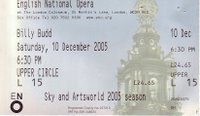 Well, almost.

Last night, it was "Billy Budd" - young lad goes off to sea, press ganged, framed for sedition, accidentally kills someone, gets executed.

Benjamin Britten's music is sumptuous. The production exquisite. Singing: good to excellent.

This morning, played the whole of "Nixon in China", John Adams heroic opera about - well - Nixon's historic 1972 trip to Beijing. But, then I'm a fan of Adams and the "minimalists". "Nixon" is quite an effort. It clocks in at over 2 hours - sprawling over three discs.

Intrigued at the subject. I was still a wee slip of a thing at the time of the trip though I do remember the TV pictures. At the time I did not cotton on to the significance. Whilst I'm not going to go all nostalgic about the Nixon presidency, it is a shame that he is remembered for Watergate, Vietnam and not much else.

He presided over a difficult and divisive time in U.S. politics. Nixon inherited an unwinnable war, a crumbling economy and social division. China was a great event. Nixon, at least, deserves credit for opening up relations with the eastern giant.

Well, dig the opera anyway.