Wednesday, May 31, 2006
I AM A DONUT YANKEE DOODLE DANDY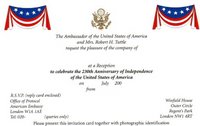 Well, I thought it was sort of cool. And, yes, that invite is to me.

This might put you off chocolate for a while.

I think the police might want to check on e-Bay.

More police news: Police in rural Hampshire have warned motorists that their fluttering flags are frightening the horses.

Spotted in London: tour guide blathering on about the "Da Vinci Code" in front of the Royal Courts of Justice. It's (bad) fiction, people!

Read something more rivetting.