Friday, June 30, 2006
GRAND CANYON UPDATE


Today, considerable progress was made in containing the southeast and east flanks of the fire. Tonight and tomorrow, firefighters will continue working to contain the southeast and east flanks of the fire by constructing hand and dozer line and conducting burnout operations. On the western and southern flanks of the fire, firefighters will continue mopping up. During mop up operations, firefighters seek out and extinguish any remaining hot spots within the fire's perimeter. Firefighters are working hard to clear Highway 67 of hazard trees and other debris. Fire managers are evaluating the Highway 67 closure on a daily basis and will reopen the highway as soon as conditions are deemed safe.
from Inciweb
Thursday, June 29, 2006
UNTIL THE NEXT TIME, NEVER AGAIN

Struggling with an overweight back pack, blisters upon blisters, heat fatigue and near delirium I recall saying one fine August afternoon in 2000, "I'm never doing that again".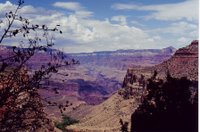 That was at the end of two days walking from the north to the south rims of the Grand Canyon. Four of us managed to conquer heat, lightning, rain, sun stroke and no dinner to complete the 26 miles.

Never again.

Until the next time.

The next time is nearing. The next time was going to be in October or May when the heat of the desert is not so fierce, when the crowds on the Bright Angel Trail are not so great. But, it's a popular hike and space is limited. The Park Service's concessionaire takes bookings some two years in advance for the limited space at the Phantom Ranch which nestles at the bottom of the canyon about 1 mile from the Colorado River.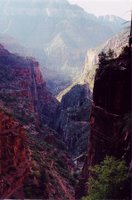 "We can offer you July 2006." "Er, okay, we'll take that."

Average high temperature at the bottom of the canyon in July: 106 deg F (that's 41 deg C for Canadians).

In 2000, I was probably as fit as I had been since my early twenties. Not that I was hiking fit: more bike fit. Bike fit is just about all I can muster these days. Canyon hike 2006, then, promises to be a challenge.

This afternoon it came to my attention that the whole excursion is in jeopardy. A fire is raging on Highway 67, blocking the entrance to the North Rim.

The good news is that there's accommodation available at the South Rim. So, instead of rim-river-rim, it might be rim-river-back.

More to follow...