Monday, May 31, 2004
POLLENATE!




The rosemary bush out back attracts loads of bees.
UNCONSCIOUS MUTTERINGS

Lover :: dubber
Ridiculous :: preposterous
Oscar :: Meyer wiener
Tennis :: anyone?
Account Balance :: not enough
Hickey :: the Secret Nights of Wanda...
License :: (Licence?)to Kill
Breathmints :: to hide booze breath
TexMex :: Margarita time!
Stepmother :: step ladder



Thursday, May 27, 2004
AIR WARS

Ryanair boss (a better title than chief executive), Michael O'Leary, can always be called upon for a good quote. That's why he's become the darling of the media. Yesterday the Pink 'un quoted O'Leary as telling the European Commission to "fuck off".

Ryanair has been told by the Commission that it must re-imburse Charleroi airport (Brussels South in Ryan-speak) some 3 million euros because the rates the airline was charged constituted illegal state aids.

"We have written back to say 'fuck off'."

It annoyed some stupid idiot called James K. Wilson who felt obliged to write to the FT.

"It does not require genius to work out that when a bad-tempered child screams and curses, the result is discipline."

Er, fuck off, James K. For a start, I'm sure O'Michaelair didn't actually say "Fuck off" to the Commission or the good people at Wallonia Airport. I say, well done O'Learyair even if I don't agree with every aspect of the company strategy.

I have never flown Ryanair. The airline doesn't fly to/from airports convenient for me. And, whilst I admire his chutzpah I don't like his attitude to self-loading cargo (that's airline-speak for passengers). OK, whilst he is right to state "what do you expect for [£9 or whatever]", that's hardly going to endear the likes of me to fly with them. (It beats me that passengers seem content to be treated with contempt. A bit like the Ratners or Amstrad approach, I guess.)

Southwest Airlines, however, I have flown on many occasions. Southwest has perfected the no frills airline business model over 25 years. They treat customers with respect, although on board staff can sometimes be a wee bit too folksy. Their time-keeping is excellent; all aspects of the operation business-like and efficient It helped that they flew from just up the road in Baltimore, but that's pat of the model. Fly from secondary airports close by to major metropolitan areas, but less congested than the major airport.

In the US Southwest invented affordable air travel (or at least perfected it). But, you could never argue that it isn't also good value. Ryanair has copied the model in many respects. However, there are big differences. For one Southwest offer a proper network with connecting flights from mini-hubs like Chicago Midway and Kansas City. Ryanair warns travellers not to rely on connecting with another flight.

Ryanair is cheap, but not always good value. Unlike the chief executive, who is both.

O'Ryanair's smiling face can be seen in this Torygraph report.
Tuesday, May 25, 2004
CAMPAIGN UPDATE

Isn't it just unfair the way the press and all those woolly liberals have it in for Halliburton and all those nice billionaires that own the United States of America so, goddamit, they should run the country too.

"We're not just about short-term handouts to corporations, we're about creating a Billionaire-friendly America — forever. And with George W. Bush in the White House, we're getting there."

You know it makes sense.

Perfecting democracy:

"One Dollar, One Vote. Forget fiddly campaign finance law, and forget the electoral college. To truly ensure America has a political system that answers to wealth, each person will get a number of votes equivalent to his net wealth — those in debt get negative votes. Whichever corporation running for President, or Congress, gets the most votes — i.e. financial backing — wins. Simple."

Sign up now!





Global Warming = Better Tans
17+5

Fame, of sorts.

Thanks to the Bears.
Monday, May 24, 2004
TAXPAYERS' MONEY AT WORK



HAY, HAY

Whilst in the District, I stayed here.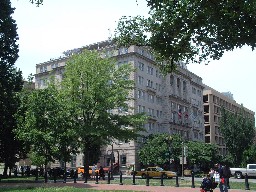 "We don't overlook anything, except the White House."



Sunday, May 23, 2004
UNCONSCIOUS MUTTERINGS

Finale :: Armeggedon
Martial arts :: Kung Fu fighting
Flirt :: wink
Energy :: wind power
Flavor :: flavour?
Guess? :: er, yes. Er, no.
Accomplishment :: winner
Prom :: bad white tuxedo, girlfriend throwing up
Diploma :: worthless piece of paper?
Bloody :: Mary



CAN YOU GO BACK?

They (whomever they are) say you can't go back. I don't know.

It may only have been a 30 hour visit, but my trip to DC told me that you can go back.

I left DC under a bit of a cloud three years ago. After four years of easy living and rather dull working, I was ready to come "home" to England. A new life in Central London was on offer. A new job, an interesting area, new people, new contacts were on offer. A chance to rebuild my life...

Well, three years back here have been eventful, successful, productive if a little costly. Since returning I've learned a lot about myself and my strengths and weaknesses. Still, I've made some of the same old mistakes. And, now fallen on my feet.

Going back to DC was a very odd experience. Immediately I recognised that the atmosphere in the US is starkly different to what it was in April 2001. The farce of Bush election was still news back then. Though there were signs that political life was bedding down. Focus for four years would be strictly on domestic issues. Bush was quietly racking up vacation time. He looked like being the new Ike: always on the golf course.

But, it all changed five months later. By that time, I'd severed the last strong link to DC. There was no turning back. On a sunny autumn day everything else changed back there too.

My feelings on return were mixed. This was my old home. I had gone back - to many of my old colleagues and contacts. But, it had changed. A inner and outer perimeter around the White House was one clear manifestation. Somehow also, I felt that this was a country at war. This is something I do not feel in London. It is definitely in the air in Washington.

Yet. And yet. There was a familiar attractiveness to Washington. The city; it's potholes; the traffic; News Channel 8; the lobbyists; ESPN; the evening thunderstorms.

I'm back in London now. Probably for the rest of my working life... Who knows?
Tuesday, May 18, 2004
BLOG YES





A satisfying sight.
SEVENTEEN

for the May "Bears Will Attack Day 17 Project"

"Jesus is my Homeboy" or so said the guy's baseball cap at Balham station.

There are so many ways to get home, each with its ups and downs.

When the day drags, like it did on Monday, when I'm stuck in the office rather than being out and about, thoughts turn to the journey home, a sit in the garden and a beer.

Tube to Balham, bus almost to doorstep – lazy man. Tube to Victoria, train to West Norwood and walk – the bog standard. Or, the nuclear option, bus from Waterloo Bridge to Norwood Road and schlepp up the hill - over an hour, but a good way to unwind and read a book.

I left work at about quarter to six as usual. I was the last left in the office as usual. When there's only six people working in the building that's not difficult.

Delays on the Northern Line due to overrunning engineering work made the choice easy - by train from Victoria. Bummer. The 1807 sits in the yard all day: unseasonably warm weather this week.

So I sweated all the way to Norwood.

Thank Jesus Homeboy for beer and refrigerator.
NO BLOG

Rumours of this blog's demise are slightly exaggerated. Like low cost airlines, there are blog casualties - here and (almost) here. I blame Thatcher.

There are more important things in life and death. Or are there?... Well, there are only so many minutes in the day. Blogging opportunities have diminished. Life (and death) goes on.

In the meantime, you are directed to the important news that Governor Arnie has no sense of humour. Or, to put it another way, his lawyer has seen a money spinning opportunity. I quite like that the company's most popular bobblehead dolls are Jesus and Anna Nicole Smith. Google those two and see what you come up with.

A San Francisco intellectual-property law firm, Townsend & Townsend & Crew, has taken on the case at no charge. William T. Gallagher, a partner at the firm, said that Governor Schwarzenegger cannot expect to be immune from satire.

"It's clearly a parody," Mr. Gallagher said of the doll. "It is also making a statement about the cult of celebrity in America. If you're famous, then suddenly you're highly electable. That's what the bobblehead does. It is a transformative statement and absolutely protected under the First Amendment.".

In other news, Supermum directs you to the Hitchhikers' Guide to the Galaxy (the Movie) weblog. Sigh. I hate corporate blogs. And, what do you think Hollywood will do to Hitchhikers?

Finally, in this "I came not to bury Donut" entry, your blogger will be in Washington DC later this week. Bring on the cicadas!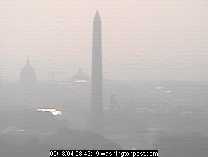 P.S. - Have you noticed that the spell checker on Blogger doesn't like the words - blog, weblog or Blogger. Or, Donut, for that matter.
Sunday, May 16, 2004
24 MINUTES

Freddy Adu comes on after 66 minutes of DC's 1-0 victory over Kansas City. Not much to show from Freddy. Nice action picture here though.
UNCONSCIOUS MUTTERINGS

Playoffs :: Ipswich Town 1, West Ham United 0
Morris :: Minor
Break up :: girlfriend
Eggs :: over easy
Parker :: Yes, m'lady
Hardy Boys :: Nancy Drew
Deluxe :: Coupe de Vile
Protection :: racket
Girl Scout :: cookies
Salsa :: Limes



Tuesday, May 11, 2004
VOTE EARLY, VOTE OFTEN AND VOTE IN AS MANY MEMBER STATES AS YOU CAN

Love the European Elections web site. This is a rather too keen attempt to drum up interest in what most of the electorate see as a non-event. But, we know better don't we? With much of our sovereignty now residing in Brussels and Strasbourg, the European elections are as important, if not more so, than the national elections. Better still, because EP elections are the only ones in England subject to proportional representation, there will be a greater chance to vote on the basis of conviction. No need to register a protest vote - and no excuse not voting!

(For totally irrelevant elections, check out the local council elections (except the Mayor of London).)

Still, the web site is a hoot. I particularly like the EP Phrasebook. Do you know the difference between a "regulation" and a "directive"? And what exactly is "co-decision"? Also, check out the unintentionally funny cartoon strip - yep, there is an EP cartoon strip.

Oh, and don't forget to vote on 10 June (in the UK)!
COFFEE, TEA OR RIGOR-MORTIS?

It is always inconvenient when a passenger dies on an aeroplane...

Quite. So what do you do? Stuff them in a specially designed locker that's what. Singapore Airlines have made special provision on their 17 hour Singapore-LAX flights. Well, I guess there's a good chance people will die of boredom on the world's longest non-stop flight.

I had the pleasure of a short hop to and from Brussels last week. The cabin crew managed to squeeze in a meal (in a box), soft drinks, two rounds of coffee/tea, hot towel and a sweetie to help pop your ears. All this in a 45 minute flight.

This had to be the dullest business trip I've ever done. Flight to Dulls-ville. Stayed at Dulls-ville airport Sheraton. The "Executive bar" had no beer. Conference in an airless, windowless room. Ditto for lunch. Speech by a drunken hack who promised to be brief then droned on for 25 minutes. Rain as I crossed the road to the airport. Flight back totally in clouds.
Monday, May 10, 2004
IRONY

Ironic, isn't it?

Pictures from Saddam's former prison shock the world. A man with women's underpants on his head. Humiliation.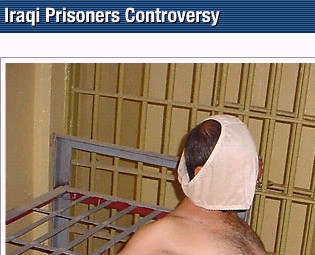 Meanwhile, the No. 73 bus in London displays an image of an unshaven tosser sniffing women's knickers. Advertising. Bollocks.


[click on "La Campagne"]

Can someone explain this to me?
Sunday, May 09, 2004
FREDDY IS A FOOTNOTE

Second start for Freddy in DC's 1-1 draw against Columbus. Do you think the shine may be wearing off? No, me neither.
UNCONSCIOUS MUTTERINGS

Vagina :: clitoris
Racism :: Millwall
Mother's Day :: a Hallmark moment
Fire alarm :: 9am Friday test
Elvis :: has left the building
Pregnant :: pause
Vacation :: 15 days this year: ouch!
Waffles :: ...Jesus havin' eggs with y'all...
Perpendicular :: lines
Hospital :: ball



Sunday, May 02, 2004
THIS IS THE START OF SOMETHING BIG

Our lad Freddy made his first start for DC United yesterday.

"Adu offered a glimpse of his potential, of why he has been the object of such hype and hope, making some nice runs with the ball, displaying good field awareness and trying a few fancy heel passes."

"Field awareness". Hmm. Think that means he found space and made good runs off the ball. Otherwise, I'd hope he knew where the field was even if he is only 14.
UNCONSCIOUS MUTTERINGS

Sexy :: boots
Clique :: group
Pledge :: 12 step
Carbs :: bread
Dream Job :: unemployment
Sweeps :: chimney
Soundtrack :: of our LIves
Hero :: submarine
Shave :: Burma
Christina :: girl's name