Friday, October 31, 2003
AW, GEE, SHUCKS, THANKS




71% ain't too bad. Having 7 people hating this blog is a bit of result too.
...EITHER WITH US...OR AGAINST US

"As Karl Marx said, if you have nothing, you have nothing to lose

"The war on terror is shifting attention away from making globalisation work for all. It is undermining our ability to drive forward a responsible globalisation," World Bank Environment Director Kristalina Georgieva told Reuters this week."
Thursday, October 30, 2003
HOME IS WHERE THE HAT IS

This blog has been quiet for a while, but I haven't. Life has taken over in the form of chasing solicitors, estate agents and removal companies. I'm moving. The blogspot address will remain the same, but the physical one changes. So will life. I intend to grow vegetables, learn to play the guitar and Italian: not in any particular order. Blogging is still part of life, but I need to rearrange priorities.

Meanwhile, for the next two weeks or so there will be more phone calls and faxes to the "legal team". To add to the difficulties, we're dealing with not only the leasehold sale of our flat, but the communal purchase of the freehold from an absentee landlord. Complicated? Well, this is English property law: stupid at the best of times.

Amongst many of my stillborn projects was a house move blog. It wouldn't have made a good blog. Oh well, I might just start from the day we move in.

This web site might come in handy.

BAH, HUMBUG

I hate Christmas. More soon (unfortunately...)

It's the office Christmas Party e-mail.

From:
To:
Date: 10/28/03 11:54am
Subject: Time to Celebrate

Well it is almost time to celebrate Christmas again and we have yet to decide whether to have a... Christmas Party, so I have been asked to email you all for your opinions.

So if you would like a Christmas Party please email me a reply with a big YES PLEASE and any suggestions as to the type of party you would like and a sensible location (so no party locations in Barbados....oh)

If on the other hand you would not like a Christmas Party then please send me a big NO THANKS

I look forward to your replies.

I didn't reply. Instead I'll invite colleagues to our house warming.
MORE FROM THE SILK ROAD

It is rare that I agree wholeheartedly with a fat bastard Conservative politician. But, there are always exceptions and I'm glad there are.

John Bowis MEP has written in support of "our man in Tashkent" who knows a repressive government when he sees one.

More about HM Ambassador Craig Murray here. I know a few more stories about him that I wouldn't be surprised get leaked to the press. Meanwhile, Blair & co will turn a blind eye to the atrocities carried out in the name of the war on terrorism.
Friday, October 24, 2003
THE MORNING AFTER THE NIGHT BEFORE

This is what my head feels like this morning. I should never drink Guinness on an empty stomach.
Thursday, October 23, 2003
SAY, CHEESE

A HOLIDAYMAKER WHO was reunited with his teeth after loosing them while swimming off Crete - a fishermen caught them in their nets. from Metro.

Reminds me of one of my most embarassing moments. Being sick in Dhaka and losing my false tooth down the toilet in the process. Ooops!
COME ON, DIE YOUNG

From the Torygraph Arts page - Critics Choice

"Mogwai

"Glaswegian neo-rockists who play compelling guitar-rock pieces – largely instrumental – which ebb and flow, soar and swoop, between awesome ferocity and shimmering delicacy."

Ooo-er. Torygraph - paper of old farts and young fogeys. Mogwai - as mentioned in Ian Rankin novels.

I'll be at the Astoria, tonight.

"Compelling" - hah!
Wednesday, October 22, 2003
FOOD NEWS

I resisted the temptation to gloat over two pieces of "good" news last week regarding Genetically Modified food or GMOs. Our good friends at Monsanto (by a very long chalk the largest GMO seed producer in the world and inventor of the equally repugnant AstroTurf) have decided to pull a significant proportion of its European operations and the results of UK trials on three GM crops dealt a severe dent to plans to allow the widespread use of GM seeds.

The results of the studies are a big set back to GM supporters and must now make the Government nervous of allowing widescale usage of GM seed: "...The results will be considered as part of the comprehensive risk assessment undertaken for every GM crop." (Though I think they'll fudge it and order further tests though maybe not the ones Greenpeace wants.)

Problem with all this is that Monsanto will just go elsewhere. One of the fictions of GM is that it is essential to help starving countries feed themselves. Trouble with that logic is that many tests have shown it not to be the case. Furthermore, many of the seeds Monstano sells are deliberately "bred" to be impotent. This means farmers cannot reap seeds from their GM crops to replant next year. The farmer is then beholden to Monsanto.

One better way to help farmers in the developing world is to acheive a wholescale reduction in farm subsidies in the developed world. Subsidies reduce the price of many staple crops (such as rice and grains) meaning it is cheaper to import crops from the developed world to the developing world. A massive failure of the WTO on that one.

More arguments here.

Meanwhile, Co-op bans GMOs

"Britain's Co-op supermarket group this week said it would reject any government proposal that paved the way for commercial plantings of genetically modified (GMO) crops in the UK.

"Co-op said 78 percent of those surveyed by pollsters NOP also said they had yet to be convinced that the commercial growing of GM crops should be allowed in Britain.

"As a result, Co-op [the UK's largest farmer] said it had decided against growing GM crops on its own land, selling GM food under its own brand, or investing bank customers' money in GM technology.".

Link here for the Government sponsored debate on GM.

In separate food news, today, the Food Commission urged supermarkets to stop the sale of sweets and candy at supermarket checkouts to help stop the growing problem of obesity caused in part by sweet eating. Bonus points to Waitrose and the Co-op for already complying with this recommendation.
Tuesday, October 21, 2003
LORDY, LORDY

Working where I do, I often spot politicians on my way to and from the office. The other week, I was in the same queue at Sainsbury's as Nick Brown, former Minister for Agriculture. Years ago I used to bump into Tory Minister and smarm bucket, Ken Baker, as he left his Westminster town house.




This morning, not for the first time, I passed Roy (now Lord) Hattersley walking his dog in Vincent Square - where you'll see tomorrow's movers and shakers playing football and cricket. There's two things you ought to know about Roy. You probably already know that he was Deputy Leader of the Labour Party under Neil Kinnock - part of the "dream team".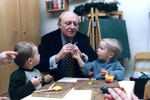 He's also a writer (long time column writer for that newspaper I must stop linking to (d'oh)), broadcaster (whatever that is) and long suffering supporter of Sheffield Wednesday football club.

But, you probably don't know that his head is totally out of proportion to the rest of his body. More importantly, you must be aware that he doesn't clean up after his dog.

Please scoop the poop, Roy!
Monday, October 20, 2003
EARPLUGS TO THE READY!

I'm super excited. This week's gigging involves the mighty Mogwai, with Philly drone monsters Bardo Pond. Afore that, it's over to the Spitz in my old East London stomping ground for the sublime purveyors of that special breed of Canadian space jazz/rock, Do Make Say Think. Their latest wee disky, winter hymn country hymn secret hymn has been doing the turns on my MD player this last week or so. Hymn is DMST's most assured effort to date mixing the usual elements of guitar loops, intricate beats and interlocking lines. It scores high in the pastoral almost ambient feel and in the subtle yet complex arrangement of elements and instrumentation. This is instrumental rock at its most uplifting.

Eh?
TUBULAR BELLS

Two tube derailments in one weekend. What's going on?
Friday, October 17, 2003
DEMOCRACY UPDATE

Two die in violence after Azerbaijani "elections"

The race to democracy (sic) has been reported here previously.

It's getting better (sic).

Since 1993, Ilham Aliev's father, Haidar, has used his patriarchal image and strong secret services to impose an autocratic regime on Azerbaijan. There was a good level of stability and foreign investment - bought at a cost of human rights and free elections.

the continuation of the Aliev dynasty is considered vital to western oil interests, which are currently focused on a Baku-Tbilisi-Ceyhan pipeline run by BP.

So our lack of interest in kicking out these (friendly) despots has nothing to do with oil.

Update: OSCE is very upset.

Ambassador Christian Strohal, Director of the OSCE Office for Democratic Institutions and Human Rights (ODIHR), has expressed deep concern

Big fuggin' deal.
MINISTRY OF SILLY WALKS

Another Blogger, lacking inspiration, takes silly quiz. via Dr P



French Guard
I'm French! Why do think I have this outrageous
accent, you silly king-a?!


What Monty Python Character are you?
brought to you by Quizilla

FIVE GO MAD ON FRIDAY

1. Name five things in your refrigerator.
Apart from the mould, not much as it's the end of the week and shopping at Sainsbury's beckons. I did notice a jar of harissa, some capers, various type of leaf, homemade salad dressing and ketchup (unusually, no alcohol)

2. Name five things in your freezer.
As a very small compartment, it can just about hold five ice cubes…for margaritas, mind you.

3. Name five things under your kitchen sink.
Drains (think about, you need 'em), a rather irritating garbage can (this'll change once we move), bike lube (never used), toilet paper (wrong room, I know) and various types of poison.

4. Name five things around your computer.
(at work) Boss, postcards from my travels, coffee mug, box of tissues and picture of my doggies (lost in the divorce settlement)

5. Name five things in your medicine cabinet.
Drugs (innit), zit cream, bum cream, Tums and denture adhesive.
Thursday, October 16, 2003
MEME!

I've got a Fotolog.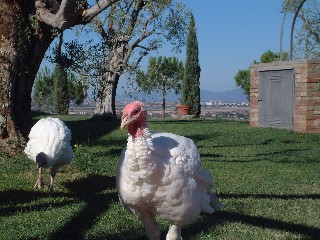 WATCHING THE WATCHERS

Ofcomwatch - a small plug for a friend of mine. "Fisking" (ahem) the telecoms and media watchdog.
Wednesday, October 15, 2003
STATUTORY GUARDIAN LINK OF THE DAY

Salam Pax, the "Baghdad Blogger", has "written" a book. Er, well not exactly. The bookstore shelves are now groaning under the weight of the collected Salam Pax's blog entries. I was on the verge of buying it the other night. Maybe later, but it somehow defeats the whole bloggin concept donchathink?

You might have noticed that the Guardian is now running a weekly column by Salam Pax. This week he (she?) mentioned the introduction of new bank notes in Iraq sans the smiling face of Saddam Hussein (he's gone a bit quiet lately hasn't he?). There was something about the new notes on BBC news whilst I was getting ready for work this morning. It must have had an effect on me, because I forgot to have a shave.

Nice to see that the occupying forces are doing great work for the people of Iraq - i.e. a fully functioning web site. Krispy-kremes (along with Ronald McDoanld, Britney Spears and Rush Limbaugh - one the four horsepersons of the colonial apocalypse) are on the horizon.
Tuesday, October 14, 2003
WHAT'S IN YOUR FRIDGE

In case you didn't notice, Organic Week just ended. It ran from 2-14 October - truthfully, a bit more than a week. Why do these "weeks" last more than a week? Maybe a bit like those people that say the 60s started in 1958 or 1963.

It started with this:

The vegetarian cowboy, best known for spurring Oprah Winfrey to spurn burgers, rode into Canadian cattle country this week to warn about the dangers of meat

---

Week organiser the Soil Association, guardians of organic quality control, then ran a great story about school meals in the UK. It seems kids nutritional needs are not being looked after by local authorities (there's a surprise). But this is a serious health issue which is getting worse:

Poor diet leads to diabetes, high blood pressure, stroke and coronary heart disease. Obesity in children used to be rare but now nearly 10 per cent of six year olds and 15 per cent of 15 year olds are severely overweight. Diet-related illness is a greater problem than smoking, costing the NHS at least £2.5 billion every year. In Scotland, an extra £63.5 million is being spent over three years to fund a programme of school meal reform and the report says that a similar initiative should be set up in England and Wales and estimates that this would require at least an additional £200 million a year.

Staggering evidence like this:

The daily amount spent on each child's school lunch can be as low as 31p, compared with around 60p spent on a prisoner's lunch...

I really liked the school where instead of asking what was for lunch, the school kids asked what shape was it.

But, there is hope as the report catalogues.
---
BBC Breakfast ran a series on organic food: is it better for you, does it protect the environment, does it taste better. The usual semi-serious vox pop stuff. But, hats off to note the growing market for organic food.

Mrs Donut and I try to purchase as organicgnaic produce as we can. My chief reason is that organic farming methods are generally speaking less damaging to the environment. Of course, it is a generalisation and some "traditional" farmers are bettehusbandryadnry and looking after hedgerows. But, it such a cut-throat industry, the key driver is profit. Most farming is now on an industrial level. Organic methods at least puts less strain on the land.

I would prefer to buy from local sources, which is what most people did unknowingly until 30 years ago. Nowadays we've become accustomed to our supermarket shelves groaning with produce in season or out of season. We ship in too much produce, which is probably more damaging to Mother Earth.

Does it taste better? A range of organic produce generally taste better - apples and tomatoes, for example. Unfortunately a lot of processed "organic" food is just manufactured pap, like the "traditional" stuff.

Is it better for you? This is a tough one. Lots of people claim that all the chemicals in "traditional" food are responsible for all sorts of conditions. This is difficult to prove and I can't provide any personaanecdotaldotal evidence.

---

As the saying goes, food for thought.
AUTUMN COLOURS

Climate change will lead to a skew in the seasons for normally temperate climes - like the UK. It will also mean we get longer growing seasons and much more colourful Autumns.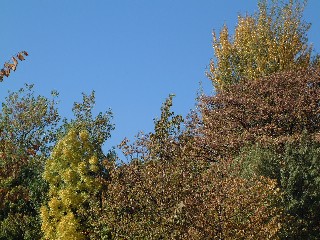 So global warming's a good thing then...

This was a weak excuse to post a picture I took in the car park of Sainsbury's supermarket on Saturday
LOOSE LIPS SINK SHIPS

I'm not one to spread malicious, unsubstantiated rumours. Neither, apparently, is Sapientum. But, in the public interest I pass on this link. It concerns Rio Ferdinand, but has nothing to do with that drug test.
BATTLE OF THE BANDS

Okay, not quite Elvis (see below), but young Ali and his mates are at the Horseshoe (wherever that is) on the 26th.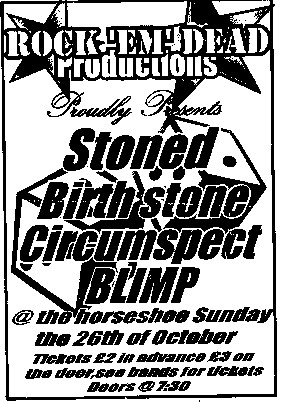 Sunday, October 12, 2003
SATURDAY NIGHT ATTRACTION

The end of an eclectic concert going week saw a trip to the Royal Festival Hall to see Elvis Costello and Steve Nieve. This was billed as part of the "Mind Your Head - Sacred Songs" series. Not sure about the sacred songs bit: "love" was a theme as it is on Costello's brand new CD "North".

As you would expect for "one of the greatest modern British songwriters" (tm), not a seat was to be had (except one in the row behind us) and it was an audience of a certain age - me and Mrs Donut included. "North" is a quiet little triumph ringing out all the emotion - the ups and the downs - of love though tune-wise it is a long way from Elvis's early punchy new wave sound. In his middle aged spread days he has mellowed, though "North" is nowhere near as slushy as the Bacharach collaboration. This is much more classic MOR understated songwriting - this is a compliment, BTW.

With little build up Elvis and Nieve came on to thrumb through "Accidents will Happen" and "45". It was a good introduction and set the scene for what was much more than a greatest hits concert. ("God's Comic" and "Peace, Love and Understanding" stood out.) It was, as mentioned above, a celebration of Elvis as songwriter and of love.

Elvis has never been afraid to take a left turn in his music. The appearance of the Brodsky Quartet for a bunch of tracks later on in the evening ("Pills and Soap" a highlight) was a reminder of that. "North" is part of that risk taking strategy.

Apart from the Brodskies on stage for about 20 minutes, it was just Costello on acoustic guitar and Nieve tinkling the ivories on stage for nearly 2 1/2 hours. Emotion was a key part of this evening. It was an all-in-all good time, but the raw feelings expressed in some of the songs.

Full setlist can be found here.

Update: The Times was underwhelmed.

The Independent thinks Elvis is a bit too smart for his own good.
Saturday, October 11, 2003
C'MON THE LELOS

The Lelos is apparently, the nickname of the Georgian rugby team.

If you want to watch the England-Georgia Rugby World Cup match with the London-based Georgian community, get over to The Kensington Pub opposite the Georgian Embassy near Olympia.

Here's a pic from my visit to Tbilisi, capital of Georgia, in Feburary 2002.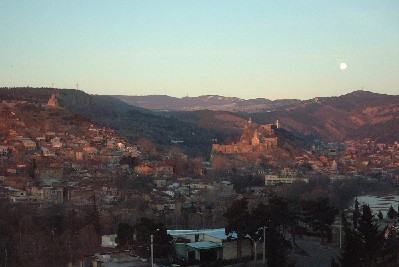 Sorry, a lot of the links to Georgian web sites that you'll find on other sites I've linked to don't work. The country is in a mess and I guess it's spilled over to their corner of the internet. I met a Brit who lived there for a year. He said that during the winter, they got one hour of electricity per day. And, just after I left Tbilisi, the Russians cut off the gas supply.
Friday, October 10, 2003
BART SIMPSON SAVES OPERA COMPANY

Well, not quite:

"Yesterday the artistic director [of the English National Opera], Sean Doran, announced the biggest sponsorship deal in its history, £3m over three years from Sky and the digital channel Artsworld. And its Ring Cycle next year has got the largest sponsorship for a single production - £300,000 from the MFI group, best known for bargain kitchens.

No jokes about flatpack scenery, please.

Meanwhile, we went to see the ENO in its temporary home at the Barbican Theatre for a straight-up, light-hearted production of "Cosi fan tutte" last Monday.

It might be a shame when the ENO move back to the Coliseum. It was nice to go to a venue where you could see and hear the performance, not get put to sleep by the heat of the auditorium, get a decent bite to eat (in the complex), a good reasonably priced drink and, most importantly, leg room. Let's see what the refurbished Coliseum can measure up.

Downside at the Barbican? A pain to get home from when Thameslink is closed as it was on Monday. Sterile 70's planning nightmare setting.

And, fooey to the Royal Shakespeare Company for abandoning the Barbican.

CRAZY CANADIAN SIGNS, PART UMPTEEN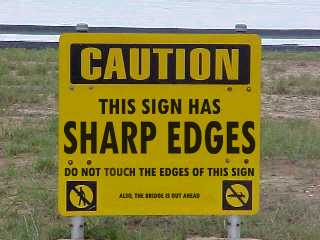 Thanks to my boss for picking out this one. I'm sure it's done the ournd by now, but I still like it: so there!
SPORTING FRIDAY FIVE

1. Do you watch sports? If so, which ones?
Footy (several kinds), baseball, cricket, ice hockey, rugby, Aussie rules and snooker.

2. What/who are your favorite sports teams and/or favorite athletes?
C'mon YOU Spurs! Let's Go Mets! Let's Go Is-land-ers!

3. Are there any sports you hate?
Basketball.

4. Have you ever been to a sports event?
Where can I start?
Football: regular at White Hart Lane in the early '80s (the odd away match too). Games in the old NASL during the '70s. Lower division fare in Italy. Internationals at Wembley (including England v. Scotland and Holland in Euro 96) and Yankee Stadium (!) (England v. Italy, 1976). More recently, a regular at non-league matches.
American Football: a couple of 'Skins games, a visit to U of Maryland and two London Monarchs' (remember them?) games.
Ice Hockey: Caps and Isles.
Baseball: the big Shea, Fenway, Camden Yards, Three Rivers, Jacobs Field, Oakland Coliseum, the Kingdome, Anaheim Stadium, Coors Field. Minor Leagues: Salt Lake City, Binghamton, Delmarva, Bowie, Frederick, Bristol (Tenn), Johnson City. Spring Training: Jupiter, Port St Lucie and Space Coast.
Cricket: Test matches at Lord's and the Oval. County games at Lord's, Southampton and Chelmsford.
I hope to get to see a real live Aussie rules game in Melbourne next year.

5. Do/did you play any sports (in school or other)? How long did you play?
Football: until I was about 23 (several bad injuries). Golf: still do now and then.
RAIL SAFETY NEWS

News that Jarvis are to give up their contract to provide day-to-day maintenance for Britain's railways. Jarvis have been implicated in several fatal rail accidents and also the recent King's Cross derailment. The latter highlighted the lack of communication between the numerous organisations repsonsible for running and maintaining the rail network.

Sting in the tail: Jarvis will continue to provide heavy maintenance on large contracts - where they make more money.

Question: does this have anything to do with Steven Norris'scandidacy for Mayor of London? , Norris is a non-Executive Director of Jarvis,.
Wednesday, October 08, 2003
DIGITAL CAMERA FOR SALE DUE TO DEATH OF OWNER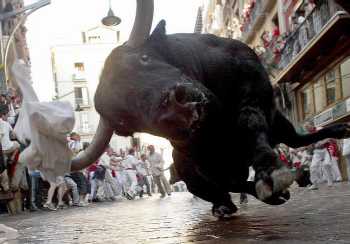 ...or, camera owner sues manfuacturer for not pasting label on camera to say that taking photgraphs of rampaging bulls at 2 inches might be hazardous to your health...
Tuesday, October 07, 2003
SO MANY BLOGS, SO LITTLE TIME

Our "information" newsletter at work had an article about this new fangled weblogging fad.

The disadavantages of using blogs for "information"?

So many weblogs, so little time.
- They can add to the large volume of "vapid" content on the Web, making it harder to find valuable material
- Many weblogs are intensely personal in tone and content, and as such may not appeal to some readers; this can lead to pitched battles between the author and those commenting.
- There is a lot of trivia out there along the lines of "what we did on our holidays"
- As with personal home pages, the fact that you can set up a blog does not mean that you must or should.

Of course, I am a Donut passes all these tests.
Monday, October 06, 2003
GOING UNDERGROUND

Diamond Geezer is running a London Underground special this week. Mind the doors!
Sunday, October 05, 2003
PLEATED

Hang on a minute. Let's not get carried away. 3-0 at home to an ordinary Everton side does not necessarily signal the beginning of a Spurs revival. Similarly, it does indicate that David Pleat ("Horrid Sex Man" according to Mrs Donut) is the man to manage the club.

Okay, while I was on holiday the club did the right thing and ditch Hoddle. I do not subscribe to the "only 7 games into the season" nonsense. Hoddle had 7 games too many. As this blogger has mentioned previously: he should have been sacked after the collapse in player confidence at the end of last season.

But, 3-0 against anyone is encouraging. It shows that there is a bit of quality in the side and, this is the important bit, character. This week's football shame has left me with a sour taste in the mouth. I guess I'm becoming a grumpy old man, but there seems to be a serious lack of professional attitude in many Premiership players (discuss). At least Spurs showed a bit of bottle yesterday.

Pleat? Well, the results so far just go to show that a manager (or lack of a disruptive one who has lost the players' confidence - Hoddle) can make a difference. I'm not sure Pleat is the future. Nor am I sure Curbishley would be the answer. Martin O'Neill must be high on the list, but would he leave Celtic and would he not rub up the wrong way with Pleat? Raddy Antic might be the man.
SAM'S YOUR MAN

Sainsbury's in East Dulwich are currently selling bottles of Samuel Adams Boston Lager. Being a quoffer of the good "Patriot Brewer's" amber fluid during my years in DC, I picked up a few bottles in this week's shop.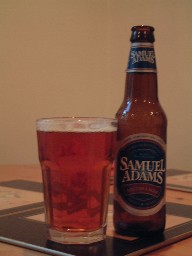 In complete contrast to some of the foulest muck that has the temerity to call itself beer - yes, this Bud's on you - Sam is a pleasant balanced dark lager with a good hoppy and malt flavour. Served not too cold to kill it's taste - the only way to drink MGD (whilst holding nose), by the way - this is probably the best mass produced beer in the US.

Now, this is not the first time I've seen US beers other than the industrially produced lagers of Anheuser-Busch, Mr Coors (probably the worst of the lot) and the High Life bunch plied in a London supermarket. In my short time living in E4, the local Safeway on Roman Road (as about East End as you get) once sold Liberty Ale from the Anchor Steam Brewery.

Anyway, I'm halfway through my first bottle. Does it bring back memories? Sort of. But, even at £1.09 a throw, that's a good deal cheaper than the $4 usually charged by the bars in G-town.

You'll note that the label does not feature the face of Samuel Adams, "Patriot Brewer". Sam was part of the fanous Boston Adams clan of Revolutionary times. John and John Quincy were Presidents. Sam, apparently took over the family brewery and ran it into the ground. Fortunately, the name survives and they produce a good brew in his name.

Cheers.
Friday, October 03, 2003
UPDATE

SUMMARY STATS
Page views today: 260
This hour: 64
This week: 2795
This month: 2296

Almost entirely down to prurient footy fans wanting to know the names of the seven Premiership (alleged) rapists.
I SEEM TO BE POSTING NOTHING BUT FRIDAY FIVE ANSWERS AT THE MOMENT

1. What vehicle do you drive?
If you mean car, then my wife's Rover 200 (or is it 100). Otherwise a Specialized Crossroads hybrid bike, but mostly that "vehicle" known as Shanks's pony.

2. How long have you had it?
The pony? Quite some time.

3. What is the coolest feature on your vehicle?
The bike has wheels!

4. What is the most annoying thing about your vehicle?
Rover has a dent in his side and gets very hot inside when left in the sun.

5. If money were no object, what vehicle would you be driving right now?
Saturn V rocket.
DEMOCRACY UPDATE

President's son to take over in Baku.

"The ailing president of Azerbaijan, Haydar Aliyev, announced yesterday that he would be withdrawing from this month's elections in favour of his son, Ilham."

But, that's okay because Azerbaijan as an oil state is supposed to be one of our friends. So long as the Aliyev dynasty make it nice and easy for our oil companies to go in there, extract the oil, pay kickbacks, pollute the air, sea and land then that's ok with us. Only dictators with oil who do not dance to our tune (i.e. Messrs Saddam and that religious bloke with robes next door) are ripe for regime change.

"Ilham Aliyev, 41, a former vice-president of the state oil company, said in an interview in August that he was committed to democratic reform (sic)."

Ditto
THAT POLICE INVESTIGATION

I have it on good authority that Channel 5's website named the Premiership players several days ago. They apparently already wear stripes.

Today Channel 5 report that the Villa have denied any link. Make up your own mind.