Monday, January 30, 2006
MMMMMM DONUTS

Live (on tape) from Arizona!

And now, here's a picture of a muffin.

Sunday, January 29, 2006
UNCONSCIOUS MUTTERINGS

1. Long distance :: runaround
2. Meant to be :: predestined
3. Here :: there and everywhere
4. Endless :: repetitive
5. Resentment :: deadly sins
6. Insipid :: weak tea
7. Bunny :: hops
8. Slogan :: "New Labour. New Britain"
9. Naked :: lunch
10. Sarcasm :: Jeremy Paxman



Friday, January 27, 2006
NOISY PEOPLE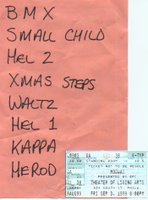 If you likes your music loud, get yourself to your local record emporium on Monday to buy the latest discie by Glasgow noise terrorists Mogwai. "Friend of the Night" is the new single off the forthcoming "Mr Beast" longplayer. Check out some recent live video, chats with bald and hairy Scotspeople at the BBC collective site. Mogwai tour the UK in a few months and later in the year appear at London's Royal Albert Hall, of all places. I only thought sad bastards like Eric "Dead Hand" Clapt-out played there these days. Oh well, I've got my tickets.

yes! i am a long way from home
Wednesday, January 25, 2006
NORMAL SERVICE MAY BE DISRUPTED BY ILLNESS AND/OR ATTENDANCE AT A TRADE DINNER TOMORROW NIGHT

Donut news

Black helicopters:

Tuesday, January 24, 2006
FROZEN EDITION

Silly Winter Olympic story number 1:


Cliff paintings of hunters in rugged remote northwestern China appear to prove that Chinese were adept skiers in the Old Stone Age, Xinhua news agency said on Monday.

Wang Bo, a noted researcher with the Xinjiang Autonomous Regional Museum, said he had seen a picture of four people chasing cattle and horses, three of them on a long rectangular board with poles in their hands.

"(Experts) held that cliff paintings in Altay were the earliest archaeological evidence to show how humans had skied in the early days and suggest skiing had originated in Altay."
To the left is a picture of a fountain in Trafalgar Square where I sometimes go for a lunchtime walk. Today's was a typical day with schoolkid fooling around, a breakdancer in front of the National Gallery, pigeons shitting everywhere and tourists taking pictures. I thought I'd join in the fun.

-10 deg C tonight.

Blast from the past: Donut's travelogue.

In through the out hole: The appliance of science.

Words: stuff about Tasmanian Tigers.
Monday, January 23, 2006
LIFE GOES ON WITHOUT PETE




More
Sunday, January 22, 2006
Alone :: again, naturally
Science :: she blinded me with...
Deposit :: 5 cents
Faithful :: puppy dog
Tender :: what runs at the back of a steam train
Chocolate :: Ray Nagin
Homework :: free period after lunch
Tamper :: proof cap
Friend :: of a friend of a friend of someone down the pub
Wire :: music magazine

Saturday, January 21, 2006
::SIGH::

Some of the tabloids nicknamed the whale Pete. Some obscure link to a TV programme.

Poor Pete.

Why should we care about an animal?


...naturalist and television presenter, Terry Nutkins: "You can't leave a whale stranded in the Thames and we did the best we could."
One of many posts elsewhere.

In other developments, my sister blog was linked to by the Washington Post.

Greens.


Pottering in the garden. The strawberry tub needs some soil. Some of the runners are rooted to air. But, the blighters are struggling along in the cold.

Six by Seven: now, that's damn fine power rock.

Internet cousin goes pod.

Sprouting broccoli is in season.
Friday, January 20, 2006
NO, I DIDN'T GO DOWN TO THE RIVER TODAY BECAUSE I WAS TOO BUSY PICKING UP THE PIECES AFTER A SENIOR EXECUTIVE SO I COULDN'T GO ON THE INTERWEB AND FIND OUT WHAT DRAMA WAS TAKING PLACE NEARBY

London is not in Wales, but there was a whale in the Thames today.

I blame the usual suspects: Thatcher, global warming, Bush, bin Laden, Jean-Luc Picard, squirrels.


In happier news, the f@cking sun had his hat on.

Omelette. Is that a proper meal? Salad was involved.

I ate a muffin.

There is an imposter out there.

I still own some Yes albums.

What is a man cold?
Thursday, January 19, 2006
THOUGHT POLICE COMING TO GET YOU


BEIJING - Beijing is setting up an "energy police" force to crack down on excessive lighting and heating and other power waste in shopping malls and office buildings, the China Daily said on Wednesday.

Link

Perhaps we can work on trash police next. Oh, and the grafitti police.

Meanwhile, I think someone has stolen the sun. Not seen in these parts for many a day. Did we forget to pay the electricity bill or something?

Probably the sun police took it in for questioning. "Were you or were you not in Afghanistan in the last ten weeks?" Hold still whilst I attach these electrodes to your photosphere.
Monday, January 16, 2006
UNCONSCIOUS MUTTERINGS

1. Paralyzed :: from the waist down
2. Bossy :: boots
3. Worth :: £0.35
4. Breathing :: difficulties
5. Uneventful :: day (again)
6. Return :: of the YTMND
7. Splint :: -er in my finger
8. Notice :: board
9. Hero :: what you used to call a "subway sandwich"
10. Vulnerable :: children



Sunday, January 15, 2006
LOVE IS LIKE A BOTTLE OF GIN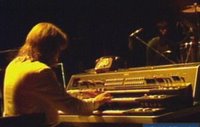 Why does Led Zeppelin's John Paul Jones have a telephone on top of his keyboard?

New Year's resolution fulfilled. Now, my eyes hurt becuase the prescription is too strong. But, at least I can read a menu in a dark restaurant. Now, if only I can get them to turn down the volume of the musak.

Scientists say:


The average person usually spends more than 2 hours every night dreaming.
More stuff like that.

You need to go out and buy Magnetic Fields "69 Love Songs" NOW. Because, either:


(a) your copy has worn out, because it is finest of the fine;
(b) your lover, in a fit of pique, has stolen your copy; or,
(c) you were dumb enough not to buy it earlier.
"You may have paid too much tax..."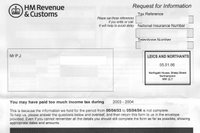 Friday, January 13, 2006
HI-DIDDLEY HO, NEIGHBOUR!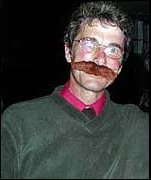 Is this guy Ned Flanders?

Thank you, Mr E for taking me to the pub and helping me say stuff I shouldn't have. It's a weight of my shoulders. And, the beer was good too.

Heck, there's not much content here, is there? Check out my 101 things then.

I made some New Year's resolutions. I've already fulfilled one of them. More soon.

Sorry. We've sold all our pixels.* Unfortunately, we're not millionaires like this guy, who isn't Ned Flanders.

* - but, can I interest you in the Brooklyn Bridge?
Thursday, January 12, 2006
JOIN IN IF YOU LIKE

Harrasturbator:
Noun. 1) Any person who uses another person against their will for purposes of sexual self-gratification. 2) Dysfunctional sex criminal, rapist. 3) Obscene phone caller, exhibitionist, or person who rubs themself against others on a bus.
4) Colloquial: Impotent, angry man, object of intense derision.

Inspired by the Freeway Blogger
I AM [NOT] MY BROTHER'S KEEPER


"The brother of Australian Prime Minister John Howard faces prosecution for felling endangered trees..."
Variation on the George Washington "I did not cut down that tree" story and a long history of embarassing brothers of world leaders.
Tuesday, January 10, 2006
GARBAGE


My trip to head office involved going through Loughborough Junction (South London) and Loughborough (Leicestershire). The latter is pictured to the right left*. The former is so hidden under graffiti and garbage I couldn't bother to take a picture.

My contribution to the landfill site:

3 cardboard coffee cups and plastic lids
1 plastic water bottle
1 styrofoam plate
2 kit kat wrappers
assorted paper napkins

My recycling:

1 newspaper
various briefing papers
train ticket confirmation printout (2 pages)

My composting:

1 apple core.

* - [Ed's Note: I need glasses.]
Sunday, January 08, 2006
UNCONSCIOUS MUTTERINGS

1. Better off :: toffs
2. Girls :: just wanna have fun
3. Uniform :: military
4. Classified :: setion, offers no direction...
5. Hard :: cheese
6. Kitty :: Kat
7. Team :: work
8. Massive :: Attack
9. Depressed :: 'cause my team lost
10. Award :: winner



Saturday, January 07, 2006
GRAY DAY EDITION

It's SAD time.

Cold. Damp. Dark. Crap TV.

But, good news. The World Darts Championship may have ended; but, the World Darts Championship just started!

I wasn't quick enough with my camera so you will just have to believe the odd sight I saw yesterday. There was a man walking two ferrets on leashes down a busy Central London street. That's not something you see every day.

Dreams: these come and go in my sleep. That recurring dream of travelling and being late for a plane hasn't woken me up lately. Last night, there was a variation. I was in Portugal or Madeira. I was hanging around the airport or was it a bowling alley. The cab I'd travelled in drove off with my luggage, camera and other stuff. A frantic phone call later, the cab reappeared with all my gear. I'd say resolution, which is unusual in my dreams. But, nothing in my life is resolved; certainly nothing has been resolved recently. In fact, there are a couple of elephants in the room that need resolving (or relieving).
Tuesday, January 03, 2006
JET SET

I fly a lot. For which, I should be ashamed. Still, I would hesitate to drop $1200 just to rack up frequent flier miles. These people are nuts and more of a nuisance to the environment than I could ever be.

Parsnips, mustard and honey. Try it. Delicious.

Supermum mentions bubble and squeak. My first father-in-law (who was never actually my father-in-law) loved bubble and squeak. In fact, he preferred Boxing Day bubble and squeak over Xmas Day turkey.

First day back at work. Yeuch! Returning to school was never this bad.
Monday, January 02, 2006
A LOAD OF OLD FLATULENCE


Cows belching and breaking wind cause methane pollution but British scientists say they have developed a diet to make pastures smell like roses - almost.
Link

Frankly, I could give a monkeys. I had never seen that movie until yesterday. Meh. (Wind, geddit?)

Not quite indigestion.


...the passenger, who had planned to give birth in her home on the island of Mayotte, the plane's final destination, was not visibly pregnant.
A sideways link to the birth of a son to my work colleague on 23 Dec. Congrats, young man!

Wind causes postponment of New Zealand bowls championship.


High winds played havoc at the national championships at the Naenae club in Wellington yesterday, forcing players to duck flying objects and cope with bowls disappearing across the rink and jacks that moved.
Sunday, January 01, 2006
UNCONSCIOUS MUTTERINGS

Celebrate :: get pissed
Resolve :: indigestion relief
I need to :: have a pee
Call :: girl
Token :: New York subway
Brand :: X
Comparison :: with or to?
Far away :: Mongolia
Artful :: Dodger
Fantastic :: Captain ... and the Brown Dirt Cowboy