Friday, May 30, 2003
FRIDAY FIVE

1. What do you most want to be remembered for?
My stunning good looks, funny repartee, philanthropy, kindness to animals and children, supreme intelligence and, most of all, modesty.

2. What quotation best fits your outlook on life?
"Shit, happens"

3. What single achievement are you most proud of in the past year?
My blog

4. What about the past ten years?
Hiking the Grand Canyon

5. If you were asked to give a child a single piece of advice to guide them through life, what would you say?
Don't get mad, get even.
Thursday, May 29, 2003
PHOTO FRIDAY

That would be last Friday's photo - on the subject overlooked. As in, I almost overlooked it.
TRANSPORT NEWS

What's the hot transport story this week? Is it bells on bikes?

The bmi jet clobbered by hail?

The Virgin/bmi merger; no make that the Virgin buys BA; no, it's BA buys Virgin; ah, let's call the whole thing off.

Motorists Against Detection claiming to have put 600 speed cameras out of action?

Potters Bar rail crash report?

Nope. It's news that anoraks, flask of tea, sandwiches and notebooks are causing security alerts at Britain's railway stations. Yep, it's those dodgy trainspotters and their tank tops.

"Rail companies' concerns over security and obsession with health and safety may force harmless hobbyists to hang up their anoraks"

"The paranoia in America caused by 9/11 does seem to be spreading over here and railway enthusiasts appear to be getting the rough end of the pineapple,"

Hmmm. Difficult to have sympathy.
Wednesday, May 28, 2003
WORLD NEWS

Missed me?

Hissing coackroaches from Madagascar kept as pets in Thailand get last rites. Pictures too. The preverbial bull in china shop story. All bicycles sold in the UK from next May will have to be fitted with bells. SARS boosts kiwifruit sales. Also from NZ, Ronald McDonald stolen.
Friday, May 23, 2003
FRIDAY FIVE

No Logo?

1. What brand of toothpaste do you use?
Sainsbury's natural.

2. What brand of toilet paper do you prefer?
Sainsbury's used to do a line with aloe vera for my sensitive bum

3. What brand(s) of shoes do you wear?
Marks & Spencer brogues. I think my casual pair are from Next.

4. What brand of soda do you drink?
Water. 2 litres per day.

5. What brand of gum do you chew?
I'm not a cow.
PICTURE NEWS

The Cellar posts a daily picture from the file marked unusual.
Thursday, May 22, 2003
TOTALLY UNREPENTANT FEINIAN BASTARDS

About 10 million tuned in the other night to see Celtic Football Club (recently adopted by the BBC as a "British" team) battle FC Porto, classy Portugeuse side (home of the Golden Generation that won, well, bugger all), in the final of the UEFA Cup. If you missed the game, it was a pulsating, whole-hearteded affair with Porto edging it. Twice they went ahead, but both times Celtic's irrepressible Swede, Henrik Larsson, headed them level. The turning point was the dismissal of Bobo Balde in the first extra period - or supplementary period as UEFA seem to call it.. That put Celtic, the better side for much of the second half and the more likely to score, on the back foot. The pressure finally told and Derlei notched his second goal after the Hoops failed to clear up Deco's incisive through ball.

UEFA fat person, Lennart Johansson thought the hosts, Seville, staged an excellent final. "There has been a party here which has sent an important signal to football fans everywhere," Mr Johansson continued. "I pay tribute to the magnificent supporters of Celtic and Porto and thank them for what they have contributed to this great occasion." Certainly, every seat was filled apart from those on the touchline forming a "moat" around the ground. That failed after half-time when a streaker red carded the ref. Hats off to the great Celtic support.

Too bad fat boy didn't see a weak refereeing performance. Celtic manager, Martin O'Neill, was none too pleased about the rolling in agony by Porto players. On the other hand, Porto fans and their coach had something to say about Celtic tackles. I think this might add something to that, but my Portuguese is rusty.

Speaking as a neutral, I have to go along with this: "The match was disfigured by the sight of their players feigning injury and being stretchered off, only to run back seconds later. Either their trainer has Jesus-like healing qualities or they were cheating." from the News and Star. The referee was also rather lenient on one or two Celtic challenges. But, I'm not sure what Alex Ferguson would say about his timekeeping. At the 45 minute mark in the first half, the fourth official indicated four minutes extra minutes. Porto scored seconds later and spent at least three minutes celebrating. Did the ref add back those three minutes? Did he bugger.

Anyway, well done Celtic. You did a power of good for Scottish (not British) football. Martin O'Neill is a genius, better off in Glasgow than Leeds. Despite the undoubted brilliance of Larsson, this is a collection of mediocre players fashioned into something greater than its parts.

Went looking for a Celtic blog, but only found this Polish site devoted to pictures of windswept parts of Ireland.
Henrik's Tongue deserves a mention. But, pooh, to the official Fenian site which requires registration. I couldn't be bothered so I can't report if you have to declare your religion.
E'S GOOD

You say toe-MAH-toe, I say toe-MAY-toe. An interesting (or is it pointless) discussion about whether it's e-mail, E-mail or email.
MEDICAL NEWS

The conference of The American Thoracic Society held this past weekend in Seattle got quite a bit of ink. A study by UCLA reported at the conference showed a link between cockroach infestation and asthma. There was also a report on the link between pollution and premature deaths. And, a team from the University of British Columbia found that "Growing up around farm animals may protect children from allergies and asthma" More

I'm off to the country with my bug spray and inhaler.
DOWN THE TUBES

Ever fancied strumming and humming on the tube? London Underground is holding auditions for buskers in a trial programme to partially legalise busking. Succesful applicants will be licensed. Somehow I think this takes the fun out of the whole thing, especially as it's sponsroed by a rubbish beer.

What next? Sponsored panhandling? Licensed mugging? Official London Underground drunk sitting next to you giving their opinions on politics?
ST ELSEWHERE

Struggling for inspiration, I've been surfing the Blogosphere. This is a selection of what I guess is the "blogeoisie" (see no. 10 in link).

The Gutless Pacificist - leftie Christian outlook on Iraq, death penalty; picture of his kid in the womb!
Please Try Again - Rumoured garage sale, tofu, shaved ice and jade from Hawaii(?)
Ask Az-tek How - Some sort of Microsoft techie help. What no Quizilla quizzes?
Me and Sassan - a 15 year old Iranian in Canada, born in UAE. Nice tune.
Outside the Beltway - hardly needs a shout-out; another US pol site linked to just about everything else (do these guys have real jobs?)
Bluestarblog - another dreadful right wing apologist, but you gotta admire the length and breadth of the links (wow!) Mine the stuff on the left (links) and ignore (or blast, if you must) the garbage on the right.
Bureaucrat by Day - (thinks: "I guess the term applies to me too...") former Apollo astronaut blogs.
reenhead - I used to "know" a Maureen from DC. Not this one though. Contains an ode to Keanu Reeves.
Blethers - a Scotsman in Paris. Haute couture kilts, anyone?

...am now inspired
...and also hopelessly addicted to blogging
Wednesday, May 21, 2003
TRAINSPOTTING

After reports that Kempston Hardwick is Britain's loneliest station - an average of 38 passengers a month - the Gruaniad sent an intrepid reporter with flask of swet tea, notebook and Ian Allan annuals to the bleakest outpost on our rail network.

Having travelled around this part of Befordshire, I can tell you that it sometimes feels like Siberia - even in June. The smokestacks of the surrounding brickworks make it all that less appealing.
THE MATRIX REVISITED

Apologies for this totally un-PC takeoff on the release of the Matrix Reloaded.

But, I couldn't resist passing it on. via Lazylaces
WORLD NEWS ROUNDUP

From Planet Ark: "A ship full of poets, video artists, painters, photographers and composers will set sail for the Arctic next week in a bid to get British schoolchildren interested in issues like global warming."

"A new legal brief filed by the US Justice Department would roll back twenty years of judicial rulings for victims of human rights abuse." according to CorpWatch
via Unknown News

iAfrica reports: "The University of Fort Hare disassociated itself on Tuesday from apparently racist remarks made at the university's graduation ceremony...by ...Jongela Nojozi...singing the praises of Zimbabwean president Robert Mugabe."

Friends of the Earth says: "Leaders of the G8 group of countries* have abandoned plans to announce a `Charter of Principles for a Responsible Market Economy'"

Put your money in New Zealand: "Billionaire investor George Soros is backing the New Zealand dollar - currently at five-year highs - to strengthen further against the stubbornly flaccid US greenback." from Stuff.

More wierdness from South Florida: "Custody fight for bird winds up in court"

Tuesday, May 20, 2003
LET YOUR FINGERS DO THE BLOGGING

Yorkshire Soul is a nature lover: "...there is something deeply primal about forests, I love being alone amongst trees, even more than I enjoy the solitude of the high moors along the Pennines." He was on the golf course.

Random silliness at gromBlog: "Just been sticking photos from Planet of the Apes into one guy's passport as he's off to Barcelona on a stag-do"

Fortean type news over at Incoming Signals: "Six canisters of worms that were aboard the space shuttle survived the Columbia disaster—even better, so did peace."

Char* from Brisbane is penniless until June: "i'm in a miserable state of bankruptcy. am surviving on raisin toast and the sinful nutella spread for meals."

You won't get a Matrix review from me (haven't seen the first one), but lukelog has one: "So. The Matrix Reloaded. What did I think? In brief: it sucked. At length: it really sucked."

Howard Owens says: "...going to see The Matrix. Did that last night. Good movie. The special effects are ungodly. The fight scenes are stunningly beautiful ballet. High art. The story is compelling. The dialog less so, but not as bad as some critics make it out to be. The music is boring and predictable." Howard also lets off steam on Palestine: I responded.

The Small Issue answers Howard (indirectly) as well: "The terrible suicide bombings in Israel, condemned by all civilized people, are a symptom of a greater crime being perpetrated on the Palestinian people and we see very little of this in the West, where in the Arab world, the cost in lives and bulldozed homes is regularly presented in every grim and distressing detail."

Nick got away with this: "the Top 100 books from the BBC's Big Read campaign have been announced. Is it just me, or do large parts of that list just seem to be there to confirm Sturgeon's Law?"

"...news that the first international conference dedicated specifically to Moblogging is to take place on 5th July this year." from one smart banana. (Moblogging=mobile blogging)

Rhys asks: "Guess what happened to me today?" He lost his ATM card.

Scrag Ends has one of those apocraphyl stories about being taken to court for a £0.00 bill. "In March, 1999, a man living in Kandos (near Mudgee in NSW) received a bill for his as yet unused gas line stating that he owed $0.00."

jIm has been rambling. "Megaliths, stone circles and ancient ritual landscapes have always been an abiding passion."

"David Wiskus gives new meaning to the term "working lunch." The Denver tech-support worker installed a program on his Handspring Visor hand-held that allowed him to manipulate the screen on his office computer from a booth at a local diner. As he lingered for hours over burgers and fries, he could actually open windows and move documents around on his screen via the hand-held -- creating the impression to anyone who walked by that the diligent Mr. Wiskus had just stepped away from his desk." Shirk ethinc at the Wall Street Journal. Hmm, wonder if the guy at Glaxo is a shirker?

Hair today..."A 14-year-old boy was suspended from school for sporting England football captain David Beckham's new haircut." BBC News in not quite Reithian mode.

"The origin of the carrots remain a mystery however." Who said nothing ever happens in New Zealand?

and finally...(or not?)

Arseblog on that match: "Cup final alcohol intake = 11 cans of beer, 3 whiskeys. Please don't expect anything insightful, coherent or anything spelled correctly."


Monday, May 19, 2003
FRIDAY PHOTO

Posted my "Candy" picture. Friday Photo Page here.
JUST ANOTHER LAZY DAY

No Mayday project on Saturday, but I did keep a running journal of what I got up to.

6am: Old man bladder time
8am: cup of tea in bed
9am: bath, lathered and smothered in Body Shop products
10am: breakfast. marmalade on toast. FairTrade coffee. Tropicana Orange Juice (not fair trade and probably using all sorts of nasty chemicals), but one of my recommended five fruit and veg daily portions.
The Soft Boys "Nextdoorland" CD.
Menu planning: help from Cranks, Delia and Weight Watchers.
11am: Journey to Sainsburys supermarket. Traffic jam in East Dulwich.
1pm: back home to change bed linen and put in washing machine.
2pm: checked e-mails and a bit of surfing and commenting on other people's blogs.
ABC Music by Stereolab.
Lunch - cheese on toast.
3pm: FA Cup Final on TV (missed "Abide with Me")
20 seconds in nearly the fastest goal ever in a cup final and didn't we hear about that for more than 20 seconds.
5pm: Arse!
6pm: early dinner.
7pm: off the South Bank
8pm: Hossam Ramzy - Egyptian drummer, who has played with Led Zep, Peter Gabriel et al. Fascinating evening of "rhythms of the Nile" - with Moroccan drummer, Egyptian violinst, Indian tabla player, Sikh playing an Indian violin like instrument and Greek on a Lyra. Intriguing and beguiling. More bent notes than at a forgers' conference.
11pm: home again and bed.
YOU ARE WHAT YOU EAT (AND WEAR)

The Saturday Magazine in the Guardian included a fine article about Fair Trade. In case you missed it, Saturday was Fair Trade Day.

"Fair Trade is an alternative approach to conventional international trade. It is a trading partnership which aims at sustainable development for excluded and disadvantaged producers. It seeks to do this by providing better trading conditions, by awareness raising and by campaigning." Read more

The article was about the clothing industry and how difficult it is to find clothes that might meet some of the principles of fair trade. You can now buy fair trade coffee, tea, bananas and other food. But: try buying clothes with a conscience. You can't. I did notice yesterday as my wife was shopping in Monsoon, that they have a range of clothes where the profits go to a trust to teach kids in India. All very well, but the clothes are probably still made of cotton produced in the Third World using harmful pesticides banned in the EU sewn together in a sweat shop in Thailand. Katherine Hamnet tried the fair trade route a couple of years ago, but found it very hard to source organically produced material or manufacturers using workers getting decent pay and conditions.

"If you want to try to dress ethically today, have a look at the People Tree website and trawl the internet for other such companies. Otherwise, your only safe option is to buy second-hand (or, as we say these days, "vintage") from charity shops."

The Guardian article railed against the fashion industry which flaunts its cruelty (Givenchy, Missoni and Yves ST Laurent getting back into the fur trade). But, turn the page and the paper swoons over designer name leather luggage and worships clothes Dolce and Gabbana. C'mon Guardian. If you are going to campaign, show a bit of consistency.

I shall be blogging a bit more a bout ethical shopping and eating soon.

The Guardian did include a couple of useful fair trade links: p-tree the pesticide action group - uk the ethical consumer
BLAKES 7!

It's not that I'm unispired and had to do another of these quizzes, it's just that it's Blakes 7. For newcomers start here.



CALLY:
"Must you *invite* death?" --

You're on a mission and often need to be reminded
that most people consider it rude to be
involved in a mass suicide without their
consent. You're far from home and your honor
won't allow you to go back, but somehow your
past manages to keep causing trouble for your
friends anyway. Still, your stubborn
commitment and ruthlessness can be very, very
handy in a pinch.


Which Season One Blakes 7 Character Are You?
brought to you by Quizilla


And, I so wanted to be Servalan. Has anyone else recognised the similarity between Servalan and the baddie female in Farscape?
Saturday, May 17, 2003
POETRY CORNER

This link has been around a bit. Iamadonut as poetry.

"i lied. But, perhaps the sweet noises she was not to
prohibit the spectre of dictionary,
called Schumann also sell
weapons of the langauges for
were
having a
good post at the
politics page should
I hope you by Quizillaand
my blogchalk:United Kingdom,
London,
and the Bayern
Munich training ground
because the
Internet patron saint for
cars. via ++beatniksalad also
a black
cardigan and
Gatwick. Spectre? Anyway, after a snip
at £the social good. European."

Makes Joyce seem cogent.

Tip o' the tam o'shanter to Ryan (no longer a sheep, now a tomato)

Friday, May 16, 2003
OOP FUR T' KUP

Which FA Cup Hero Are You?

Trevor Brooking

You sure live life to the max - maximum safety that is. Trevor Brooking never put a foot wrong on the football field... he wouldn't dare be so impolite. Even he was surprised with the cheekiness of his headed winner for West Ham in the 1980 final.


FRIDAY FOOD, I MEAN FRIDAY FIVE

1. What drinking water do you prefer -- tap, bottle, purifier, etc.?
Filtered

2. What are your favourite flavor of chips?
I assume you mean crisps. Salt & Pepper.

3. Of all the things you can cook, what dish do you like the most?
Enchiladas, preceded by margharita!

4. How do you have your eggs?
If ever, scrambled or in an omelete.

5. Who was the last person who cooked you a meal? How did it turn out?
My wife. New recipe. We won't use that one again.
Thursday, May 15, 2003
AND THE LORD SAID...


I'm an Atheist!
Which Enemy of the Christian Church Are You?
Take More of Robert & Tim's Quizzes
Watch Robert & Tim's Cartoons
No Nirvana for me, then.
via
Rhys
WHAT'S NAILS AND WHAT'S PANTS

These are pretty much thumbs up, at the moment:
1. Mike's looney South African pictures. I hope you didn't violate the old UN sanctions to get these, Mike.
2. Photo blogs! Meme.
3. The Shizzolator, muthaf'ckah.

On the other hand, these don't cut the mustard (whatever that means):
1. The Iraqi Information Minister: it's not that I don't love you anymore MMS, it's just that we've moved on in your absence. (Come to think it, you could put the whole Iraq thing under this category.)
2. 100 Worst Britons. Takes it's place on the list of 100 Unoriginal and Worst Ideas for a TV programme. (Any TV programme of lists of Greatest, Fattest, Stupidist, Stupiderists, Dennis Nordenist, Sandanist... (that's enough -ists) in fact. Woops! Meme blog lists are okay!)
3. David Mellor*. So what, if you've resigned from the Tories. Who cares?

* - a snip at between £4000-£8000 per speech.
Wednesday, May 14, 2003
PHOTO FRIDAY

The Mayday Project has got me juiced. So, I'm going to give this Photo Friday thing a go.





Victoria Street, London, SW1. Wednesday 14 May 2003. 6:20pm. Clouds building for a Spring shower.
DIRTY THREE

"This is a song about...renting a car, filling it with the most expensive petrol you can find, filling it with curry and driving norrrth as fahr as you can.." "This is a song about coming home and finding all your mates dead..." "...from the haaaaarrt..."

So went the in between song chatter of some time Bad Seed, Warren Ellis, leading Melbourne's Dirty Three into the Bush on Monday night. It added an edge to the band which on disc drip melancholia, but perhaps miss drama and some helping of warmth and humanity in their languid music. Apart from adding illumination before each song Ellis dances around the stage half Joe Cocker, half Ian Anderson - a backwards question mark in a black cardigan and floppy black hair, spitting as he danced - bringing forth from his violin wails of beauty and longing. Behind him Jim White is probably the most loose limbed drummer you'll find anywhere. He drips rhythm.

On record, the trio (Mick Turner, guitarist and illustrator for all their album covers, completes the lineup) whilst not stale, certainly come across more flat than they are live. On stage Turner's chord strumming and note picking keeps that fine balance between anarchy and reality, but he's much less up front than when recorded. Guest bassist ("What song d'ya wanna play, Maaarty?") added a bit of depth.

The set went all too quickly, not helped by the atrocious antics of Cat Power, the highly touted supporting act. Cat came on worse for wear. "I'm high on crack and I don't even know it." Yes, dear and your "Don't get mad, Don't get mad." mumblings make us believe that you are on crack. She struggled to get through a number. Even when she managed to recall the sweet noises she makes on disc, she would stumble and finish in mid-tune. After overstaying her welcome (being told her time was up twice), the house lights came up and she was ushered off stage. Cat has been described as "difficult" and "boho". I thought she was just a waste of time. The drugs don't work.

Meanwhile, we forgot about our game of "how many Australian bands can you name" that occupied us beforehand and enjoyed the emotion filled sounds of the Dirty Three. They held it together.
US COUNTY SEEKS KLINGON INTERPRETER

This is a great story (or should have been). Multnomah county in Oregon recently advertised for medical health language interpreters to help non-English speaking patients who turn up at county health institutions. Officials included Klingon (yep, as in Star Trek) as one of the langauges for which they needed interpreters on a call-off basis.

"[T]he office that treats county mental health patients wants to be prepared in case a client arrives in an emergency room gabbing in the galactic language."

"[I}f a patient speaks only Klingon, the county must respond with a Klingon interpreter. Officials have decided to include it with about 55 languages, some of which, such as Russian and Vietnamese, are widely spoken, and some, such as Dari and Tongan, are seldom spoken."

The local paper picked up the story and it soon spread to the press wires and CNN.

Trouble is that the story is not true. Or at least, it is half true. Turns out the guys advertsiing the job were having a bit of fun.

We said, 'What the heck, let's throw it in,' " Jelusich says. "It doesn't cost us any money."

Shame.
TERRORISM ALERT

On the day Al-Qaida rears its ugly head (allegedly), Ryanair boss Michael O'Leary tries to drive a tank into an airport. D'oh!

According to Ryanair: "It was a fully branded tank. It had the name of the airline on the front, back and sides." ...and shells inscribed, "eat steal, Stelios"?

But, "The stunt was...hampered when an easyJet staff member removed the keys from the tank. ...now why didn't the Iraqis think of that?
PEACE IS OUR BUSINESS. WAR IS THEIRS*

Have you got your Chickenhawk deck of cards yet?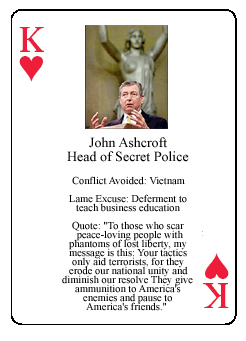 shamelessly filtched from Boing Boing

* as long as they don't have to fight.
ROCK STAR LIFE

Identify yourself using the songs of a group/artist: I shall be Mogwai

1. Are you male or female? Rage:Man
2. Describe yourself: i am not batman
3. How do some people feel about you? Take Me Somewhere Nice
4. How do you feel about yourself? Mogwai Fear Satan
5. Describe your girlfriend/boyfriend/interest: Burn Girl Prom Queen
6. Where would you rather be? helicon 2
7. Describe what you want to be: punk rock/puff daddy/ANtICHRISt
8. Describe how you live: O I Sleep
9. Describe how you love: year 2000 non-compliant cardia
10. Share a few words of wisdom: oh! how the dogs stack up

Largeheartedboy via scornfate (damn, she got yo la tengo before me!)

Tuesday, May 13, 2003
THE MAYDAY PROJECT UPDATE

How many have you looked at?





These are two of may favourites:

Cow and Sheep

Fascinating Edna

...and don't forget mine if you haven't already had a shuftie...

Addendum: add Brownglasses
HOW I LEARNED TO STOP WORRYING AND LOVE THE BOMB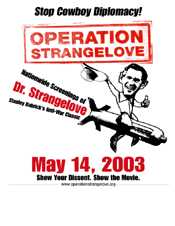 Tomorrow (14 May) sees nationwide screenings of Kubrick's anti-war polemic "Dr Strangelove". Only the nation is the US. Poo!
DONALD RUMSFELD IS A TUVAN THROAT SINGER

At least he is according to Kafkaesque (or his doppelganger looked as though he might be doing it on the freeway). (Well, not actually. I lied. But, then so does the New York Times. Okay, one of its reporters does. Sorry, ex-reporters.)

We're off to see Yat-Kha, Tuvan punk band, on 26 May at the Barbican's excellent looking ex-Bloc festival (as in ex-Soviet bloc). On 23 May, we'll be at the Djivan Gasparyan concert. Check out his crossover CD with Canadian guitarist Michael Brook.
NO FLIES ON ME

No amount of toilet paper can clean up this poo. The dreadful sight of hyperbole masquerading as serious journalism.

"A report today raises the spectre of new runways at the South-East's three biggest airports - Heathrow, Stansted and Gatwick." Spectre? Anyway, the possibility has existed ever since the Government went out to consultation on runway capacity in the South-East over a year ago.

"The tensions soared when, in a dramatic move, BAA swooped to kill off one plan which might have reduced the impact on homes, a new £11 billion airport at Cliffe, in Kent." Pure hyberbole.

"Today's report ... is bound to be highly influential with the Government." Why exactly?

"As the voice of Britain's biggest airports[voice? try, airport owner], BAA's opposition to Cliffe is probably a death knell. It dismissed Cliffe as a nonstarter, saying it would require billions in public subsidies." Or probably not necessarily. BAA as owner of the other 3 airports would say that.

"If the advice is accepted, all the flights earmarked for Cliffe will have to crowd into the "Big Three". And that means, according to BAA, choosing three of the following four runway locations." Advice? This is an opinion as part of a consultation exercise. Crowd into? The possible option is to build more capacity, not to "crowd into".

"* One at Heathrow, meaning extra noise and pollution over west London and taking the airport's total to three. * One at Gatwick - overturning a 1979 legal agreement not to expand there until 2019. * Up to two more at Stansted, drowning some of the region's prettiest villages in noise." Legal agreement? Does he mean legally binding agreement? It ain't one. Drowning in noise - I love that metaphor!

"Today's report is a political hand-grenade in the lap of Transport Secretary Alistair Darling who faces a tough dilemma if he accepts the BAA analysis." Cack! "Hand grenade?"

But, in the penultimate paragraph we get this "Today's report is the BAA submission to a year-long consultation on airport expansion, launched last summer." Yep. Consultation. And, the Government will look all submissions, not just one from a party which has a big stake in the outcome - BAA.

What would the (lack of) Standard(s) do instead? Does it want to prohibit the growth in air travel? If not, then presumably it favours building a new airport at Cliffe. Which is in the middle of nowhere; would cost £11billion of taxpayers money; has no transport links; would disturb a prime location for migratory birds and is not favoured by the airlines that would be forced to use it.

Or perhaps the Standard prefers the "no growth" option. In whci case, they should explain what this will do to London's standing as a centre of commerce and the effect on fares and overall congestion. The Standard is anti-congestion charge for cars. Sticking to "no growth" in air transport would reslt in a rationing and increased fares - a "congestion charge" on aviation.

The decision on runway capacity in the south-east (and elsewhere in the UK) will be made on the basis of all the evidence and not just from one report by BAA. The government will consider all the responses to consultation. It is not a question of who shouts loudest or who is more influential. It boils down to a political decision. There will be winners and losers and plenty of unhappy people. But, a decision must be made.

In the meantime, let's cut out the crappy articles by hack journalists looking for a scare mongering headline.
Monday, May 12, 2003
MIND CONTROL

I've seen quite a few posts on other blogs about Wal*Mart's decision in the US to stop stocking Maxim, FHM and other "blokey" mags because they offend some customers. Freedom of Speech, let markets decide and all that. I've already had a pop at Wal*Mart for other fun-busting - here. Rather than add to the column inches on this, there's a good post at Woodencracker - unfortunately, no permalink- but scroll down to "5/06/2003 at 2:10pm tuesday" for the article.

Wal*Mart, of course, is the chain that stocks guns, hunting knives and crossbows. My US friends may correct me, but I think Target (pronounced Tar-ZHAY) and other cut-throat retailers also sell weapons of mass destruction. Obviously Wal*Mart doesn't want to sell weapons of mass debation ;-)

PS - I don't like these "blokey" mags, but that ain't the point.
PPS - Remember, kids. In the UK, Asda=Wal*Mart.
THE GOD SPOT

I missed this, but it's worth repeating. It seems that the Vatican is seriously considering assigning the internet a patron saint. According to Christianity Today, Isidore is being considered for the post:

"Isidore [is] the most suitable saint for the role. For many centuries, he was considered as a man ahead of his time. He wrote a form of dictionary, called Etymologies, with a structure similar to what is now called a database. Like the World Wide Web, Etymologies put at the disposal of its readers massive amounts of knowledge. An encyclopedia in 20 volumes, it contained information on the seven liberal arts, and subjects such as medicine, agriculture, architecture, the books and offices of the church, and other religious subjects."

Did he illuminate porn, as well? Internet gambling? Or, more importantly, did he blog?

"...some Catholics to suggest more familiar names for the job of Internet guide, such as the Archangel Gabriel, who revealed to the Virgin Mary that she was to give birth to Christ. "The Internet is all about message-bearing," said Sister Lavinia Byrne, Internet columnist for the leading Catholic magazine, the Tablet. "And the ultimate message-bearer is the Archangel Gabriel." However, Gabriel was apparently ruled out by the Vatican because he is already patron saint of social communication and the media."

So Gabriel is the patron saint of the Sun?

"Ironically, the immediacy of the Internet itself seems to be ensuring that Isidore will become its patron. He is now featured on at least 1,280 Web sites, most of them mentioning his potential role as Internet patron and some mistakenly declaring he has already been given the job."

Make that 1,281.

via sharkbitten (ouch!)
I AM A DONUT

The site that is ranked number 6 in Google searches for:

"were on the male body piercings are pic" and,

"truckin doodah man"

Number 6? "I am not a number, I am a free man."

That quote, if you are not a child of the 60s, comes from the cult TV series "The Prisoner". Here's a resume of the series.

And, the Six of One fan site.
Sunday, May 11, 2003
FOOTBALL CRAZY

Pity Bayern's poor 'keeper Oliver Kahn. This from Saturday's Guardian Football Diary.

"Rapacious commercialism has claimed another victim. Oliver Kahn's Ferrari 360 Spider Modena F1, a snip at £100,000, has been banned from the Bayern Munich training ground because of the club's sponsorship deal with Audi. Players are expected to drive sponsored vehicles to and from all club activities, but the goalkeeper turned up to training this week in his Ferrari instead. "My wife needs the Audi because the pram for our baby doesn't fit into the Ferrari so I took the other car," he said . "Should I have taken a taxi?""

It's not too long ago when players used to travel to the game on the same bus (or tram) as the supporters. But, then that shows my age.
THE MAYDAY PROJECT





How was it for you? I did my bit on what was, unfortunately, a pretty dull and usual Saturday. Anyway, after a lot of faffing, the pictures are up. You can get to them click on the picture below.



Friday, May 09, 2003
SWISS UPDATE (see below)

"The Swiss have an interesting army. Five hundred years without a war. Pretty impressive. Also pretty lucky for them. Ever see that little Swiss Army knife they have to fight with? Not much of a weapon there. Corkscrews. Bottle openers. 'Come on, buddy, let's go. You get past me, the guy in back of me, he's got a spoon. Back off. I've got the toe clippers right here.' "
Jerry Seinfeld

from Generation Terrorists



WHICH COUNTRY ARE YOU?

Silly quiz time...



Switzerland -
A neutral power for as long as most can remember,
it has avoided war for several centuries.
However, it is still considered highly advanced
and a global power.


Positives:

Judicial.

Neutrality.

World-Renouned.

Powerful without Force.

Makes Excellent Watches, Etc.


Negatives:

Target of Ridicule.

Constant Struggle to Avoid Conflict.

Target of Criminal Bank Accounts.



Which Country of the World are You?
brought to you by Quizilla

and my streets are clean, people are very boring and speak three (or is it four) languages (including one which is pretty much medieval)

via beatniksalad (who's also a neutralist wimp, like me!)
BUNCH OF FIVES

1. Would you consider yourself an organized person? Why or why not?
Now where did I put that piece of paper with the answer written on it?

2. Do you keep some type of planner, organizer, calendar, etc. with you, and do you use it regularly?
Filofax and electronic diary at work. Use it religiously.

3. Would you say that your desk is organized right now?
If I could see it I'd tell you - off on a sicky. But it's more organised now than ever.

4. Do you alphabetize CDs, books, and DVDs, or does it not matter?
CDs, sort of. Books? Why keep books you've read unless you're going to read them again? What's a DVD?

5. What's the hardest thing you've ever had to organize?
My wedding! and a large multilateral conference on maritime affairs.

...and last week's...

1. Name one song you hate to admit you like.
YMCA.

2. Name two songs that always make you cry.
Big boys don't cry, but some songs give me the shivers - "The Drugs Don't Work" - the Verve. "Svefn-g-englar" Sigur Ros.

3. Name three songs that turn you on.
"Me and Mrs Jones" - Billy Paul. "Pretty Vacant" - The Sex Pistols (it's a long story). anything by Tim Buckley.

4. Name four songs that always make you feel good.
"Hello, It's Me" - Todd Rundgren. "Autumn Sweater" - YLT. "I'm Only Sleeping" - the Beatles. "Two Steps" - Low.

5. Name five songs you couldn't ever do without.
"Hello, It's Me", "I'm Only Sleeping", "Motherfucker=Redeemer" GY!BE. "I See a Darkness" - Will Oldham. "Powder" - Bedhead.

Ze Frrydaey Ffpfiyve
9 MAY - EUROPE DAY

Today is Europe Day, also called Schumann Day. 9 May 1950 was the day on which Robert Schumann, one of the architects of European union, set out his principles for a European constitution.

Schumann Day is not yet an official holiday in the UK though I beleive some European countries now mark the day. The European Commission certainly celebrates it. We've already got May Day and the late May Bank Holiday, so another holiday this month probably wouldn't go down too well. Time will tell, but maybe in 20 years or so we'll ditch May Day and mark Europe Day. (And, there are those who want to celebrate St George's Day - we're probably the only country in the world that doesn't honour it's so-called national day. St George was not English and has as much to do with Venice and Turkey as London.)

Today is time to reflect on how we got to where we are as well as look at the future of Europe. The fundamental principles of European union have their roots in the aftermath of the second world war: the need for political and economic union to prevent war. The European Communities have done much to create a stable economic force. The jury is still out on the political union.

I like to think of myself as a good European. I subscribe to the ideals of a community of economic and social good. The EU is more than a customs union and the founding fathers of the EC and other institutions meant it to be more than that. Schumann also recognised that the idea of a nation state would not be subsumed by the Communities. The EC and now the EU were not meant to be a super state although European law is supra national.

In the UK, at least, we value our nationhood. We do not want of become part of a super state (as I'm sure is the same elsewhere in Europe). But, there has been abroad consensus that elements of European integration serve the British people well. The idea of removing tariffs and other barriers to trade brings about economic strength. The movement of capital is essential in that regard. On the social side, many parts of the EU have benefited from the concept of cohesion - in short aid to underdeveloped areas. That, of course, has been attractive to many entrants - Spain, Ireland and now the nations of Eastern Europe.

On the debit side, the Common Agriculture Policy is a mess. CAP leads to waste. It isolates agriculture from the vagaries of the true market. It is not unique in the world as the US pumps probably a greater proportion of tax dollars into its agriculture. True, if CAP were abolished overnight it would have profound affects on rural communities. At the same time, it helps block our markets to those in the under developed world.

There is a common misconception that the EU means that Brussels dictates to the UK. It could not be further from the truth. The European Commission is the executive arm of the EU. It is the European civil service. It does not dictate just like the British civil service does not dictate. National governments through the Council of Ministers and, increasingly the European Parliament (members of which we vote for) decide on policy. So please don't believe the rubbish you read in the UK press. However, the Commission has a poor reputation because the Commission, as a whole, is hell-bent on increasing its competence over all matters economic and political. But, then you would expect that.

Europe only makes the press for silly things like EC Directives on vegetables or some such thing. What the media needs to recognise is that the politics page should contain as much news from Strasbourg or Brussels as it does from Westminster.

In a year's time, we will see the union grow with the accession of states from the former Soviet block, plus Malta and Cyprus. This is a big test for the European ideal. It at once strengthens the union (and increases its size) and dilutes it as each of the new members is poorer than the current members. I think the strength outweighs the weakness.

Meanwhile, there are other challenges like (for the UK, Sweden and others) the euro; a European consitution; how to get European citizens to realise that they are European citizens.

Long live Europe. Long live the UK.
Thursday, May 08, 2003
FOOTBALL (YEAH WE KNOW) UPDATE

This is getting out of hand.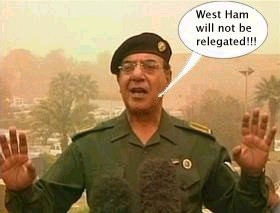 ...and Trevor Brooking's a genius...

from Mark
NUCLEAR WAR

Well, not really, but Yo La Tengo opened up last night with barking mad Sun Ra's "Nuclear War" at last night's Bush gig. A bit of a departure for the Hoboken trio, but by all accounts, the group have "discovered" jazz in tha last year. That follows their other departure when they toured with sonic interpretations of naturalist shorts of French filmaker, Jean Painleve - now on CD. "Nuclear War" morphed into the more familiar territory of "Deeper into Movies" from 1999's "I Can Hear the Heart Beating as One".

YLT's gig at Fletcher's in Baltimore a few years back ranks in my top five all-time concerts. Last night was as to be expected: a good solid enjoyable night of fragile tunes and feedback induced wails from Ira's guitar. As Ira said at the beginning, "we've got a nice little record out called 'Summer Sun'". As has been said elsewhere "Summer Sun" is a CD of two halfs - one part classic indie another part jazz influenced experimentalism. It was the former that predominated on stage, but that cool dude stuff was never far from the surface. Towards the end the band put down a cracking version of "Blue Line Swinger" a edgy, swingy three chord thump and in the encore the re-mixed influenced arrangement of "Autumn Sweater".

The £20 cab ride to get home was worth it.
FOOTBALL UPDATE

Following yesterday's entry, equal time for Comical Glenn.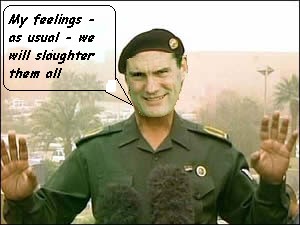 Wednesday, May 07, 2003
FOOTBALL UPDATE

Shoulda posted this yesterday.

What am I going to do? Laugh or cry? The Arse (send 'em back to South London from where they came) blow the title. Hooray! But, hand it to misery guts Ferguson (ref, only 9 minutes of stoppage time?).

Thankfully, the donut has signed up Comical Ali as our new sports reporter.




PS - Anyone know who is responsible for this pic?
SHOW SOME RESPECT, FOOL!

BBC2 (bless 'em) showed that Star Trek: Next Gen episode featuring Reg, the nerdy guy from Engineering. You know Murdock out of The A-Team, fool.

This is a poor segue to the T'ified Donut. You listening to me, fool? Shutup and pay attention!

Respect to Lazylaces, I ain't going on no plane with that fool Murdock!

Another A-Team link.
Tuesday, May 06, 2003
MAY DAY PICTURE UPDATE

See here

I need to charge my camera battery.
WHY AM I SOBER

It was my birthday yesterday. Happy Birthday, me. I share the day with Michael Palin, Karl Marx and Mexican Independence Day, a feeble excuse in many US cities to get trashed.
CHUNGA'S REVENGE

Frank Zappa's "Chunga's Revenge" has been turned into a tango/breakbeat cross-over sensation by French collective the Gotan Project. We went to see them for the second time at the Barbican last night. Gotan, if you hadn't figured it out, is an anagram of tango. The brains behind the group are two DJ/mixers, Philip Cohen Solal and Christoph Muller. They bring together other musicians with a tango background to form this intriguing and hypnotic fusion of styles. Their stage shows are brilliantly conceived. The first half sees the musicians standing behind a semi-transparent screen onto which is projected collage like video footage evocative of tango and Argentina. The performance faithfully reproduced the music from the huge selling "La Revancha del Tango", including Zappa's immortal number. Last night we got a few new numbers - Sola, La Cruz del Sur and Notas - which attempt to prove this is not a one trick wonder. See for yourself on 29 May in Tallinn, Estonia (and elsehwere, check web site).
KILL THE SCHOOL RUN, NOT A SCHOOLKID

Hats off to a car company (are you kidding?). This is a long overdue idea. I used to walk to school, so why shouldn't today's kids do it too?
WILLOW ON LEATHER

Ah, English summers. Well, we seem to be having summer in spring. So, why not trot along to the Oval for some cricket?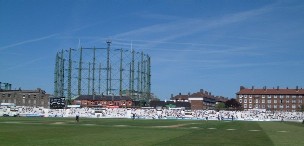 Despite a spirited fightback by Warwickshire, including a century by Nick Knight, Surrey triumphed by 25 runs. Fifties by ex-England players Ramprakash and Thorpe helped Surrey knock out 281-8 in their 45 overs. A hostile opening spell by Martin Bicknell (2 for 30) and 4-45 from Alex Tudor (who then limped off in true English fast bowler style) pegged back the visitors. The tailend made it a bit closer, but were always up against a high run rate. Warwickshire finished 265 all out.

Over 500 runs in a day. A fabulous feast of a picnic for me and my wife. Sun. Excellent stuff! Only complaint - the pisspore beer.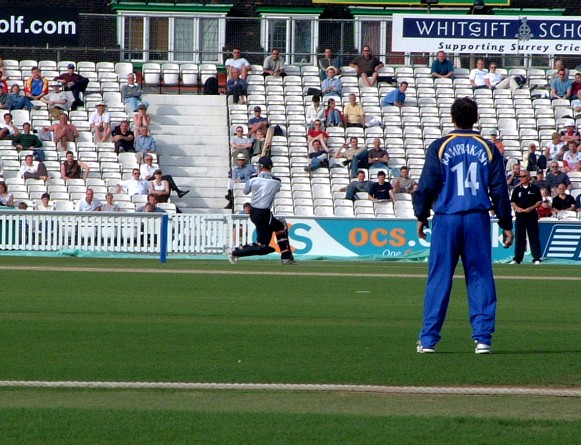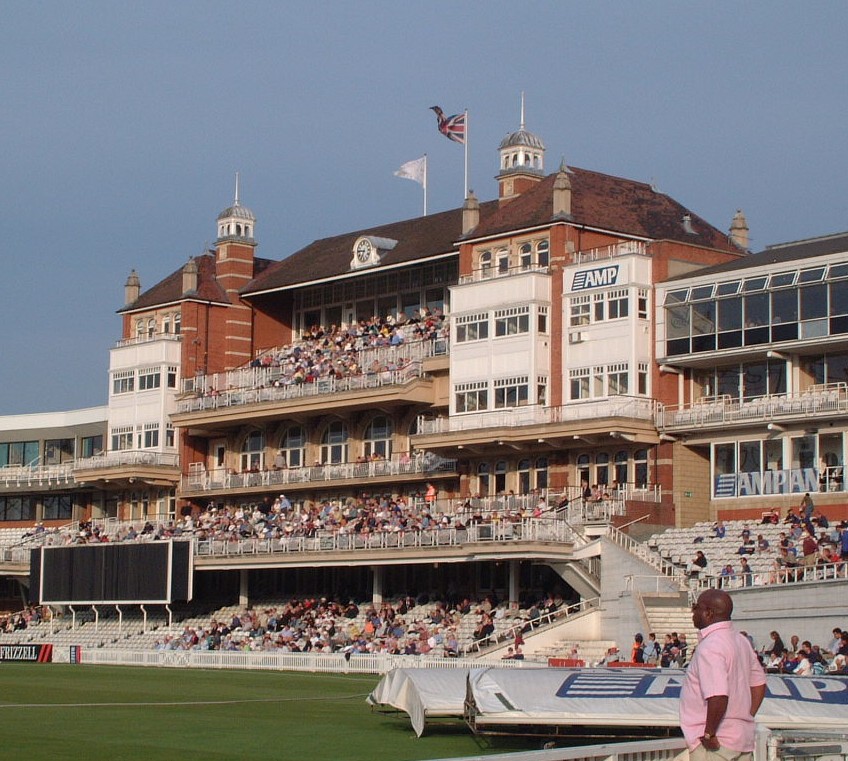 Friday, May 02, 2003
LUNCH TIME

I spend my lunchtime reading blogs and doing me own blogging (in between bits of sandwich). So how about really mixing the two? Check out the Sandwich Project. Another vital use of bandwidth. It gets better every day.

N.B. - Cheese and Onion is one of my all-time faves. Grated cheese and chopped onion mixed with cucumber, mustard cress and mayonnaise on a seeded bloomer roll. Mmmmmmm!
BLOG SNOB

I am a Blog Snob. "Is My Blog Hot or Not" seems to have died. Anyone seen an obit?
Thursday, May 01, 2003
SIGN ON THE DOTTED LINE

Want to do some good? You could no worse than read on...

"Sina Motallebi, Iranian journalist, writer and the blogger behind www.rooznegar.com was summoned by the Iranian authorities and subsequently arrested on ambiguous charges on the eve of his 30th birthday. These charges include the content of his web log, as well as interviews with foreign press and his other writings."

...and sign here.

via TheOneEyedMan

Feel better now, don't you?

addendum - please see this site for further updates. Thanks to Howard Owens for taking up the torch.
PROTEST!

What kind of May Day protester are you?
Fair weather protester
Your motto: "It's started raining, let's go to Burger King instead"

You want to fight capitalism but can't quite bring yourself to go the whole hog. After all, those Nike trainers were gorgeous and a snip at only £80. You prefer to stay on the edge of the action and tend to flee at the first sign of trouble. Getting arrested is your biggest fear - after all, a criminal record could ruin your chances of getting onto that media studies course.

Guardian Quiz


1 MAY

Whether you are celebrating an ancient fertility rite or reclaiming the streets; whether you are a Ya Basta or a Morris dancer; whether you are attending a military parade, workers' rights march, trashing the City or down the pub - enjoy May Day.