Monday, July 28, 2003
PHOTO FRIDAY

After a week's absence (mine, not the organiser's), the (late) Friday photo reappears.





The clock face of the Musee d'Orsay, Paris.
Sunday, July 27, 2003
SPORT FOR ALL

What a great weekend of sport.

A cracking Test Match with the South Africans putting on a batting display, then Michael Vaughn in to the rescue for England.

Britain's best ever World Swimming Championships.

Lance eases to victory in the Tour de France - next year will be a cracker as he goes for a record breaking sixth victory.

UK Athletics AAA Championships - despite the absence of all the big names.

And, I break my season best on the bike.
LONG LIVE THE KING

As previously mentioned, I'm too old for outdoor music festivals. So, I was not at WOMAD this weekend. Good too as it sounded a wee bit damp on Saturday night.

Instead it was off to the comfy seat (but no leg room) of the Royal Festival Hall to see the legend of Nigerian music, King Sunny Ade. I remember seeing Sunny way back in the early 80s on TV when it was thought that African music would be hugely popular, sort of on the coattails of reggae. He was in the vanguard of African. The breakthrough never came, but African music is now part of the scene, albeit within the World Music niche.

I was quite excited to see King Sunny Ade, as I didn't realise he was still touring. As much as anything it was a colourful, lively, party atmosphere at the Festival Hall if slightly anarchic with the stewards barely coping with dancing in the aisles and everyone and their mother trying to take photos or video of the great man.

It may be an exaggeration, but it seemed like the whole of London's Nigerian population was there, mostly dressed the part. King Sunny came on stage with nicely pressed white trousers and sparkly black and gold baggy shirt. His huge band sported colourful Nigerian garb.

Outside it was miserably and rainy (good London July weather); inside, the stage was alive for 90 minutes and the audience did their best to follow suit. Ju-ju has a reputation as fun, dance music. That's exactly what we got. Superb fun.
Thursday, July 24, 2003
BBC SHAME

I'm not talking about Andrew Gilligan, Dr Kelly or Alistair Campbell.

Last night I had the misfortune to see the BBC's Panorama special on asylum as part of the Asylum Day. To say that the BBC-TV (I didn't hear any of the radio programmes) treatment of Asylum was glib and facile is to give it too much credit. From what I saw, rather than treating the subject in a cool and dispassionate way, the channel trivialised the debate and then, in the Panaorama programme, reduced the issue to the usual base level - "all asylum seekers are economic migrants", "they're taking our jobs, our council houses, our beneifts", "they are all out to cheat the system", "they are all criminals".

It was more than half-an-hour into that dreadful programme beofre the snidey presenter admitted grudgingly that some asylum seekers might actually be escaping persecution. Well, since more than 25% of applications for asylum are granted then I guess even the Daily Mail might admit that. But, what of the other 75%? About 13,000 unsuccessful applicants were deported last year. It is true that many asylum seekers "disappear". A lot of them wind up taking jobs (illegally) below the minimum wage. How else are they supposed to survive if they cannot legally claim benefits? Even the Government's own studies show that all migrants (not just asylum seekers) make a huge contribution to the economy "£2.5bn the net fiscal contribution made by migrants - including asylum seekers - in 1999/2000". In addition, migrants repatriate a significant proportion of their earnings back to their homelands.

I was pleased to see that David Blunkett, Home Secretary, for once talked some sense about the asylum myths.

I highly recommend reading this article which does treat the subject in n honest and dispassionate way. I highlight (in my passionate way) the following passage:

Britain a soft touch?

"...the government's own research paints a different picture. Though there is obviously a possibility that asylum seekers will tend to tell an official agency what they think it wants to hear, a study last year appeared to show that asylum seekers do not choose their destination country following scrutiny of asylum policies or rational evaluation of the welfare benefits on offer. It found that asylum seekers assume that all western countries are democratic, and also modern, affluent and therefore rich in opportunities. The most important factor in decision- making is whether an asylum seeker has family or friends who already live in one of the countries being offered by an agent. Language is the next most important factor, then cultural affinity - particularly important to the respondents was the cultural legacy of empire."

There are much wider issues. Panorama did highlight the criminal element that prays on those that enter the country illegally. The lack economy in jobs, benefits and forged documents is unavoidable consequence of the growth in migration. But, that is a policing, not an immigration problem. My own view is that the immigration policies are fundamentally wrong. Criminalising people who are desperate, for one reason or another, is not the way to deal with the issue. It takes a wider based policy that both tackles the root causes of migration and the consequences. I say open up borders to those who seek to live, work and contribute to the well-being of this country. Here's a source that agrees.
Wednesday, July 23, 2003
MUSIC REVIEW

"...I bought a Stereophonics album..."

From Yorkshire Soul
WHEN YOU'RE OUT, YOU'RE IN AND WHEN YOU'RE IN, YOU'RE OUT

News that Alex Stewart is to retire from test cricket at the end of the South Africa series this summer: and I've got tickets for the first day of the Fifth Test!

Translation for our American readers: English all-star cricketer Al Stewart is hanging up his cleats after 20 years on the England Lions roster. Stewart, the current England catcher, also plays (occasionally!) for the Surrey franchise. His last game for the Lions will be against the South Africa Proteas All-Stars at the Oval Stadium in South London, Stewart's home field, on September 4-8.

Think Gary Carter.
PICTURE NEWS

Violet Polar Bear. This has nothing to do with glacier mints.
Monday, July 21, 2003
VELO NEWS

Today's Tour de France stage sounds a classic. Lance Armstrong, under pressure, pulls out all the stops. He falls off his bike after tangling with a spectator, but recovers to take the stage and put distance between him, Ullrich and the Kazakh guy (Vinokourov). Sounded so good I've set up the VCR to record the highlights (at 0115 tomorrow morning).

Meanwhile, I did a paltry 24 km over the weekend. I've been feeling very tired recently and copped out of my Sunday ride. No yellow jersey for me then.
TODAY'S REVIEW IS BROUGHT TO YOU BY THE LETTER "Z"

A work colleague recently bragged about seeing Atomic Kitten and some other girlie band. I decided not to brag that I'd been to see avant-jazz composer John Zorn and the Cuban-Klezmer band led by Roberto Rodriguez at the Barbican last night.

You know that a guy called Zorn is not going to play pop. Zorn is not my usual cup of tea, but, heck it was worth a punt especially with New York cult guitarist, Marc Ribot, in tow. I've seen Ribot four times, each time in a different guise. When I first saw him, he was playing Cuban music in support of John Scofield (passim). Next, Ribot did a solo gig at the QEH complete with balloons popped at various intervals. His last London appearance was in Peruvian diva Susana Baca's band.

As a warm-up, Rodriguez teamed up with klezmer clarinet ace David Krakauer for an hour or so of latin-jewish fusion. Klezmer as the new Cuban: an exotic combination of 2/2 beats, dance rhythms and Central European soul.

Zorn's six piece kicked off with two monster slabs of thrash that shook the cobwebs out of your head. But, the intriguing part of Zorn's music is his weird assemblage of sounds and styles. So later on there was a piece which was for all intents and purposes lounge music. There were slices of 70s jazz fusion in the style of Chick Corea. But, always Zorn (as traffic cop for this high powered band) expanded the boundaries. I have to admit that I have to be in the right kind of mood for this kind of challenging music. It was always intriguing, not easy on the ear, but a thoroughly memorable experience.
NEW LABOUR, NEW (SUR)REALITY

The Prime Minister said:

"...I think people want and expect ourselves as politicians, I think yourselves as the media reporting this, to show that respect and restraint because of what has happened and to recognise that there is now a proper process that can take place in a proper way, where someone wholly independent will look at the facts, will investigate them and will then make the judgement. And then after those judgements are published, then of course we can all discuss what the results of those judgments are, and I think that is the right way to proceed."

Excuse me , Tone. Shouldn't you have been saying this kind of thing to Frat Boy around about the turn of the year? Rather than trashing Iraq on the basis of dodgy evidence ("History will forgive us", but not the 6 or 7 thousand civilians killed, not to mention the 1/2 million killed by sanctions), you should have listened to the "independent" voice (step forward, Hans Blix).

S Hussain Esq: bad man. Yep. Glad he's gone (well, he ain't quite gone, has he?) But, young Beatnik has a very sensible quote from former Tory Foreign and Defence (and Transport) Secretary, Malcolm Rifkind.

Ryan links to an excellent piece on Our Lil' Tone by Billmon: couldn't put it better. Blair=Kurtz.

I can't claim to be original or to be as erudite as Billmon, but I have a few thoughts on the subject of Our Glorious Leader.

Everything the PM does now smacks of a leader totally out of touch with the electorate. I'll go further. He is out of touch with reality. During his speech to the US Congress last week it struck me that this power has gone to his head. It was also evident that he was not speaking to the those that elected him.

He talks of "...shadow and darkness..." - Kurtz.

He talks of a "fanatical strain of religious extremism" - er, been to the Bible Belt, recently?

He talks of "...the only true path to victory..." - delusional.

This paragraph, I love:

"We know that companies and individuals with expertise sell it to the highest bidder and we know at least one state, North Korea, that lets its people starve whilst spending billions of dollars on developing nuclear weapons and exporting the technology abroad. This isn't fantasy. It is 21st Century reality and it confronts us now."

Companies like BAE Systems? The UK has an appalling record of selling arms to hidious, police state regimes which continues to this day.

Or this: "We're not fighting for an American world, though we want a world in which America is at ease." And, what of those countires that are increasinly worried by US and British intervention that destabilses their own country? Don't they count?

This last piece was frightening: "Why America? [... ]the only answer is: because destiny put you in this place in history, in this moment in time and the task is yours to do." Invoking that word - destiny - sends shivers down my spine.

I have to say that I woke up on Saturday morning as angry as hell. I was ashamed to have anything to do with the Labour Party, for which I have voted at just about every election (one Green Party blip). I feel ashamed and disenfranchised.

It's been some time since I posted on Iraq, WMDs and all that. The simple reason is that I am so angry that I can't type quick enough to get all that anger on the page.
Sunday, July 20, 2003
LET'S HAVE ZAMORA THIS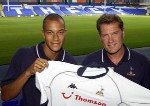 The mighty Spurs continue their summer spending spree for strikers with the deal to bring Brighton hotshot, Bobby Zamora, to White Hart Lane. Zamora joins Helder Postiga signed from Porto earlier in the summer, which gives Spurs a new look up front now Sheringham and Ferdinand are gone. In the meantime, Hoddle has finally begun to clear out deadwood - Rebrov (fingers crossed), Freund et al, but as the Guardian pointed out yesterday the likes of "Sick Note" Anderton and Stefan Iverson, another injury prone midfielder, still pick up a paycheck for lying around the treatment room.

Encouraging that Spurs are making moves for half decent players. But, it seems like treading water when Chelski can splash out on four or five world class players and Man U are after Ronaldinho.

Come-on-yooouu-Sppurrs!
Friday, July 18, 2003
WHAT A LOAD OF RUBBISH





Artist brings garbage to life. Sort of a 3-D version of Kurt Schwitters' Merz pictures.
FRIDAY FIVE

1. When was the last time you cheated?
Last week's Friday Five.

2. When was the last time you stole?
Property is theft.

3. When was the last time you lied?
"...I did...not..have sexual relations...with that woman..."

4. When was the last time you broke or vandalized another's property?
I once keyed a car whilst walking the London streets ina drunken stupor.

5. When was the last time you hurt a loved one?
Crossbow target practice.
Thursday, July 17, 2003
PHOTO FRIDAY

Nearly missed last week's Photo Friday.





Symmetry. Two cranes on a building site in SW1. Not entirely symmetrical, but looks nice.
LEAD IN PENCIL

Lunchtime surfing at work is often spoiled by slow connections (because everyone else is checking the cricket score or golf). What's worse is the browser filter software (Finjan).




As a manager, my view is that it is my responsibility to ensure that my staff do not abuse their internet access, not some idiot internet manager (who knows nothing about the internet). It should be the same policy for phone abuse - especially here where we have a business need to dial international numbers. But, no. Some security idiot has decided that we need to be nannied so that we don't surf on to porn sites. They are also worried about alleged sites that might use malicious coding to hack into our servers. Bollocks.

The Seattle Post-Intelligencer (what a great name!) reports that software installed library computers in the town of Toppenish, Washington State has blocked users accessing information on the town of Toppenish, Washington State. That's Top-penis-h, if you're keeping score.

Garbage in, garbage out.

via Unknown News
WAIT IN LOUNGE

BAA revealed yesterday that an archaeology dig at the site of Heathrow Terminal 5:

"revealed objects including the only wooden bowl found dating to the Middle Bronze Age (1,500BC-1,100BC)

Apparently Bronze Age passengers were delayed by air traffic control delays in Spain. The bowl is from Ye (very) Olde Happy Eater concession.

Friday, July 11, 2003
68 REASONS WHY I LOVE THE INTERNET

No. 15: SPAM

I don't know who thought up that name. I'm sure it stands for something. But, whatever, it fits nicely and tough it offends the makers of that gross sh!t that comes out of a can.

Without spam, I wouldn't great opportunities like this one:

---
Subject: Dimensional Warp Generator Needed jy

Greetings,

We need a vendor who can offer immediate supply. I'm offering $5,000 US dollars just for referring a vender which is (Actually RELIABLE in providing the below equipment) Contact details of vendor required, including name and phone #. If they turn out to be reliable in supplying the below equipment I'll immediately pay you $5,000. We prefer to work with vendor in the Boston/New York area.
---

Damn, I've moved. Anyway, read on... (I did)

---
1. The mind warper generation 4 Dimensional Warp Generator # 52 4350a series wrist watch with z80 or better memory adapter. If in stock the AMD Dimensional Warp Generator module containing the GRC79 induction motor, two I80200 warp stabilizers, 256GB of SRAM, and two Analog Devices solinear modules, This unit also has a menu driven GUI accessible on the front panel XID display. All in 1 units would be great if reliable models are available

2. The special 23200 or Acme 5X24 series time transducing capacitor with built in temporal displacement. Needed with complete jumper/auxiliary system

3. A reliable crystal Ionizor with unlimited memory backup.

4. I will also pay for Schematics, layouts, and designs directly from the manufature which can be used to build this equipment from readily available parts.

If your vendor turns out to be reliable, I owe you $5,000.

Email his details to me at: info@federalfundingprogram.com


Please do not reply directly back to this email as it will
only be bounced back to you.
---

Well, it beats the old African scam. Hmmm, "AMD Dimensional Warp Generator"? I think I have one of those in the back of the junk cupboard in the kitchen. Oh no, it's just a can of Spam.
SOMEONE ELSE'S PROBLEM

I'm all for the environment. That's why I bought a green [coloured] SUV.

Here's an insight into Californians perceptions of environmental issues.

"The Public Policy Institute of California released a study yesterday showing that 58 percent of Californians consider air pollution a "serious health threat,"

"But while 47 percent of the state's residents cited vehicle emissions as the top contributor to California's notorious yellow-brown smog, only 44 percent said they were "very" or "somewhat" concerned that their own cars polluted too much."

...someone else's problem.

"Asked whether the environment or economic growth should be given priority, 65 percent of state residents chose the environment compared to 47 percent in a recent national poll.

Read the full report where you will find further tidbits:

"Many residents (65%) say they would be willing to support tougher air pollution standards on new cars, trucks, and SUVs, even if it raises the cost of buying a vehicle."

...it doesn't say by how much...

"A large majority (79%) — including 69 percent of SUV owners — also say they favor changing federal regulations on SUVs to match existing fuel economy standards for passenger cars."

So, it's up to the Government to take action. In other words, yes there's a problem and somebody (i.e. not me) should do something about it. Let's throw some money at the problem.
A FRIENDLY FRIDAY FIVE

Updated

1. Do you remember your first best friend? Who was it?
A bloke called Robert. We met at primary school. He used to live next door to our school. I don't remember much else (I was only 7), excpet going to his birthday party.

2. Are you still in touch with this person?
No. he moved to Australia about 6 months after I met him. Moving to Oz was a huge deal back then - guess it still is - so no hope of staying in touch. A year later I moved to the US.

3. Do you have a current close friend?
Not really, unless you count the voices in my head.

4. How did you become friends with this person?
Just started talking to me one day;-)

5. Is there a friend from your past that you wish you were still in contact with? Why?
Fred. If you're out there, we gotta get back in touch. There's so much to catch up on. Miss you, dude.
Thursday, July 10, 2003
68 REASONS WHY I LOVE THE INTERNET

No. 32 - Music web sites

Including, the highly amusing "Official" web site of Hoboken's finest ever band, Yo La Tengo, for one. The questions page is particularly entertaining and love the bit on "Nuclear War" charting at No.10.

And, Mogwai - it's about the third incarnation of the 'fee-shal site. There's a whole load of great pictures there, including some dodgy ones of drug-crazed members of the band. Also, completists should check out (but then you'd already know of its existence, so why am I telling you?), Brightlight (needs to be said with very high, child-like voice, preferably by loveable creature that starred in two 1980s blockbusters by that Spielberg bloke.

And, PostEverything - everything you need to know about independent record labels and the like.

And, for your shopping needs, there's Smallfish which is as it says on the label. It's a small fish: up in Old Street N1, close to Hoxton. They carry a fairly broad selection of indie, post-Rock, nu-jazz and other hard to get stuff. They even buy stuff direct from up and coming bands to sell to you.

Thousands more I know, but these stand out from the crowd. Unfortunately, there's shedloads of bad "official" artiste sites which just pump out corporate propaganda.
Wednesday, July 09, 2003
WHITE BUNNIES JUMPING AROUND IN A SNOWSTORM

At around 2:00pm today, the Donut went temporarily TU. Pushing the button to publish changes to my template, something went wrong and phht! Iamadonut became white screen until I was able to get home and resurrect the template.

Saved by backup.
AMUSING SIGNS

Number # in an occasional series...

Seen painted on the side of tipper truck this morning: "George Sands. Aggregates."

Not as funny as Yorkshire Soul's collection of batty South African roadsigns, but it tickled me.
Tuesday, July 08, 2003
PHOTO FRIDAY

From Flanders, Spring 2001: Thiepval Monument.



POTTER

Harry Potter is gay?

"Everybody, it seems, loves Harry – except for a growing number of evangelical-Christian groups..." ...and me.

"The Harry Potter books can be read as queer in the "gay" sense, but also in the broader sense."

Cripes, it's only a bloody book.

Alternet via Writegrrrl (is that enough r's?)
FAT JOKE

What's all this?

"Speculation has run wild over a vast blob of gray flesh found on a Chilean beach two weeks ago, and scientists from around the world have jumped to help identify it."

Vast gray blob? It can only be one thing. Robert Maxwell's body has finally washed up on land.
Monday, July 07, 2003
ADMINISTRAVA

Just signed up to Veggie Blogs.

Commuterland has two new contributors: Sharon and Sharon.

For more transport related stuff - visit Transport Blog (libertarian view) and Beyond Brilliance, Beyond Stupidity (the good and bad of transport around the world).
THE JURY'S STILL OUT

I haven't read the House of Commons' Foreign Affairs Committee report - Decision to Go to War in Iraq. I hope to glance at it tomorrow.

In the meantime, I caught Channel 4 news tonight which naturally featured heavily on the report. It seems, as the tag line says, that the jury is still out. The Prime Minister's arch spinmeister, Alastair Campbell, has had his hands cleaned by the committee and must feel he has done his job in deflecting the public through the unseemly row with the BBC in which the Government has been shameful. The committee has vindicated the BBC reporter rubbished by Campbell.

Of greatest importance in the public eye, the committee says that the assertion that the Iraqis could deploy WMDs within 45 minutes was given too much prominence in the Government dossiers.

Former Foreign Secretary and Leader of the House Robin Cook, interviewed on the programme, said in an interview in the Guardian today:

"there are no weapons of mass destruction, so the government got it wrong, and should now say so."

Cook did also say:

"I myself have never made the accusation that the government sexed up the dossier. The serious allegation is that they got it wrong, and they should not be allowed to get off answering that issue because Alastair has souped up this controversy."

...and that, politics aside, view it seems is shared by the committee. Cook now wants to see:

"...an independent judicial inquiry with access to all the papers and carried out by someone "who would have forensic training and skills" "

Cook is absolutely right. Such an inquiry is the only way we'll ever find out is the Government lied, bent the truth deliberately or used poor or incomplete intelligence to justify its decision to invade another sovereign nation. That lessens the legality of the campaign.

THAT'S MUTINY, MR CHRISTIAN

"Captain Stephen Bligh has been appointed as the new Chief Executive of the Maritime and Coastguard Agency and will take up post on 1 September. He will succeed Maurice Storey CB who will retire at the end of August."

I kid you not.

Update: DfT press notice
Sunday, July 06, 2003
DONUT'S BELIEVE IT OR NOT

I took the Belief-o-Matic quiz on beliefs and faiths the other day. The results are a bit of a surprise. Top score for Secular Humanism - no shock there as I am a devout Atheist. But, at number three Liberal Quaker; number five - what's that? Food for thought. But, just a bit of fun.

Top five for me here:
1. Secular Humanism (100%)
2. Unitarian Universalism (94%)
3. Liberal Quakers (80%)
4. Nontheist (74%)
5. Mainline to Liberal Christian Protestants (66%)

Full results here.

via Son of Rage
SLIPERRY E

It's slowed down a bit on the gig front. Summertime is festival time. I'm way too old for that kind of thing.

The Eels on Wednesday night at the Royal Festival Hall is one of handful of gigs on tap for the summer. The Eels two years ago at the Forum were a bit of a disappointment. It was Mr E's "Unabomber" tour - hooded parka, beard and sunglasses. He was thoroughly miserable. I was also a bit more interested in my date (another story) so didn't really focus too much on the music. Much trepidation then on Wednesday.

Mr E was a very happy chap all night. He claimed the Queen was a big Eels fan when noting that the Royal Box was full. After the first half a doaen numbers - galoped through it must be noted - Mr E was full of chat. That seems to be a feature live. So many of the tunes are fragile on disk. On stage they are all given fizz and upbeat treatment - "Novocaine for the Soul" and "Birds" for example.

The support band lacked usual contributor Butch, but that didn't detract from a slick and sweaty set. it helped that the group featured probably the coolest bassist in town and were sporting dapper red suits. They banged through covers, back catalogue and new stuff. "Shootenanny", the new disc, sounds like a return to form.

Trepidation unnecessary; now, I wonder what happened to my date of two years ago?

Update: Gruaniad review.
Saturday, July 05, 2003
THE GREATEST NATION

Thanks to Evil Bus Driver for pulling me up on calling the USA the "Greatest Nation on Earth". Perhaps I got a bit too carried away with the 4th of July and all that. Maybe I was missing a hot and humid day in DC with a beer in one hand and a flag in the other. I do have a great respect for Americans and the American way. On the whole, I still believe that America is great. I did point out that there is a lot wrong with things - US foreign policy, the often vindictive penal system etc.

Bill also has a couple of links worth reading. First this Jimmy Breslin piece. The police state reaction by law enforcement agencies in the US post- 11 September is a worrying sign for democracy. In the UK we went part the way down this road with Diplock courts (ie no right to trial by jury) and internment as a reaction to the "Troubles". Our current Home Secretary shows signs of wanting to impose other very reactionary measures in the name of combatting terrorism.

Following on from that, this kids don't know nothing article is another distrubing piece. I know these kind of surveys pop out from time-to-time and a lot of it is designed for articles in newspapers. But, you gotta wonder if there is a relationship between kids knowing nothing about democracy and the rise of Ashcroft, Blunkett and the creeping police state.

Thanks, Bill.

PS - For those of you who don't know, Breslin is widely regarded as one of the greatest American newspaper writers of all time. Glad to see him still in action.
LOVERS MOURN

Sad to see the death of Barry White. Growing up in the Seventies, White's velvet voice is a fond memory. A truly larger than life man.

"His canyon-deep, butter-smooth vocals emphasized his songs' sexually charged verbal foreplay, like on 1975's "Love Serenade," which began with White purring: "I want you the way you came into the world, I don't want to feel no clothes. ...""
MEMBER UPDATE

We've got two new Commuterland members - both called Sharon! Welcome!
Friday, July 04, 2003
ONLY IN AMERICA

I might have gone soft in the head (see below), so I better put things back to normal.

Oklahoma man gets life for spitting.
RED, WHITE AND BLUE




Warm greetings to any American readers out there. Happy 4th of July.

Why should I join in the celebrations? Me, accused of being anti-American for my opposition to the invasion of Iraq.

The birth of the United States was one of the momentous events in history. Throwing off the yoke of an oppressive ruler and the concept of self-determination is an event that we should all celebrate.

In the west and elsewhere in the world, most of us aspire to the American dream. We want a decent job not dependant on patronage, the freedom to express ourselves, the freedom to move, the freedom to consume and the freedom to protest against what we see as injustice. We listen to American music, watch "Friends", "The West Wing" and "24", go to see American movies and even wear American sports teams' colours. And, we cried when we witnessed the horror of September 11.

America is, for all intents and purposes, the greatest nation on earth. Us Brits may think that the patriotic fervour of many Americans - the devotion to the flag, the singing (badly) of the national anthem at every occasion - as gauche. But, why shouldn't Americans be proud of the fundamental basis of their country.

Americans have a lot to be proud of. Their country is still the richest, the most powerful and (probably) the most free. Opportunity beckons and, as they say, anybody can become President.

But, there is a lot in America and in America's foreign policy that grates against those on the outside. The US has still not solved its race issue (and, yes, we haven't solved ours either) as seen by the recent, fudged Supreme Court decision on affirmative action. America's exploits abroad frighten many of us and smack of arrogance. This new world order - a new balance of power if you will - is a deliberate threat to internationalism.

I still have American friends from my time there. I recall some using the phrase the "great experiment", referring to American nationhood and democracy. That's rather a quaint notion. It's also a rather Hegelian concept too. But, it if true, then that means that the United States will make mistakes along its logical path to (some sort of) perfection.

I'll miss the fireworks tonight and the parties around DC. But, happy birthday USA. Long may you prosper.

Put another vegetable brochette on the barbie for me.
FRIDAY FIVE

1. What were your favorite childhood stories?
Cat in the Hat and a series of books about a boy on the moon - Matthew something or other, he had big head and a murtle (a turtle like pet).

2. What books from your childhood would you like to share with [your] children?
Playboy, Mayfair, that kind of thing?

3. Have you re-read any of those childhood stories and been surprised by anything?
No.

4. How old were you when you first learned to read?
I really don't remember, probably 5.

5. Do you remember the first 'grown-up' book you read? How old were you?
Grown up? What's that mean? Probably something by HG Wells.
ME LEFT, YOU RIGHT. ME RIGHT, YOU WRONG

Iamadonut is now listed on the Lefty Directory.
TODAY'S SHAMELESSLY LADDY POST





A true headline.

via Beatniksalad
Thursday, July 03, 2003
PRO CELEBRITY HANGING AROUND

(Thirty-Five brownie points if you guess the reference above)

Last Friday we struggled through the rain to Merchant City in search of lunch. It amazes me that Glasgow restaurants get fully booked at lunchtime. Cafe Gandolfi was and I didn't fancy further schlepping around trying to find anywhere half-decent so we decamped to the new bar upstairs. As we were taking off our wet things, I notice a tall skinny geezer with grey hair and a loud Glaswegian tinged voice. The Big Yin. Billy Connolly, for it was he.

After a grand little trip to New Lanark we went to the West End on Saturday night. Air Organic mixes Sixties kitsch (the airline theme, geddit) and organic food. It's a rather odd mixture with an equally odd eclectic Pan-Asian menu. My couscous was dry and the selection of vegetables in the tempura was a bit bizarre - peppers and some sort of leaf. The watermelon curry was, I'm told, good and I have to say the cheesecake was excellent. Coming from me that's a real compliment as I'm very fussy about cheesecake and usually disappointed.

As we got our first course I noticed a blonde woman in a party of four. I then realised it was Olympic Gold Medal winner (400 metre hurdles at Barcelona) Sally Gunnell. She was in (Scots)toun for the athletics meet where she was commentating for the BBC. And who else was in the party? Why Steve Cram who despite his brilliance never won an Olympic Gold - suffered from competition with Ovett and Coe.

So now I expect celebrities at every Glasgow restaurant.
LISTENING TO...

Glasgow bands, of course.

The mighty Mogwai and their braw wee new CD Happy Songs for Happy People is on my mini-disc player. Nine tunes to hum along to and marvel at. Mogwai, masters of the loud-soft dynamic, bring home the bacon and knock the spots off all other leading b(r)ands. Mogwai hates hippies.

Meanwhile, moody mulletts Arab Strap lay down dreary songs with dodgy lyrics about girlfriends, boyfriends, sex and drugs and where with all. New album Monday at the Hug & Pint.

Also on the Chemikal Underground label are new boys Kempston, Protek and Fuller, who'll gladly do your conveyancing too. On disc they mix up electronic noise and plinking beats topped of with LSD laced lemon rind. Music to eat your sandwiches by. (Not really sure if these guys are from Glasgow, but as its a Glasgow label, that'll do for me.)
COMMUTERLAND UPDATE

My other blog has a new contributor. Welcome Graeme (aka Lazylaces).

There's still time to become a contributor. All you need to do is e-mail Commuterland [at] blogspot [dot] com saying "pretty please". On second thoughts, I'm the one saying "pretty please". I don't expect Pulitzer Prize stuff (but you never know), just the occasional entry - journal like or random commuter inspired thoughts.
Wednesday, July 02, 2003
CHELSEA tATuED?

So, a Russian "businessman" has bought Chelsea FC? Does this mean that Stamford Bridge regulars will now sing the "Red Flag" rather than the "Blue Flag"?

Already Tony Banks MP, lifelong Chelsea fan and former Sports Minister, has demanded the Government to investigate Mr Abramovich.

Ken Bates, dodgy deals? Been here before.

As the Guardian reports:

"Chelsea's ownership structure has always caused controversy because of stakes held by unusual offshore companies."

I remember an investigation by a journalist several years ago into the purchase of Chelsea FC (owner and prop - K Bates Esq) by Chelsea Village (owner and prop - K Bates Esq). The deal almost certainly violated Football Association rules in that the old club's debts were expunged. FA rules forbid such "Phoenix" schemes.

And don't forget Bates masterful handling of the Wembley saga...
STOP PRESS!!

Looks like we might have a new member of Commuterland. Stayed tuned for further details.
A DAY LATE AND A DOLLAR SHORT

That would be a Canadian dollar. Sorry, forgot to wish Canadian readers (both of you) a Happy Canada Day (yesterday). Hope you did something suitably Canadian. (As this is not a Canadian blog, I am not obliged to provide a Fench language version.)
ME STUPID

The correct e-mail address for my other blog is commuterland [at] hotmail [dot] com. Take out the... you know what to do.
Tuesday, July 01, 2003
LAST ONE OUT TURN OUT THE LIGHTS, PLEASE*

The Guardian reports today on the Instutite of Civil Engineers (ICE) annual report card for the UK:

"Britain's homes could be without light and heat for long periods by 2020 with the government being forced to repeat the 1974 imposition of power cuts by rota..."

Of course, this caught my eye so I read on.

"80% of the gas to fuel Britain's power stations and domestic central heating will be piped "from politically unstable countries thousands of miles away." Mechanical failure, sabotage and terrorist attack would lead to power cuts within days..."

So what are we to do?

Read the full report, where it says...

"This country has been largely self sufficient in electricity generation for the past 100 years. This is about to change dramatically. The target of 10% for renewables by 2010 will not be met and 20% by 2020 is out of the question without the right incentives! Coal will disappear shortly after 2016 due to emission constraints and only one nuclear station will continue beyond 2020."

"We cannot expect a financially distressed industry to invest in the future."

Financially distressed? Perhaps if they managed themselves better and directors weren't so interested in lining their own pockets at the cost of the consumer - a la Enron - then they wouldn't be "distressed". But, I digress...

"the public must accept that nuclear power will have to be a part of a truly sustainable solution."

And who pays for this? It is well known that nucelar power is NOT the economic answer. The cost, both in terms of shekels and to the environment, is unsustainable because of the clean-up required.

The Guardian went out and got a rent-a-quote:

"Simon Skilling, head of UK strategy for Powergen, the electricity generator, said he had not seen the report but agreed with its conclusions. "It is feasible that by 2020 the lights could go out.""

Read the fucking report, you idiot.

There's more. Remember, this is a report card for the UK infrastructure. On waste management...

"On a positive note, small local household waste recycling facilities are being effective and the public is responding positively to the need to separate wastes at the sites rather than just binning it. However, uninformed public opinion is also creating barriers to progress -with energy from waste incinerators (as with nuclear power plants) not being accepted on principle."

"Uninformed"? Shame on the public! Build that carcinogenic incinerator next to their homes!

On sustainability...

"There is now a greater awareness (and not before time) in society at large and in the construction industry in particular about sustainability."

Huzzah!

"However, as a society we are failing to deliver, largely through lack of financial motivation. With the price of electricity the cheapest in real terms since World War II, there is little incentive to economise. The public (Shame on them!) needs provoking into action by the right economic conditions. Congestion charging has driven cars but not people out of Central London, petrol price rises had an impact on traffic growth and the hike in the landfill levy spurred the development of alternative solutions to waste disposal."

"A healthy dose of realism (Oh, please!) is needed when sustainability issues are discussed and a true commitment to sustainability will require a shift in public understanding and perception. Until perception matches the reality, public opinion (Oh really?) will to close off sustainable options."

And who are these guardians of morality and straight thinking? The fucking concrete pourers.

* ... and pay the consultancy fee...
MY OTHER BLOG IS AN AUDI

Yep, I do have another blog. I keep meaning to give it a plug. It's already on the blogroll.

I want to put together a commuting journal, but not necessarily a daily entry cataloguing delays and cancellations. But, it started like that and it's pretty dull. You'll see I stopped after a few weeks. But, I want to kick start it.

I also want others to join in, contributing stories, anecdotes, whatever they wanted (with a limit on the politics). That's not happened yet.

So now is your chance to sign up (replace [at] and [dot] with @ and .) and contribute to this little experiment. It doesn't have to be fancy and you don't have to do it every day: contribute when you like, whatever you like, so long as it's related to commuting to work, school or whatever (whatever whatever might be - any ideas?.

Oh yes: it was this Steve Bell cartoon about the 2000 job losses at Notwork Fail that reminded me.
DEMOCRACY IN ACTION?

So, the Commons once again votes against blood sports.

How did you MP vote?

And, what of the Lords? We claim to be a democracy, yet an unelected body will likely overturn the will of the voters. Intersting to see whehter this outdated, ludicrous system is imposed on the Iraqi people. What do you think?
SOUTH WEST N-N-N-N-19

Henman wins - the nation celebrates.

"Bare-knuckle scrap builds strength for future battles"

"By vanquishing last year's beaten finalist in such an enthralling epic Henman banished any remaining doubts about the strength of his character and put himself in good heart for whatever the rest of the week may hold."

Or...

Poor Nalbandian, crap serve and all, struggled to overcome the highly partisan crowd and an energised (by that crowd) opponent. Your views?

For once I'd like to see Henman off the show courts to see if he can win without the crowd's passion that must raise his game.

Thanks to the rain delayed start, BBC execs must have wet themselves: Henman on centre court, tense match, prime time viewing.
SHOUT OUTS

Joined up to The Trolley web ring - klang, klang.

Thanks to fellow off-their-Trolleys - Becoming Tony Blackburn (he is so becoming, you have to admit) and webmaster Unknown Rhythm.