Wednesday, December 31, 2003
"YE'LL TAK' THE HIGH ROAD"

Driving back from the West Coast (of Scotland, that is), we stopped off at Loch Lomond so I could take a picture of the snow covered Ben Lomond. Pretty, eh?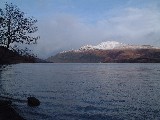 While finding a good spot to take the above picture, I came across this plaque.





Now, I have to admit that I've always thought about having a memorial plate attached to a bench in Clarence Park, St Alban's* where I used to walk my doggies. But, I found this plaque just a bit too much to bear. There's something a bit cartoonish Scots in "Bonnie, Bonnie Banks of Loch Lomond". More than that, ye'll find much prettier and more secluded places in Scotland. Heck, Loch Lomond's only 20 mins from Glasgow on a very busy road.

* - if you click on the link to the leaflet, see where I used to live - next to the Spiritulist Church on Granville Road.
Tuesday, December 30, 2003
UNCONSCIOUS MUTTERINGS


Seeker:: of wisdom and truth

Mirror:: mirror, on the wall: who's the fairest of them all?

Fire:: pants on...

Goblet:: wine

Empty:: vessel

Secrets:: desires

Defense:: defence

Hatchet:: job

Vapour:: mist

Ministry:: of Defence


2003 RETROSPECTIVE FRIDAY FIVE

1. What was your biggest accomplishment this year?
Although not down to any supreme physical or mental effort, moving house was the biggest and best event of this year.

2. What was your biggest disappointment?
Probably the lack of opportunities to get promoted at work.

3. What do you hope the new year brings?
Home grown veggies and fruit, work around the house, more ace gigs, a progressive rock revival, meeting friends and family, more travel, less illness.

4. Will you be making any New Year's resolutions? If yes, what will they be?
Nah.

5. What are your plans for New Year's Eve?
To get rat-arsed, but not so rat arsed to miss out on a day off work.
HASTE YE BACK





Scotland is so very beautiful, but you are reliant on the weather. The weather can be relied upon to be crap. And, crap it was last week.

More pics over the days.
THIS IS THE ONE I WRITE AFTER COMING BACK FROM 12 DAYS IN COLD, WET, WINDY, SNOWY, ICY, DAMP, (DID I SAY COLD?) SCOTLAND

... and surf on to Rough Draft...
Wednesday, December 17, 2003
NOT IN MY BACK YARD

This White Paper sets out a strategic framework for the development of airport capacity in the United Kingdom over the next 30 years, against the background of wider developments in air transport. - Government White Paper "The Future of Air Transport"

The news that all air travellers in the South-East were waiting to hear:

"11.11 In summary, our principal conclusions about new runway capacity in the South East are:

...we support development as soon as possible (we expect around 2011/2012) of a wide-spaced second runway at Stansted, with strict environmental controls, as the first new runway to be built in the South East; ..."

Meanwile, in a field on the Essex/Herts border:

"You're beaten, all you braying upper middle class jeep driving private educating foreign holidaying jamie oliver kissing nice little village living nimbys. Best news for years for jobs and transport in our area." - Chris on the Stop Stansted discussion forum.
Tuesday, December 16, 2003
A DESPOT GOES TO THE FUNERAL OF A DEAD DESPOT

"President of Kazakhstan Nursultan has arrived in the capital of Azerbaijan, the city of Baku, Kazinform reports. In the international airport he was met by Ambassador of Kazakhstan to Azerbaijan Andar Shukpukov, PM Artur Rasi-zade and other officials.

"Upon arrival Nursultan Nazarbayev took part in the farewell ceremony with ex-President of Azerbaijan deceased Geidar Aliyev which took place in the Baku Palace of Republic. afterwards President Nazarbayev will have a brief talk with the son of Geidar Aliyev Ilkham Aliyev [democratically elected Prime Minister of Azerbaijan (sic)]."
A DESPOT DIES

Azerbaijan's "Grandfather", former President Geidar Aliyev, pegs out in Cleveland, Ohio of all places. Spontaneous outbursts of gnashing of teeth and wailing.
A DESPOT SPEAKS

"Dear Kazahstanis!

We have created the sovereign state which is respected the international level.

We provide for safety and territorial integrity of the country. We are surrounded with friendly neighbors.

We have transferred economy to the market rails and have achieved high economic growth, came to the liberal policy.

And the main thing. Today Kazahstanis can look forward with confidence, not being afraid of the future of children and grandsons. We should provide for the strong and prospering state.

Accept my congratulations with a holiday and the best wishes to you and your relatives!

I thank for attention."

President of Kazakhstan Nursultan Nazarbayev's speaking on the 12th anniversary of Kazakhstan's independence.
Monday, December 15, 2003
RUNNERS AND RIDERS

...for the Georgian Presidential election on 4 January 2004

Sergo Aksentiev
Lia Amanatashvili
Vazha Chkhaidze (not to be confused with...)
Gia Chkhikvadze
Kartlos Gharibashvili, Georgian Lawyers Association (lawyer for a would-be Presidential assasin)
Igor Giorgadze, (former Security Minister, wanted in connection with a different attempted assassination of Shevardnadze)
Zurab Kelekhsashvili, Mdzleveli (fig man)
Bidzina Kharibegashvili
Roin Liparteliani, David (not Bob) the Builder party
Iuri Mkrtumiants
Giorgi Qorghanashvili
Mikheil Saakashvili, leader, National Movement (and likely winner)
Temuraz Shashiashvili
Zaza Sikharulidze, Disabled Association
Elene Tepnadze

Giorgadze's candidacy is likely to be thrown out (!) and not because fo the assasination attempt. Apparently, he can't claim residancy. He has been living in South Ossetia.

Ah, politics...
WHAT IT ALL COMES DOWN TO...

..is who is electable and who is unelectable.

via Ryan, via Nick Barlow.


Sunday, December 14, 2003
BARF ALL OVER YOUR CLOTHES

Mary Neal at Living with Caucasians commenting on the perils of language and script on a daily Georgian shopping trip. "Barf" is the trade name for an Iranian soap powder.



UNCONSCIOUS MUTTERINGS


Warning:: lights

Aspirations:: declarations

Starvation:: hunger

Lid:: hat

Sketch:: paint

Interrogate:: ask

Credit:: card

Scotch:: whisky

Confused:: dazed

Paris:: texas


Friday, December 12, 2003
A FAT AMERICAN IN A DETROIT TIGER BASEBALL CAP WRITES...!

Dear Mr. Bush:(!)

I read in the paper this weekend that that big turkey you were holding in Baghdad ... was never eaten by the troops! ... It was a stunt turkey, brought in to look like a real edible turkey for all those great camera angles.

!
THE BAH HUMBUG, FRIDAY FIVE

1. Do you enjoy the cold weather and snow for the holidays?
No.

2. What is your ideal holiday celebration? How, where, with whom would you celebrate to make things perfect?
This year is ideal. Flying to the wilds of Scotland to get away from it all.

3. Do you do have any holiday traditions?
Not celebrating.

4. Do you do anything to help the needy?
I've worked at a homeless shelter the last two years. It was exhausting, rewarding and harrowing. I won't be doing it this year and maybe never again. But, it did mean I didn't have to "celebrate" Xmas. I'd like to do something similar in the future.

5. What one gift would you like for yourself?
Whirrled Peas.
LIVING WITH CAUCASIANS

Here's a coincidence. I'm flying off to Scotland on Thursday for the Festivus season. Turns out that representatives of the three Caucasian republics - Armenia, Azerbaijan and Georgia - have been invited to a Scottish National Party hosted "peace" talks next week.

Despite my connections with the region I have not been invited to the talks. Funny that. Well, not really.

Back in Georgia, the BBC reports that Acting President Burjanadze has met with Abashidze, "leader" of the renegade region of Ajara. Abashidze does not recongise the interim administration that took power after Shevardnadze was ousted by a populist revolution on 23 November.

Russia looks on from the sidelines.
Thursday, December 11, 2003
BAH, HUMBUG: MERRY XMAS EVERYBODY

Terreus (I read the site having reverse linked there), hates piped Christmas music. I read recently that Slade's old chesnut "Merry Christmas, Everybody" has been banned at Manchester Airport. And, Noddy Holder is a local resident. So they've got John Lennon Airport in Liverpool (do they pipe in "Happy Xmas, War is Over"), but I guess it won't be Manchester Noddy Holder Airport

I recall raising the issue of piped Christmas (or seasonal holiday music as I think it is correctly termed in the US) with staff at Crate and Barrel. "Doesn't it drive you crazy?" ask I. "It's company policy," came the weary response. "We're only allowed a choice of two tapes."

Chirstmas piped music=cruel and unusual punishment. Discuss.
JUST LIKE LONDON BUSES, YOU WAIT A YEAR AND TWO COME ALONG AT ONCE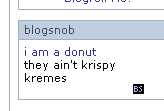 Seen at Terreus.
Wednesday, December 10, 2003
TOPLESS SNOW SHOVELLER





I'm starting to count all those Google search hits.
YOUR NAME IN LIGHTS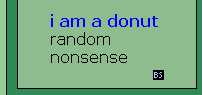 I've been signed up to Blogsnob for about a year now. Most of the traffic to to this blog seems to come through there. But, until today I had never seen my Blogsnob link on anyone else's site. Until today at Random Access.

Well, I thought it was cool...
A BLOGGER RANTS

Can anyone tell me why Blogger is puffing the attrocious Fox Searchlight blog: destroy all corporate blogs!

This post was brought to you by your local friendly arms dealers.
THE BRAIN DECEIVES

This is way too cool...and I've spent my whole lunch hour staring at it.
Tuesday, December 09, 2003
THE MARKET HAS DECIDED THAT THE MARKET HAS FAILED (NOT)

The Guardian weblog says Blogshares is no more. Oh no it isn't (is?). Invest in I am a Donut as soon as you can.
WHAT DID YOU DO IN THE ANTI-WAR, DADDY?

Howard Owens, left coast/right wing, is puffing the Anti-anti war web site.

Too bad it's not a very good web site.

If whoever (whomever?) set up this site wanted to engage in serious debate about the issues involved, then they wouldn't come out with crap like:

"If, in the far more likely scenario that you don't agree with our views, we really don't care. It's a free country. You can go ahead and start your own web site. Call it antianti-antiwar.com for all we care"

Sure, I could. But, I think if I did I would do it to air the differences of opinion on these important issues.

As for the piece on the UN, I think the author should do a little research into the UN's background and its constitution.

Read the rest of my comments.
Monday, December 08, 2003
A LOAD OF BS

Fourteen months worth to be precise. Keep shoving a stick in the spokes of the wheel of insanity, Ryan.
GOING NUTS FOR HISTORY

Oh no, it's a quiz thing! Great, it's historically and politically based, so it's okay to link your serious blog to it.



Which Historical Lunatic Are You?
From the fecund loins of Rum and Monkey.

"Third Emperor of Rome and ruler of one of the most powerful empires of all time, your common name means "little boots". Although you only reigned for four years, brief even by Roman standards, you still managed to garner a reputation as a cruel, extravagant and downright insane despot. Your father died in suspicious circumstances, you were not the intended heir, and one of your first acts as Emperor was to force the suicide of your father-in-law. Your sister Drusilla died that same year; faced with allegations that your relationship with her had been incestuous, you responded, bafflingly, by declaring her a god.

"You revived a number of unpopular traditions, including auctions of properties left over from public shows. When a senator fell asleep at one such auction, you took each of his nods as bids, selling him 13 gladiators for a vast sum. You attempted to have your horse, Incitatus, made into a consul and hence one of the most powerful figures in Rome. It was granted a marble stable with jewels and a staff of servants. At one point you forced your comrade Macro to kill himself - in much the same vein as your father-in-law - accusing him of being his wife's pimp. You, of course, were having an affair with said wife at the time.

"Things went from bad to worse. When supplies of condemned men ran short in the circus, you had innocent spectators dragged into the arena with the lions to fill their place. You claimed mastery of the sea by walking across a three-mile bridge of boats in the Bay of Naples; kissed the necks of your lovers, whispering sweet nothings like "This lovely neck will be chopped as soon as I say so,"; dallied with your sister's lover and made her pull her unborn child out of her womb prematurely. Towards the end of your reign, you had a golden statue of yourself made and dressed each day in the same clothes you yourself wore. When you eventually died, the terrified people of Rome refused to believe that such a cruel reign could ever end, and believed you to be alive for years afterwards. "

Knicked off Blood & Treasure
I'M NOT AT THE RUGBY WORLD CUP HEROES PARADE (aka WE FINALLY BEAT AUSTRALIA AT SOMETHING, SO LET'S GO POTTY) TODAY AND IT'S NOT BECAUSE I CAN'T GET THE DAY OFF

Are you a rugby lover or a shameless bandwagon jumper?
You scored 9 out of a possible 15
World Cup rating: France

Try the Guardian rugby quiz before it disappears. I got my Perpignan's and Toulouse's mixed up.

Oh, and unless you're from Down Under, you'll want to grab your Jonny Wilkinson screensaver.





I looked over Jordan and what did I see,
Comin' for to carry me home!
A band of angels comin' after me,
Comin' for to carry me home!


UNCONSCIOUS MUTTERINGS


Blizzard:: slurpee

J:: lo

Control:: freak

Blood:: sugar

Mysterious:: traveller

Annoying:: person

Throat:: lozenge

Condom:: rugby

Search:: pattern

Heartfelt:: sorrow


Tuesday, December 02, 2003
NOVEMBER WAS PHOTOLOG MONTH

...until, that is, I moved house. I've still not been able to log on at home due to general pants-ness of the phone line and the BTOpenwallet ISP.

So, you'll have to wait a while for me to start loading up pictures again.
HOW TO STEAL THIS FRIDAY FIVE

1. Do you like to shop? Why or why not?
Like most blokes I like shopping for gadgets and CDs. Food shopping is a chore. Clothes shopping? Why do you think they invetned the internet? Generally, shopping takes up valuable sports watching time.

2. What was the last thing you purchased?
Juice and crisps for lunch.

3. Do you prefer shopping online or at an actual store? Why?
Browsing is nicer (except clothes and Ikea). The web's pretty good for CDs (the excellent Smallfish) and books.

4. Did you get an allowance as a child? How much was it?
Yes. Never enough.

5. What was the last thing you regret purchasing?
A new hard drive for an old PC which I never got around to installing. £300 or thereabouts down the drain.

N.B. - Ironic that this was posted on (or around) Buy Nothing Day. Politics at the Friday Five?