Wednesday, March 30, 2005
GOOD THINGS DO NOT COME IN SMALL PACKAGES


The National Consumer Council is proposing a bold new initiative that has the potential to boost recycling and encourage people to adopt a more "environmentally friendly" lifestyle.

If introduced, the recycling lottery would give people the opportunity to win a major cash prize through entering a prize draw using recycled products as the ticket.
Oh, what a great idea! (Not!)

Recycling. Great idea, in principle. Trouble is, it's a secondary principle. The primary principle should be to reduce waste in the first place. Our waste mountain is not caused by waste that could be recycled. In the main, it is caused by too much unrecyclable stuff. Much of that which cannot be recycled is packaging. There has got to be a huge potential for designing and producing recyclable packaging.

Already, I've noticed the packaging for some tomatoes is compostable. That's a start. But, again wrong emphasis. The focus should be on reducing not producing packaging, even if it is recyclable. Like every other manufacturing process package production takes up resources.

The recycling process takes up too much energy - production, collection, processing.

The Donut household has gone a long way to reduce waste. We try to reduce the packaging we buy. We compost. We shred paper for compost. We recycle as much of that which we cannot compost.

There's more to be done.

Supermarkets are prime waste creating suspects. Fruit and vegetable packaging is unnecessary and wasteful. Somewhat paradoxically, organic fruit and veg is worst. I believe it's to distinguish between organic (all packaged) and non-organic (some loose, but increasingly packaged). I wish we could find a decent alternative to the supermarket. Markets - tried them, too expensive and still source non-local goods. Organic delvery services - way too expensive and inflexible (i.e. you seem to get about 5kg of celery every week - yuck!).

Recycling lottery, fine. But I wish the NCC would take up the campaign against packaging.

NB - do you know why we have dustmen in the UK. Because they used to collect "dust" or ash from coal fires. Hence the word ashcan - which I think morphed to trashcan.

Way back then, there was so little wasted. People would compost most waste.
Sunday, March 27, 2005
YOU ARE HISTORY

It took a bit of jigging and poking, but this blog now has fully functional archives! Huzzar!

So now you can browse August 2004 and read all about scrumping apples

Or go back to November 2003 for a post on Manitoba. Dan Snaith now has to call himself Caribou, but that's another story.
UNCONSCIOUS MUTTERINGS

I'm waiting :: for you
Speak :: only when spoken to
Roger... :: wilco, over and out
Knock knock :: knocking on heaven's door
Hybrid :: rose
Can't believe my eyes :: better put your glasses on then
Hooked on :: Classics (jeesh! 80s segue crap)
Pontificate :: see the rest of this blog
Slime :: Tories and their bastard offspring UKIP
Unwelcome :: guest



Saturday, March 26, 2005
GOODBYE UNCLE JIM

The last real Labour Prime Minister, (Uncle) Jim Callaghan, died today.

Callaghan inherited the premiership from Harold Wilson who led the country off and on from 1964 - with gaps filled by Conservative leader and the coal miners bogeyman, (Captain) Ted Heath.

His Government came crashing down in the wake of a cold, strike bound winter of discontent in 1978-9. At least, that's what the media would have you believe. In fact, the press went overboard and the amount of rubbish built up and bodies unburied wasn't as great as portrayed. Nevertheless, Callaghan famously decided not to call an election in 1978 waiting out until '79 when that woman romped to victory.

What was seen as a referendum on the power of the union, indeed was a watershed for trade union influence in British politics. So too, Democratic Socialism in the UK began nearly twenty years of decline. Labour is back in power, but any resemblance to the Labour governments of Wilson and Callaghan is in name only. It's worth recalling too, that Britain was nearly broke and subjected to stringent price, wage and public spending controls imposed by the International Monetary Fund.
Friday, March 25, 2005
PIZZA DUDE

If not called I am a Donut, this blog might have been called Pizza Dude.



Normally Sunday is pizza day in this house. But, having found the Slice in NY blog, I thought this Friday would be an execption. Well, at least on the picture front.
SLAM DUNK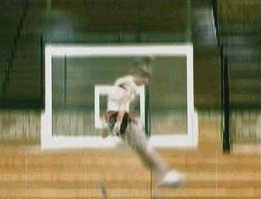 Best seen reloaded. Check out the girl feeling her head afterwards. Concussion?

via the pod bay door
Thursday, March 24, 2005
WORK/LIFE BALANCE ANYBODY?

This...


Sent from my BlackBerry Wireless Handheld
...is becoming an increasingly prevalent addendum to e-mails I get at work. (Funnily enough not yet of personal e-mails.)

Now I'm no Luddite. I remember back in about 1986 or so persuading my boss to get hold of a few Liberator word processors. Anyone remember them?

I was also one of the first of my crowd to get a personal computer – my friend the Commodore Amiga. Hey, there was even business software available and I pushed the boat out to get a hard drive – all 50 Mb of it! Boy, did that fan make a noise.

But, I draw the line at work interfering with life outside the office. I've had those few days at home for writing reports: in the quiet, away from distractions, not needing to waste 2 hours travelling. That doesn't mean that I put up with the constant annoyance of e-mail chatter whilst I (pretend not to) watch "You Are What You Eat".

Does that make me less efficient or less productive?

I'm a bit ol' skool in my view that if you can't get your work done during reasonable work hours, then perhaps you are inefficient or maybe you need a "gopher".
Wednesday, March 23, 2005
THE BEAST OF SYDENHAM

Just up the road from me...


A London man trying to coax his cat back into the house ... got more than he bargained for.

Instead of a tame pussy, the cat-like creature that emerged from the bushes ... flew at the man, giving him the fright of his life, and several nasty scratches.
Not safe to walk the streets of South London
ONE STEP AT A TIME

Finished Tim Moore's "Spanish Steps" the other night and shed a wee tear. Yes. it's an uplifting book. Yes, it sounds corny and very non-postmodern. Or, perhaps sentimental feelings are postmodern.

Moore's previous books have seen him follow the route of the Tour de France on a bike several month's before the July classic bike race. He's followed the route of Lord Dufferin to Iceland, Norway and one of the remotest, ugliest outposts of civilisation, Spitsbergen. Closer to home, Moore went from square to square on a British Monopoly board - from Old Kent Road to Mayfair, The Angel to the Strand, Water Works, Fenchurch Street station.

Moore is from the school of semi-serious, humourist travel writers. Bill Bryson and the late Pete McCarthy spring to mind. Moore lives up to his English roots. Where Bryson is wry, Moore is dry.

The seed was planted for this very long walk by a fellow traveller, who told him of the pilgrammage across northern Spain to Santiago Compostela. Moore eventually got around to this a few years ago. But, to make it more intersting and humourous, he decided to do it in the company of a donkey. Something biblical, I guess. Donkeys and Spain go together, you'd think. But, he soon learns that the Spanish donkey population is small. With mechanisation, there's little need for donkeys.

Moore is an unlikely pilgrim. But, over time he mellows, makes plenty of friends and at the end he too sheds a tear having formed a strong bond with Shinto his donkey.

Both heart-warming and piss-taking, I'd recommend this to anyone who's stressed out or just fanices a funny, well written read. Maybe I should take up the challenge of the camino.
Tuesday, March 22, 2005
MIRROR, INDICATE, MANOEUVRE

Try this quiz on roadsigns. Can't believe I got one wrong.


Monday, March 21, 2005
DIPLOMATIC DISPATCHES

A British diplomat speaks:


"The need for change was ducked for years. The reason it's had such a big impact is because this is an organisation that has not been used to change."
Surely, he's talking about the Foreign Office?

Actually, he's talking about locally employed staff at the British Embassy in Washington DC.


...most are British and some hold senior jobs. A number are the spouses of diplomatic personnel.*
Seems there is a little local dispute about pay cuts and deterioration of working conditions. It's led to staff applying to affiliate with a US labor union.

It's a year since I left the Civil Service, but I still risk breaching the Official Secrets Act. However, I think I can safely say that the embassy was the second most dysfunctional unit of the Civil Service in which I have worked. A cadre of staff were treated like second class citizens. They have no real employment rights (according to their employer) because of the status of the embassy. Yet, those staff are the institutional mind of the organisation. They stick around whilst diplomats swap in and out every 4 years or so. Many of them build up expertise and political knowledge essential to the running of British foreign policy. And, they form the bulk of the embassy softball team.





Not only does their employer believe that they have no rights, they have no career structure. They do have a pension scheme. However, a few years ago the embassy chose to take a "holiday" from contributing to the fund. Er, but they forgot to tell employees who continued to pay into the scheme.

There are lots of other stories. But, I think I better leave it at that for the time being. Hopefully, a current staff member is blogging this somewhere else.





Further links here and here.

* - speaking of spouses, the most scandalous news on the diplomatic front is that the Foreign Office pays private school fees for diplomats' children. That's right, the taxpayer funds private schooling for the Jocastas and Giles's of this world.
TWO OLD GEEZERS GET KNOTTED

With the forthcoming "Royal" Wedding in mind, the Torygraph commissioned four "peepuls" poets to scribe a few lines. The idea is to save the Poet Laureate the effort of finding the right words.

This from Pam Ayers (remember her?).


My mother said "Say nothing,
If you can't say something nice."
So from my poem you can see
I'm taking her advice.
from the Daily Torygraph (reghistrayshun required)
Sunday, March 20, 2005
UNCONSCIOUS MUTTERINGS

Stink :: bomb
Renewal :: library book
I remember... :: when you could have a night out at the pub, bag of chips, a cab ride home and still wake up with a hangover.
Loneliness :: is the long distance runner
Ooooh :: ah, Cantona. Say ooooh-ah, Cantona
For real :: f'sure
Titanium :: implant
Get down :: Shep
Rupture :: hernia
Dramatic :: irony



Wednesday, March 16, 2005
PHOTO BOOTH HELL



Judging by the hair and the student type clothes, I'd say this was 1981.

Open yer eyes, Hippy!
Monday, March 14, 2005
SO NOW WHO DO I VOTE FOR?

I have the "pleasure" (honour, fortune?) of having a Cabinet Minister as my constituency MP. Step forward Minister for the Failed Olympic Bid, The Rt Hon Tessa Jowell MP.

Tessa wants to know the important issues for local voters and how her constituents are going to vote. Any suggestions on how I reply?




Just to give you some starters:

I have voted Labour at most elections. There have been a few Green or, even worse, LibDem blips.

The last thing I want to see is Michael Howard handed the keys to No.10.

The second last thing I want to see is a third term for Tony Blair.

Charles Kennedy is a w@nker.

Shall I waste my vote on the Greens?

Reasons not to vote Labour:

1. I did not vote Labour so that they could wage illegal wars.
2. I did not vote Labour so that public money can be spent on schools run by religious zealots.
3. I did not vote Labour to see habeus corpus suspended.

Reason not to not vote Labour:
1. The Tories were second in my constituency and I will not not vote Labour just to see Michael Howard handed the keys to No.10.
Sunday, March 13, 2005
BACK TO THE DRAWING BOARD

Just before 6pm this evening, Tottenham Hotspur's season more or less ended in defeat at Newcastle. Knocked out of the FA Cup, Spurs have little left to play for except pride. Talk of challenging for a top 6 spot and a place in Europe is wishful thinking. The club's form throughout the season has been indifferent. A run of wins would help, but so often this year a run of wins has been followed by an equal number of defeats.

Still, not all is lost. Tottenham have made a start (again) at clawing back their spot in the elite (well, if not Big 3, then maybe Top 8). Frank Arnesen appears to be in it for the long term. Let's hope the board are too.

Arnesen cut his teeth as Technical Director at PSV Eindhoven, owned by the giant electronics group Philips. There was an informative interview in the Guardian yesterday where Arnesen admitted that he is a football man through and through. Yet, his time dealing with hard nosed businessmen at Philips has taught him a lot about running the sporting side of a soccer club.

I could nearly forgive the false dawn of appointing Jacques Santini under Arnesen. Possibly the worst coach since Christian Gross.

Martin Jol, on the other hand, has shown quickly that he understands the club's traditions and what the fickle Spurs faithful demand from the team. Not only that, Jol is popular and respected by the players. I wish I had the optimism that Jol will stay. Ajax Amsterdam are knocking on the door. Ajax, unlike Spurs, offer European football almost guaranteed every season.

The next few weeks will be crucial. Will Jol be tempted to leave if Spurs don't climb into the top 6? If he stays, he is a brave man and, like Arnesen, will prove that he's with Spurs for the long run.

Beyond that, the next two or three seasons could be crucial. Arsenal face a cash crisis. Man United probably need to re-tool. Chelsea, meanwhile, could dominate for four, five, who knows how many years. All this means, that there could be a shift of balance in power. Who is going to step up? Newcastle, Everton, Middlesbrough, Tottenham?

If that doesn't happen, fans are going to faced with an endless stream of one-sided matches like last night's Southampton-Man U cup tie. Domestic football in that position will become boring.
Saturday, March 12, 2005
UNCONSCIOUS MUTTERINGS

Shape up :: or ship out
New Orleans :: Saints
In the bedroom :: sex
All the time :: neverending
Philosophy :: political scruples
Tyler :: Wat
Disturbed :: nutty
French kiss :: tongues
Solidify :: ice
Furtive :: fumbling



Tuesday, March 08, 2005
TRAILER TRASH

Or, possibly, chav-doll?
THE EYEFUL TOWER





Today marks the fifth anniversary of the London Eye. Those of you with long enough memories might remember that the Eye, like Paris's Eiffel Tower, was built with temporary planning permission. It seems amazing as the Eye has quickly become a London landmark. Little chance, it seems now, of the demolition crews moving in to dismantle the wheel.





Friends working for British Airways used to joke that the Eye was they're most profitable route. I'm sure I read recently that Eye was losing money, but could be wrong.

Back in 2001, I took my sister on the Eye for a birthday treat – at her insistence. Surprising then to see her riveted to her seat as we took to the skies. She's suffers from motion sickness and was rigid for most of the journey.

Here's me on that fateful trip.


Sunday, March 06, 2005
UNCONSCIOUS MUTTERINGS

Usher :: pillbox hat
Cherish :: keep in cotton wool
Mistreat :: flog
Forum :: Montreal
Systematic :: hierarchical
Warning :: danger, Will Robinson!
Wash :: n'Go
I wish :: I didn't have to go to work tomorrow
Candles :: three day week, anyone?
Metallic :: shiny



Thursday, March 03, 2005
IF I WERE BLOGGING FOR MONEY, I'D BE ON MY UPPERS

Blimey, am I uninspired. And, me Archives seem permanently knackered.

Oh well. In other news, I quite like Miramar Mike's blog - don;t know why, but I do. There's an interesting entry about designing a new flag for New Zealand. Perhaps we ought to start it over here. Perhaps we're not as grown up as Kiwis appear to be.

Mike linked to the job calculator I posted sometime ago. Of course, with me archives knackered (which is where we came in) you need the direct link which is here.

Plus, why don't you visit my photo blog which is going great guns and getting more hits. There's some chocolate over there today.