Sunday, March 26, 2006
POST # 1073

Still here. How many other blogs have lasted nearly 1100 posts, three or four re-inventions and bouts of the 'flu? Don't bother to answer.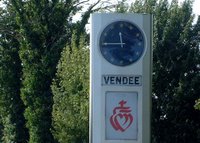 Spring forward... the clocks moved forward an hour depriving us of 60 minutes precious weekend catching up sleep.

To celebrate, the greenhouse heater has gone back into the shed. Joining this energy hungry monster is the moth-eaten garden fleece which has protected delicate little strawberry plants all cold winter.

Sunday is pizza night.

Sunday night the tequila monster is let out the bottle. Mr Belgian lager also made an appearance.

McAfee software sucks. Two hours wasted trying to install a new version of "security" software. Bah!
Friday, March 24, 2006
DONUT'S RANDOM FRIDAY EVENING PLAYLIST

six.byseven:04 - Six by Seven. Criminally unsung Six by Seven have, for nearly a decade, played edgy, thumping and interesting rock. Dullards like Coldplay lead the Brit guitar band movement on the world stage. Six by Seven just play fine music. 04 hums and rocks from start to finish - "Sometimes I feel like..." is the ultimate antidote to Coldplay's bird flu rock.

Mr Beast - Mogwai. On Mr Beast, Mogwai progress and compress. "Glasgow Mega Snake" successfully condenses the band's oeuvre in to 3 1/2 minutes of thrashing guitar sounds. There's no 7 or 8 minute collages here: everything is shoehorned. Despite that, each track especially "Auto Rock", the delicate "I Chose Horses" and surprise Top 40 single "Friend of the Night" contain hidden depth. Too much piano?

Law - Cougar. I don't know much about this band except that Tortoise man John McEntire had a hand producing. Mainstream post rock - if there is such a thing. Circular guitar figures, multi-layered harmonies, traces of just about every style under the sun, glossy in a lo-fi kind of way.

His Big White Self - Nick Broomfield. The quirky British film maker returns to South Africa to track down neo-Nazi thug Eugene Terre Blanche some 15 years after his classic documentary "The Leader, The Driver and The Driver's Wife". Once again, Broomfield in his diffident style pricks the bubble of the white supremacist Terre Blanche.

EP C/B EP - Battles. More post-rock noodling: possibly to categorised as math-rock. Lots of driving, tempo shifting drumming, squelchy electronics, pointellist guitars and a lack of respect for the normal song structure. Open your ears. Play very loud.

Donut's Grateful Dead hotch-potch live sampler. Classic Dead including "Franklin's Tower", Kris Kristofferson's "Me and Bobby McGee", "Help on the Way", the monumental hippy trip "Dark Star" and Donut's fave "Wharf Rat". Tie-died, man.

The Inspirational Sounds Of Muslimgauze - Muslimgauze. Not, one thinks, on George W. Bush's iPod, here's a compilation by the prolific Bryn Jones under the provocative moniker of Muslimgauze. "Every piece of music is influenced by a particular fact, be it Palestine, Iran or Afghanistan, the whole Middle East is an influence to Muslimgauze. From the political situations I am influenced to create music, endless music. There are no musical influences, only political facts and figureheads e.g. Arafat, Gadaffi, Bhutto, Khaled etc. Such things are the starting point from which Muslimgauze music is taken."

::enjoy::
Monday, March 13, 2006
TO BE CONTINUED?...

Alas poor blog, I knew thee well.