Monday, June 30, 2003
PHOTO FRIDAY

More from the archives...

Angles


GLASGOW

Had a mixed weekend in Glasgow. We got soaked to the skin on Friday. It was quite the normal "dreak", more monsoon. Friday afternoon we went up to the Hunterian Gallery, home of a superb collection of James Whistler paintings and a mock up of Charles Rennie Mackintosh's Glasgow home. The Whistler gallery is host to "Whistler's Mother" for the centenary exhibition. Mackintosh is a big sell in Glasgow. Even Mrs Cranston's Tea Rooms have been restored, though thankfully the scones are new and not restorations.





You might remember the advertising cmapaign back in the late 70s: "Glasgow's Miles Better", a play on words featuring Mr Happy. Well, it's also a bit ironic given Glagow's hard reputation and grimy industrial past and post-industrial difficulties. But, I like the city. It has enormous character and the centre retains a charm and feeling all its own. The city boasts three universities including Glasgow University in the West End.





Glasgow and its inhabitants have suffered in recent history as its traditional industry - shipbuilding has moved to cheaper yards in the Far East. Meanwhile, the cityscape has not helped by awful 1960s town planning, the M8 motorway and the massive slum clearance programmes which replaced tenements with ghastly tower blocks.





Glasgow also suffers with sectarianism. Late June/early July is marching season for the Orange Lodges. I am talking about rabid anti-Catholic nutters.





I quite like this picture: a total accident. The writing on the van in the foreground says it all.


FREE SPEECH ZONE

Be afraid, be very afraid... Very worrying things are happening in the US thanks to the paranoia spawned by 11 September. If the Homeland Security Department - motto, "don't be afraid, be petrified" - were not bad enough to fuel the fears of every god-fearing American, then the actions of the clearly demented Attorney General, John "I lost an election to a dead man" Ashcroft, will send you to the bottle of valium.

The latest idiocy involves the prosecution of Brett Bursey, a lone wolf, peaceful demonstrator. I came acorss this Economist article this afternoon. It's a little dated now, but it tells a sorry tale of how the local prosecutors dropped charges against Bursey who was demostrating against Shrub Jnr in South Carolina becuase, hey, the guy had a right to free speech and wasn't doing any harm.

Now, on the direct instructions of Uber-Nazi Ashcroft, the federal government is taking him to court dredging up some ancient federal statute. If that were not bad enough, other protestors at the same site have been ignored by Ashcroft's thugs in dark suits, leather chairs and silver sports' cars. What's more, it transpires that Bursey was told by the Secret Service that he was only only allowed to protest in special areas, hnece the term "Free Speech Zone".

Thankfully, some federal lawmakers have taken up the charge and written to Mr Attorney Nutcase. The congressmen repsectfully point out that under the US Constitution the whole
of the country is a "Free Speech Zone". Whatever you do, don't let David Blunkett hear about this. It'll give him ideas... In the meantime, let's declare Ashcroft a "reality Free Zone".

There's a little sidebar here: the federal prosecutor invovled is Strom Thurmond Junior, son of Sen Strom Thurmond who dies recetnly having reached the ripe old age of 100. You may recall Sen Trent Lott destroyed his own political career at Thurmond's birthday party by praising the latter's segregationist presidential campaign in 1948.
TOUR DE FORCE

In case you didn't know, the greatest sporting event in the world starts on Saturday. The event celebrates its centenary this year. It started out as a rather eccentric advertisement for a newspaper. Today it attracts huge sponsorship and invovles a bizarre caravan handing out sponsors' freebies to spectators. It costs nothing to watch (except if you want to watch it on TV in this country as you'll have to fork out for cable or satellite). This year it starts and finishes in the same country, though it usually takes in another country or two.

There is one British competitor this year. An American is favourite. He's won it four years in a row and could equal the record this year. He is a survivor of testicular cancer. The record for wins is jointly held by a Belgian who went by the charming nickname of "The Cannibal". He's now a fat team manager.

The most famous Brit participant holds the distinction of dying whilst taking part. Drugs played a role, but then it's a way of life in this sport.

Some 22 teams take part. All told 198 competitors, but only 3 or 4 stand a chance of winning. There are prizes each day - 22 days in all, 2 rest days - and separate points, king and youngster competitions. The event sees domestiques, sprinters, climbers and the broom wagon. It covers 3,427.5 km over the flat, cols and "categories" of mountains, plus haute categorie. There used to be a women's event, but I'm not sure it's still run.

Yep, it's the Tour de France. And, bugger it, I can't get Eurosport, so I'll have to follow it on the net.

In case you didn't click on the link above, the Brit is David Millar. He stands a good chance in the Prologue, which takes place before the first stage to determine who wears the maillot jeune (yellow jersey) or race leader. Millar might finish in the top dozen at the end of the race is he can survive the challenge of the mountains.
YOU SAY "YES", I SAY "NO". YOU SAY "STOP" AND I SAY "GO, GO, GO"...

Twenty brownie points if you get the reference...

I'm back from Jock-land (more of which later) and ready to blog for Ing-ger-lund (about my Jock-land odyssey).

Thanks to Squirrel Pinnacle for the Shout Out. Just don't give 'em nuts, Krip. Thanks for the link to The Death Clock: I'll check it out later. Hope you get your PC back to normal - why were you downloading porn software? Soft pornware?

Also, I've blogrolled Mark City and Mark's kindly returned the favour.

I think I may have insulted Harry Potter reader, Maura. Sorry for that, but I like your blog.

More fun with spam from Parallaxitive. Not sure about that name, though.

There's probably loads of others I should've linked to, but I forgot.
FRIDAY FIVE

Late, already...

1. How are you planning to spend the summer [winter]?
Summer - er, working, then two weeks in Southern Toscana. Winter - Scotland at Chrimbo, Oz in March.

2. What was your first summer job?
Gardening. my brother did the job for some guy one summer and I "inherited" the job. It was awful. I spent hours on my knees weeding flower beds in 90 degree heat. I hated it. I got fired, thank goodness.

3. If you could go anywhere this summer [winter], where would you go?
Summer - Toscana. Winter - Oz. my dreams have come true.

4. What was your worst vacation ever?
Not really had a worst vacation: but plenty of bad experiences in wet tents.

5. What was your best vacation ever?
Not realy had a best vacation: but had great experiences hiking in Yellowstone, hiking the Grand Canyon, travelling to and in Alaska.
Thursday, June 26, 2003
YOU CANNOT BE SERIOUS

And then there was one...

Hey it's Wimbledon Fortnight, so I've just become a tennis expert like everyone else in the country.

Every parks player knows that if there is an interference with play you play a "let". That includes dogs peeing up your leg, balls interfering from other courts, dodging gunfire and idiots off court shouting "out". So "Our Greg" Rusedski was robbed. Well, not quite. As mentioned exclusively here yesterday (hah), Roddick is one of the favoruties and is in excellent form. I saw him destroy Agassi at Queens. Now that he's got his game together he looks a world beater. So Greg loses or wins "that" point. But, he was still two sets down and having trouble breaking Roddick's serve. He might have battled out to four, maybe five sets. Roddick, however, was the better player. Also, although the TV mike picked up the "out" call, can we be sure the umpire heard it?

Nice outburst, Greg.
JUST BEFORE I CATCH MY TRAIN

Scaryduck has an exclusive interview with JK Rowling.

Londonmark prints audiman's letter to the Times. Hmm? Confused?

I was awoken at 4am by the crash, bang, wallop of a shelf in the spare room falling down. For the third time. ANyone got any advice for putting up shelves? Make that, putting up shelves that stay up.
Wednesday, June 25, 2003
HE BETTER BE BETTER THAN REBROV

Zounds! Spurs are big spenders. £8 million odd on hot shot Porto Striker Helder Postiga. Now that Teddy's gone to Pompey and after flogging Sir Les for any old iron and, thank Saint Bill, Rebrov has gone, we need some quality up front. Never heard of this bloke and it seems an excessive amount of money for a foreign transfer. Mid-table here we come!

I see the web site is counting down the top ten moments of the last season. Well, Hoddle arguing that Spurs belong in Europe should be top amongst those - for comedy. Ledley King making a tackle should be in there. Oh, sorry, he didn't make a tackle all season, so it's not. How about the huge training ground bust-up over whose injury hurts more than the others?
DIAL M FOR MOTORIST

Finally, the Government acts to ban the use of mobile phones by drivers.
Ah, but check the detail. It seems that you will still be able to use a hands free mobile phone when dialling (even though evidence suggests that's just as dangerous), you can dial away in a traffic jam (definition, please) and cyclists will be exempt (madness! cyclists should be treated as powered vehicles, subject to the same rights and obligations of the road - here speaks a cyclist).
I HATE THAT SPECCY POTTER KID

Scornfate certainly does.

There's an excellent pardoy over at BBC's Book of 2020 written by the author of Mark City blog.

Do you get this Potter thing? It's a kids' book right? But, adults read them. So, the smart publisher prints two different book jackets. There's a colourful one for the kiddies and a darker more "grown-up" version. So far I've seen one kid and six adults reading the latest book. Only one adult had the "adult" version. I don't get it. What I do get is that JK Rowling's wealth grew by £30 million. That's a lot of red and yellow or brown dust jackets and at least another wing on the mansion, if you ask me.
60 YEARS AND STILL ON THE GO

This link is really sweet. But what does "on the go" mean? And, what is the Royal Order of Jesters? Has it something to do with wearing fair isle cardigans?
RATE MY COW

Well, first it was dogs in cars. Then it was, rate my hedgehog. Now, thanks to Dave Barry (what do you mean you haven't visited his site? Go there, read about Moose in Michigan and get great links to crazy Florida stories. Now!):

er, Cow Concentration.
YOU ARE WHAT YOU IS, YOU IS WHAT YOU AM*

* - with apologies to the late, great Frank Zappa

In case you missed it, there's a national debate going on about genetically modified (GM) foods: here. Apparently, the response so far has been poor. So get in there and join the debate.

Meanwhile, anti-GM campaigners have had a pop at Dubya for some ill-judged comments about Europe and the reluctance of some EU members to allow the sale of GM foods. Bush's action, which includes filing a complaint with the World Trade Organisation serves only to further antagonise the anti and sceptical. GM or not aside, the WTO complaint has been made on a technicality. Or perhaps, more accurately, the EU's justification for the de facto ban on GM crops is based on a technicality. The EU claims the ban is on scientific grounds whereas the US (or more accurately Monsanto) argues that the EU has swallowed bad science in making the judgement.

The evidence until now has been pretty conclusive. Consumers in the UK, at the very least, would be reluctant to buy GM foods. Now, of course, Monsanto (which has gone to extraordinary lengths to patent seeds) says that consumers have been hoodwinked by the green lobby and bad science. So, we are to swallow Monsanto's propaganda instead. And, before you say that GM food will feed the starving, think again. There is no evidence to support this. Indeed, one of the worst aspects of the whole GM issue is that Monsanto has specially bred seeds that will not produce new seeds. So, rather than collecting seeds for next year's crop, poor farmers in the Third World are forced to buy new seeds every year, to the benefit of Monstanto shareholders. The only trade issue involved here is the market domination of one seed company. The ethical issues here deserve debate, so get over to GM Nation - that number again is...

Check out this article for more on the genetically modified Shrub. Also, look out for the Fact Box.

Beatniksalad has covered this topic as well, but I can't find the article on his blog. There is, however, another of Ryan's pieces at Politix.
NEW BALLS, PLEASE

So a great day for British Tennis yesterday as Tim Henman breezed through the first round against the 154th ranked player in the world? Or another pathetic display by the host country as all British women fall at the first hurdle?

Why are we Brits so poor at tennis? Why do countries like Belgium, Belarus and Ecuador produce better players? Should we care?

Let's take the last question first. Of course we should care. Like it or not, sport or at least spectator sport is part of our culture. We like to cheer on the home players. Why shouldn't we? Okay, when they get knocked out, we can cheer other competitors and marvel at their skills. It's all part of the famous and mythical English sense of fairness.

We should also care because our professional sports people are a reflection on the general fitness of the rest of us. We are becoming a sedentry people. We are not unique in this, but interestingly there are reports this week that obesity is more prevalent in the UK than anywhere else in Europe.

Why do other countries do better? Difficult to say. There are a number of possible reasons: better training and coaching, better facilities, identifying talent at an early age. And, what about the elitism of tennis? There is a provocative article by Martin Jacques in today's Guardian about racism in tennis and all sport. Jacques goes a bit over the top at the end and ignores the French anti-American feelings in his bit about the Williams' sisters, but the plain truth is that tennis is still an elitist sport. Good facilities and coaching goes with money. That is not always the case with other sports, particularly team sports. Football clubs, for example, throw the net very wide to attract the best talent. Gone are the days when Everton, for example refused to scout black players.

Childs is losing this afternoon and Rusedski (he's Canadian anyway) is up against the new favourite. Let's see what happens, but the tournament is likely to be down to one Brit by the fourth day.
SEX AND DRUGS...

Get over to Yorkshire Soul. Mike's in the middle of Rock Week, which is an in depth investigation into the socio/economic impact of popular music with a mullett (sorry, is that the fish spelling or the hair spelling). Do the poll - it's gotta be Meat...

Mike, I hope you are going to mention my favourite band when I was about 15. Think bombast, bad hair, endless guitar solos, capes, psychedelic album covers, 15 minute songs, lyrics about Hermann Hesse and Eastern religion, the guy with the high voice, Rick "four heart attacks and I've found God" Wakeman. I'm proud, not ashamed and I still have the 4 CD retrospective set (but, I won't be at Hyde Park for the Geriatric tour). Yes.
Tuesday, June 24, 2003
PHOTO FRIDAY

This week's photo (or last week's, if you will).




Critters: Foxes in the garden.
Sunday, June 22, 2003
ALL I WANT IS NOTHING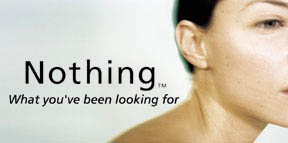 For the person who has more than they need and should really have a clear out.

from Adbusters, via Overflow
Friday, June 20, 2003
FRIDAY FIVE WITH A FRINGE

1. Is your hair naturally curly, wavy, or straight? Long or short?
Naturally greasy, naturally long (unless cut).

2. How has your hair changed over your lifetime?
It has grown.

3. How do your normally wear your hair?
At a jaunty angle.

4. If you could change your hair this minute, what would it look like?
At a slightly more jaunty angle.

5. Ever had a hair disaster? What happened?
Alopecia - I'm serious. it grew back.
Thursday, June 19, 2003
I AM PUNK!



You are Punk!

You have an opinion and nobody can change that.
You don't really care what other people think
of you, you know what is important and
everything else can go screw themselves. You
are determined and focused, and people admire
you for that. Just be careful of becoming
hypocritical, keep your head on your shoulders
and keep trying to make a difference.


What Kind of Music are You?
brought to you by Quizilla

via Knobby
SCAM SPAM

This has got to be one of the funniest things that I've seen in a while. This bloke has taken on the spamming scammers - you know the guys who allege that they have access to a vast amount of money, but need you to pay some cash up front to get the money out of the former dictatorship where the stash resides.

More power to this guy. Maybe others will join in and we can extend this (if you excuse the pun) to the penis enlargers.

Perhaps I'll offer places at this conference to the scammers.

Read the Solomon story - it's a riot.
UK ROADS CHAOS

First it was mushy peas on the A1: "A truck spilled 18 tons of peas on a busy highway in eastern England, bringing traffic to a standstill for more than 12 hours, police said Tuesday."

Now, this (Scroll down to "Heat of Passion"): "Police were seen carrying blow-up dolls as they cleared the carriageway."

nb - this was also reported in the Daily Star, but our browser filter at work won't let me in to their site to link to the picture.
AW NUTS!





Squirrel proof bird feeder: but not chipmunk proof. From short and cranky
ROAD MAP

"The first detailed map of space within about 1,000 light years of Earth places the solar system in the middle of a large hole that pierces the plane of the galaxy, perhaps left by an exploding star one or two million years ago".

It seems it's cold and wet where we are.

from Life on Mars. Full article here.
SHAMELESS PLUG

Vmyths.com has been operating on the web in one form or another since
1995. We are the premier place to go for the truth about computer
virus hysteria. We have always offered our services to the public at
no charge.

It is no secret that our revenue stream collapsed after the September
11th attacks. Nobody at Vmyths.com has received a salary since July of
2002. Everything that we have done is for a crusade to wipe out virus
hysteria. Our sponsors at Mediaweave give us server space & bandwidth
to keep us going, but, we need your support.

We intend to keep offering our services to the public at no charge,
but, it takes money to run a useful service like Vmyths.com. If you
appreciate our virus hoax database and our commentaries, then I hope
that you will buy one of the special items from our new gift store. We
have a line of merchandise priced at $99.95 so that you can support
our efforts.

www.cafepress.com/9995

You can do a lot for Vmyths.com with just one purchase. I know that
times are tough in this post-September 11th world, but, please give as
generously as you can. Vmyths.com needs your support. Thank you for
any help you can give us.

Eric Robichaud,
Vmyths.com

VMyths is a great site. Even if you don't make a purchase, check it out and pass on the link to your (especially, techie) friends.
Wednesday, June 18, 2003
PHOTO FRIDAY (LAST WEEK'S)

The topic this week...





multiples. I snapped these satellite dishes hanging of the side of a block of flats in Greenwich.
THAT WAS THE WEEK THAT WAS

You know all about National Bike Week, because I bored the pants off you, twice.

But, did you know it's also National Rail Crime Week - so are we to get out and spray graffiti over railway carriages? (Aside: Is this beginning to turn into a transport blog?)

And, passing Westminster Cathedral (My God, they have a Flash site! I bet the Baptists don't) today I saw a sign promoting National Quiet Day (21 June). Not to be confused with the Lesbian, Gay, Transsexual National Silence Day.

It's also European Year of Disabled People.

How about the World Be Nice to Everyone, Support Good Causes, Think Before You Speak, Chill Out, Down the Pub, Curry Afterwards Day? Let's call it...everyday.
ONE WEDNESDAY EVENING

Police Five at Yorkshire Soul.
10 more things about audi man: Mull, level crossings, Noel Harrison and Pizza Hut.
Whale News from Nick Barlow.
More Whale News from Planet Ark.
Spam, spam, spam, baked beans and spam knicked from one of you, could you remind me, please.
Job Vacancies: the sun still never sets on our Empire! (sorry, the jobs that were they seem to have gone, but you can still book your holiday.)
More from that corner of the Atlantic.
Sports News from the Wacky corner of the Bay Area.
I MAY BE ABOUT TO OFFEND SOME BELGIANS

Ryan has accused the Belgian Prime Minister of looking like a child molester. Well, he is plug ugly.

More about Belgium.

Belgium: (one of) the home(s) of the European Union.

Belgium: home of two de facto separate political systems. There are separate political parties for French speaking Wallonia and Dutch speaking Flanders.

Flanders: Home to the racist Vlaams Blok, who make Pim Fortuyn look like a screaming liberal. (Wallonia has its own version called the National Front - er, where have I heard that before.)

"Foreign journalists rarely understand Dutch: they get their information mostly from the Francophone Belgian media which tend to be hostile towards Flanders and the Flemish."

"Neutralize the demographic time bomb through pro family and pro child policies...repatriation of criminal foreigners...Conduct a humane (sic) policy of return."

"The Vlaams Blok is a social party par excellence", says Frank Vanhecke, Chairman of the Vlaams Blok.

"We respect foreigners who live in our country legally and who make an effort to adjust as guests here." My emphasis. In other words: foreigners (i.e. dark skinned people) are second class "citizens".

Belgium: birthplace of seemingly a dozen van der Elsts who played for West Ham.

Did you know Audrey Hepburn was Belgian?

Can you name 99 other famous Belgians?
Tuesday, June 17, 2003
FEAR FACTOR

"Oh boy! Here's another David Nelson"

BBC News reports the extraordinary story of four David Nelsons, suspected terrorists.

"If your name is David Nelson, be prepared for a long wait if you're catching a flight in the US."

It seems that David Nelson is a name that sets off alarm bells in the security profiling software used by airlines and the US Transportation Security Administration (TSA). You might say that the TSA - set up after 11 September (firstly under the Department of Transportation, now part of the Department of Fear, also called the Department of Homeland Security - is a dog's breakfast (now know as a Cabinet Reshuffle) after they admitted recently that 1208 screeners have been "terminated" because of "suitabiliy issues"; 503 of those "had failed to say that they had been arrested or convicted of a crime - including 85 convicted felons" (from the 9 June edition Aviation Weekly & Space Technology - subscription required)

We always knew that airport security in the US was crap. I remember well the congressional hearings, before 11 September, when it emerged that security screeners where paid less than McDonalds staff and most never served out there probation period. Of course, it better now that the screeners are government employees under the TSA. Er, not.

Me, I'm changing my name to David Nelson to piss them off.
Monday, June 16, 2003
MORE CAR RANTING

Further to my car rant the other day...

A bill has been introduced in California that would force the state not to buy SUVs. The ban would save the state on fuel costs, but methinks big auto may object and get its paid-off freinds in Sacramento and Washington DC to kill this initiative.

Another Greenpeace protest, this one in Turkey.




Meanwhile, over here the Department for Transport says that drivers are not speeding as much as they use to. Something to do with speed cameras maybe?
SADDLE SORES

A quick update: I cycled 43 km over the weekend.

National Bike Week kicked off with a scare story in the Sunday papers (because there's never any real news on a Sunday) about cycling causing impotence. Some daft Belgian thinks that yer 'nads take too much of a beating in the saddle. Whereas we all know petrol heads like the Sun's Jeremy Clarkson have enough sperm to impregnate the entire female population of a Central European country over one weekend.

The best article was in the Torygraph (which seems strangely missing from their website). In it, Britain's top cyclist (when he stays on his bike) Chris Boardman said it was a load of bollocks. All the cyclists he knew were rampant sex fiends or something like that. You'll have to do with this one from the Independent (we charge for articles by that Fisk bloke because we know only political bloggers read his shit so they can have a rant on their meme sites).

Update: More cyclists wear helmets.
LONDON OLYMPICS ARE GO!

Hurtling towards a defeat of Olympian proportions, the British Olympic Association will soon name the leader of its stupid bid for the 2012 summer games. (I have a few years to go before sitting down to humble pie. By the same token the BOA, the Government and the Greater London Authority have a few years before they realise what a foolish effort this is.)

"London's bid to secure the 2012 Olympics is to be led by an American. Barbara Cassani, the businesswoman who built the low cost airline Go, is to be named this week as chairwoman of the bidding committee."

An American leading a British bid. So, that guarantees London no votes from the Islamic world.

"The government is keen to announce an appointment quickly because it is aware that London's bid is falling behind its rivals, such as Paris, Madrid and New York."

No problem. We can take them on because we've got a great transport infrastructure (er... Central Line chaos, CrossRail, Thameslink 2000 - I mean Thameslink 2020, I mean - oh forget it), a great track record in building national facilities (er... national stadium built in 1923 to Victorian standards, Picketts Lock anyone, and the new Wembley...) and do I need to mention the Dome?

But, this is the killer blow:

"London is the only candidate which does not have a website..." Unless you count this feeble effort.
Sunday, June 15, 2003
PERRY MELTDOWN

As promised, a few pictures from the Meltdown gig the other night.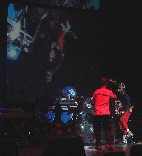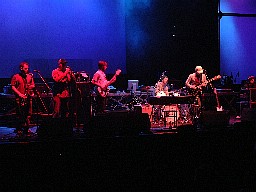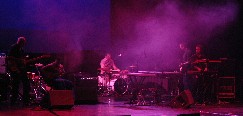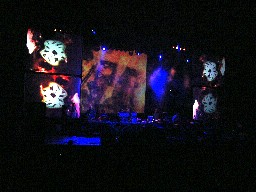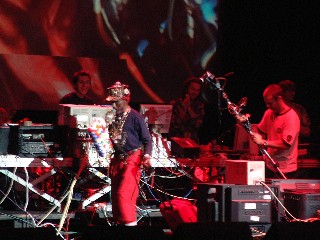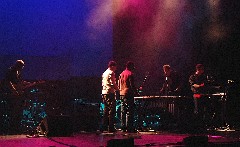 Read the Gruaniad review of Tortoise.
BIKES ARE GREAT

This is National Bike Week, in case you haven't noticed. I only found out on Friday and that's because there was publicity for it on our internal communications system.

There's going to be a Parliamentary Bike Run, which should get the cameras out and good for a few sarcastic headline. Remember the Euro Summit (Amsterdam, I think) when all the leaders hopped on bikes (except that fat Kohl bastard).

If I'd known about this, I would have geared myself up to start cycling into work next week. But, too late now to organise a locker and lock up for my bike.

The Government has a cycling strategy. Well, here are a few of my ideas...

1) A proper segregated cycle network for London and other major towns and cities. The current cycle lanes leave cyclists pedalling next to cars and trucks, inhaling fumes, dodging parked cars and car doors opening. Cars and cycles don't mix, just like cars and pedestrians don't. When they meet there is danger and cars always come off better.
It should be easy to carry this out - you could segregate existing arterial roads (the Red Route system) through the use of high curbs where cars are not permitted. it doesn't mean new paths or trails - just modify the existing system and make it bike friendly and car unfriendly.

2) The same enforcement and penalties for cyclists who violate traffic laws. Traffic lights apply equally to cars, cycles, trucks and horses.

3) Compulsory helmet use. I know there are some that say that helmets give a cyclist a false sense of security. But, helmet usage will reduce deaths. If you get hit by a car (or pedestrian) and hit your head on asphalt or concrete then there is a pretty good chance you are going to have a life threatening head injury.

4) Compulsory bike lessons at school (along with swimming lessons, drafting a personal budget, balancing a chequebook, d-i-y skills, and other life skills).

5) Secure bike racks on every high street - charge a nominal fee if you want to make it pay.

6) My employer gives interest free loans for bikes to encourage cycling to work. Extend that to all employers. Tax credits too? (Employers should be required to provide sufficient bike racks and chanign facilities too. A no brainer this: You wind up with a healthier workforce which is good for morale and reduces absenteeism.)
CARS STINK

It looks like open season on the internal combustion engine.





Last week saw this rather impressive banner raising event in Detroit, home of the US car industry. It was organised by the Rainforest Action Network. You can read more about the campaign with a click of the mouse.

Meanwhile, much has been made of the summit held by UK Transport Secretary. It now seems that Alistair Darling has been converted to road pricing after initial scepticism. The current Government has never been overly enthusiastic about what many see as an infringement of personal freedom - the right to move (and stink up the atmosphere at the same time). Darling is now thought to be persuaded by the so far successful London congestion charge scheme (although it's still early days). Darling is looking at a more sophisticated system than London's cameras and database driven charge. He wants to lookat using satellite technology to track cars as they use the road network. The charges would be sophisticated, but based on the simple economic principle of supply and demand. The greater the demand (the worse the congestion) the higher the charge.

This has led to the right wing press bleating on about the school run and, the easy target has been the urban 4 wheel drive (always shining clean, instead of covered in mud, which you would expect an off-road vehicle to be) or Sport Utility Vehicles (SUVs). But, it's as well to consider the full package (not fully worked out or decided upon yet). Darling has said he would look at reducing the road fund tax so that drivers are charged more on the basis of using a car rather than just for owning a car. It's quite remarkable how the Labour Party has now signed up to fairly radical economic pricing mechanisms which you would expect to be introduced by a right wing government. Road pricing is fine, if it can finely tuned to be reasonably fair to everyone. Also, I think the public will need to be convinced that the revenue will go towards improving the UK's crumbling public transport system.

There are understandable civil liberties issues with tracking individual cars, but I suggest you check out the detailed Commission for Integrated Transport web site for a full run down on the issues, including civil liberties. The site has some good links to other road pricing schemes around the UK and the world. I've had some experience with the system in Singapore which uses simple sensors on gantries as you enter the city centre. The gantries "talk" to smart cards in the car. The scheme has been very successful in reducing congestion and raising revenue for transport projects.

What it comes down is that we have got to do something to reduce car use. We cannot build more roads. Technology can only go so far as to better utilise what road space we have. Ditto on pollution, though I think the days of the internal combustion engine are numbered - twenty, may be thrity, years. I can see alternative or hybrid systems becoming more prevalent (or am I being too optimistic?) The technology is certainly there for alternative fuels: it's the economics that just don't quite work yet.

On the issue of SUVs/4x4, I'm fed up with these beasts which give security and comfort to the drivers, but are a great risk to car drivers (not to mention cyclists and pedestrians). You can't see over or around the buggers. Who wins in an accident between a car and an SUV? They are also poor when it comes to fuel efficiency. I'm going to start a campaign sticking stickers on these monsters pointing out how dangerous to life they are. I hope Greenpeace are on the case.
Friday, June 13, 2003
PIN NUMBER, PLEASE

According to the BBC, there's a new variant of the Nigerian e-mail scam (Donut, passim). It's the Uday e-mail scam!
HEROES IN A HALF SHELL

I was late home on Wednesday and busy at work on Thursday, hence not much blogging after a blitz earlier this week. Late home because I went to the Tortoise/Coldcut/Bees gig at the RFH, part of the Meltdown series curated by Lee "Scratch" Perry, master Jamaican producer and fruity loop.

Pictures up soon; maybe a bit of a review too.
FRIDAY FIVE

1. What's one thing you've always wanted to do, but never have?
You mean something that's legal?...

2. When someone asks your opinion about a new haircut/outfit/etc, are you always honest?
Really, it looks fine. You look good. What's for dinner?

3. Have you ever found out something about a friend and then wished you hadn't? What happened?
Never regret anything; you know what you know and deal with it.

4. If you could live in any fictional world (from a book/movie/game/etc.) which would it be and why?
I wanna be the brunette in Friends...er, no ... in any sitcom about an office, there's this irritating wisecracking guy (usually gay). I want to be him: wandering around the office all day, making sarky comments and doing no work at all. However, it would be a bummer when the show gets canned. I'd have to turn tricks or something.

5. What's one talent/skill you don't have but always wanted?
Bending spoons like Geller.
Wednesday, June 11, 2003
SPAM FRITTERS

Alma - alma@mail-deluxe.com - wants to know: "R U a Pervert". I may be a pervert, but Alma can't spell.
Toby S Carson (from Russia!) - toby_carson_hh@aha.ru - asks: "Did you Know? Get larger nuts and penís, more pleasure, more satisfaction." Something to do with squirrels.
Tasso (from Japan, hey I'm famous around the world) - seidt@cc.ocha.ac.jp - asks: "Can we meet? r fncny q" Sure, if you pay my plane fare to Tokyo q fncny r.
MyPremiumOffers - IQ@MyPremiumOffers.com - posits: "How smart are you?" Smart enough to recognise spam when I see it.

I'm also now getting holiday offers ... in German. Beach towels and loungers already reserved, I guess. Finally, it's no longer the Nigeria scam. I've had e-mails from relatives of the former despots of the Philippines, Sierra Leone, Angola and Ghana. Boy, am I popular.

Has anyone ever answered one of these?
Tuesday, June 10, 2003
BELGIAN ROAD SIGNS

"Traffic signs are, besides the litter, among the more common objects along the road side. We see them, yet don't look at them.
Shame, because many signs are worth a closer look."

Not much more to say really, except I pinched this off Yorkshire Soul too.
HALOSCAN

Evil Bus Driver tells me that Haloscan had its server disconnected for non-payment of bills. Ooops. They're back now, but I might be looking for a new comment linker-upper.

Update:Seems that Klink and Entenation (or wahtever they're called) are also down. Is this a conspiracy by all those journos who hate blogs?
ROAD RAGE 2 - THIS TIME IT'S WITH TIRE IRONS

Further to yesterday's blast about speed cameras, I saw this Economist article today which was pretty much on the same wavelength as me. eeek!

Speed Kills: "In eight trial areas over the past two years, they reduced deaths and serious injuries by more than a third."

The bizarre logic of the average driver: "even law-abiding people see lethal speed as a right, and attempts to control it as an outrage"

The proper way to use speed cameras: "Although the bright yellow [camera] boxes [to help the poor suckers spot where the cameras are] do help law-abiding drivers keep to the limit, law-breakers manipulate the system by braking when they see a camera. Undermining drivers' confidence in their ability to spot cameras, the study concluded, would reduce speed-related accidents. These not only kill and maim hundreds of people every year, but deter cyclists and pedestrians, especially children, from exercising their right to the road."

In conclusion: "Speed cameras have already worked well. They should be allowed to do an even better job, for all the car lobby's tiresome tantrums."

Couldn't have put it better!
CONFERENCE CALL

Talking today to one of my friends from way back, we were on the subject of Exeter City FC as usual. Poor lad has support his local side man and boy. In case you missed it, the Grecians got relegated out of Division 3 into the Conference. The club, which "boasts" Uri Geller as a director (and Michael Jackson, yes that Michael Jackson, a vice-president), is in disarray. The supporters' trust has taken over day to day running of affairs. Relegation, despite a £100k parachute payment, is a big blow financially and they are close to the brink.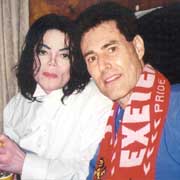 News this week is that Steve Perryman, long time Spurs captain and most recently a coach in Japan, has agreed to step in as Football Director.

"Perryman will work unpaid for the Conference club" - remarkable! - "for two days a week" - that's 48 hours a week - "as well as on matchdays" - handy.

See you at the away games - Farnborough, Aldershot and Dagenham & Redbridge.
TODAY'S NEWS IS BROUGHT TO YOU BY GREED

The US Federal Communication Commission recently loosened its rules on media ownership.

As the Washington Post reported: "By a 3 to 2 vote along party lines, the five-member commission largely lifted the 28-year-old ban that prohibited a newspaper from buying a television or radio station in the same city. The commission also allowed broadcast networks to buy more stations at the local and national levels."

Critics fear that this will lead to even greater consolidation of media ownership to the beneift of the likes of Rupert Murdoch and other Hearstian moguls.

"Media companies such as News Corp. and Walt Disney Co. said their businesses were hamstrung by obsolete rules that prevented their broadcast networks and stations from competing effectively with the burgeoning cable industry." Hamstrung? Sorry? News Corp owns the (London) Times, Sun, News of the World, a string of papers in Australia and Asia, the New York Post, the Fox Network (and several local outlets, plus all the Fox cable channels), BSkyB and a slew of associated channels in the UK and Europe, Star TV in Asia, several large publishing houses, record companies, several small countries and countless politicians around the world...any more? I've forgotten what Disney owns but it's almost as huge. Hamstrung? Pull the other one.

No doubt, Mr M will be asking Mr B to lift the rules over here, becuase GW let him take over US media and what about that special relationship and does he want the Sun to give him a second term?

Working for Change has a nice spin on this.

Oh, by the way, the FCC chairman is Michael Powell, son of Colon. (Thanks to Evil Bus Driver for the correction.)

Read more here.

Update: See also this diagram outlining the large tentacles of media companies from Godspeed You! Black Emperor, agit-prop noise monsters. NB - there is an error on the chart, so check the correction too.
PISHED AGAIN

I've been thinking about adding a list of food and drink related links. What better way to start than the "Heavy Drinker's Guide to Iowa City"

"In Heavy Drinker parlance, urinating is known as "Breaking the Seal."
It's the first step towards a nice, healthy binge drinking experience."

Thanks to Yorkshore Soul for this fine piece of educational material. Hurry up with those tATu pictures, Mike.
CLOWN CONTROL TO MAO TSE-TUNG

Ever been embarrased singing the wrong lyrics to a popular song? Read on. The above example is from David Bowie's "Major Tom" - Ground control to Major Tom". I also like "The girl with colitis goes by" - from "Lucy in the Sky with Diamonds" by the Beatles.
DONUTS VS TERRORISM

"The Doughnut, the less secretive weapon in the fight against international terrorism" - er, well nothing to do with me. It's all about the spanking new headquarters for GCHQ, the listening bank, I mean the UK government's communications headquarters (or "big ears") equivalent to the US NSA (that's National Security Agency, not National Softball Association - unless the latter is a front).

"The Doughnut contains office space equivalent to the size of 17 football pitches."

Did I tell you that I sat the entrance exam for GCHQ? What's even scarier is that I passed. But, when it came to the interview invitation I passed (again). It was the height of the union ban and didn't seem like a nice place to work. Er, can I change my mind now?
Monday, June 09, 2003
NO FT, NO COMMENT

Yeah, the one day I get loads of traffic Haloscan goes tits up. Sign the Guestbook if you want to vent your spleen.

Thanks for coming.
ROAD RAGE

Alexander Chancellor is usually a sensible kind of bloke. But, last Saturday's column in the Guardian magazine really pissed me off.

Chancellor, who has already had one moan about a parking ticket, seems to have taken it upon himself to be the reasonable voice against speed cameras.

"The public may support George Bush and Tony Blair in their world war against Islamic terrorism, but it is happy to tolerate a bit of home-grown terrorism if its targets are right; and speed cameras are deeply unpopular." says Chancellor in support of the madmen of Motorists Against Detection.

Argue if you want against the revenue spinning aspects of speed cameras, and I think the revenue raised is a great idea, but to argue that it is unfair to be caught speeding is simply stupid. Argue if you like that it's unfair to place cameras at the edge of 30 mph limits to catch people slowing down and I say "tough titty" if people haven't learnt after 10 years or so of speed cameras that going 45mph when you pas a 30mph speed limit sign carries a chance you are going to get caught by a speed camera. Perhaps all these people just want to have a car chase with the cops instead.

Rather than blowing up speed cameras, or in Chancellor's case condoning the destruction of public property paid for with taxpayers' money, slow the fuck down. Speed kills.

And, has government suddenly become anti-car? No. This is a campaign to catch people breaking the law. Speeding may not be thieving, but it is still an offence against society which carries an appropriate tariff. As for being an attack on the freedom to move, horse shit. Get on a bike. It's better for you and it's less polluting.

P.S. - I reckon Chancellor's getting jealous of Julie Burchell, the other lamp shade columnist in the Saturday rag. Burchell claims to have become a "Grande Dame". Po-leaze!
TODAY'S NEWS IS TOMORROW'S HISTORY

Historian Dan Cruikshank's two programmes on BBC2 over the weekend were intriguing and a bit depressing.

Saturday's programme traced Cruikshank's journey through the occupied territories of Palestine visiting archaeological sites. Cruikshank attempted to make some sense of the current Arab-Israeli crisis through the plethora of important spiritual sites throughout the Holy Land ("the most unholy land I've ever witnessed, as he remarked after a confrontation of different Christian sects arguing over rights at the Church of the Holy Sepulchre in Jerusalem).

He visited Palestine just as the invasion of Iraq started, so the backdrop was intense and dangerous. At one point he was nearly embroiled in an anti-American, pro-Saddam demonstration. At another point, visiting an ancient monastery in the desert, Israeli Defence Forces and Jewish settlers surrounded his van. Cruikshank explained that he had no axe to grind, though I think that was part of the point of the programme - to show why the Holy Land is so divided and (for Cruikshank, at least) will remain so for some while.

There was a surreal incident at Rachel's tomb, heavily guarded by Israeli soldiers. Cruikshank was shown around by an enthusiastic recruit from New York who summed up the situation as 1 Jewish nation versus 23 Arab nations.

More depressing was the evidence of zealots destroying Palestinian archaeological sites and Palestinian hoodlums trashing Jewish sitesin retribution for the demolition of Hebron's town centre.

Last night was a follow up programme to one done prior to the war in Iraq. In that programme, Cruikshank visited many of the great archaeological sites in ancient Mesopotamia before they were all reduced to dust in the conflict. For the follow up - "Raiders of the Lost Art", he investigated what really happened at the Iraq Museum. Was there mass looting after the Americans entered Baghdad?

It was seriously disturbing picture of what has happened in that city. You could cut the tension and it was clear that his camera crew were in great danger throughout. As for the museum, the stories of looting seem only partially true.

What became evident was that the museum management were Ba'athists. Before the war, or shortly before the Americans entered Baghdad, someone at the museum allowed someone else (senior Ba'athist I suspect) to loot some of the most priceless treasures. There was other looting, as shown in the scene at the market where small, easily portable artefacts were on sale, but clearly something rotten had happened a the museum. The fear and the reluctant co-operation of the museum staff - with Cruikshank and the US forces detailed to investigate - was palpable.

It just went to show how ingrained the Ba'athists were in Iraqi life. Nothing ever happened in Iraq outside the control of the party and the state apparatus. Rebuilding the state against this history is one very long and very dangerous task.

There was an amusing scene in the basement of the Al-Rashid Hotel when Cruikshank stumbled upon the room used by Saddam for cabinet meetings during the war. Cruikshank picked up a cigarette butt from "Saddam's ashtray". A Gauloise.

Compelling stuff.
THINGS TO DO AT LUNCHTIME

Visit Uglyfootballers.com and stick you mouse pointer up Peter Beardsley' nose - hours of mirth and hilarity.
Browse on over to the Audi Olypmics, the Grauniad's latest hot web site. More mirth, more hilarity, nearly orange juice out the nose.
Read Beatniksalad or Nick Barlow: always topical and well written.
Rant at Howard Owens - rightie from the left coast. (But, check out the very good post on WMDs)
Take the latest Yorkshire Soul incisive poll. (Links not always worksafe.)
Toodle over to Wacky Neighbour. Is he Ned Flanders?
Join the Anti-War Web Ring. Right, kids?
Grumble at Haloscan - comments not working, again.


Get outside - the weather's lovely this time of year.
MERRY CHRISTMAS, WAR IS OVER

But, I joined the Anti-War Ring anyway. Does this make me a Communist?
Saturday, June 07, 2003
UBERJAM

Supremely cool and funky jazz guitarist John Scofield breezed into the Barbican Hall last night with his top notch Uberjam group - combined age less than 50 something John.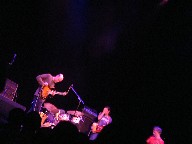 In support, ice doctors Koop from Sweden chilled it down.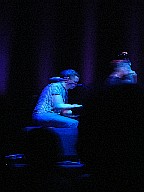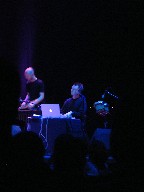 What? Are you expecting a review or something?
PHOTO FRIDAY

A bit like the Friday Five, only it's a photo. This week's topic - packaging.



n@&Ma! $E&V!CE &E$UME?

Apologies if you logged on overnight and wondered where all the good stuff was. Seems like Blogger had a meltdown: bit like our phones at work yesterday, power failure meant we couldn't call out (excellent!).
Friday, June 06, 2003
CAVEAT EMPTOR (IN REVERSE?)

Proper Grounds, who seems to be a car salesman, has a story about a creepy customer. Yikes!
ORANGE JUICE CAME OUT OF MY NOSE...

Let that be a warning to you before you click here.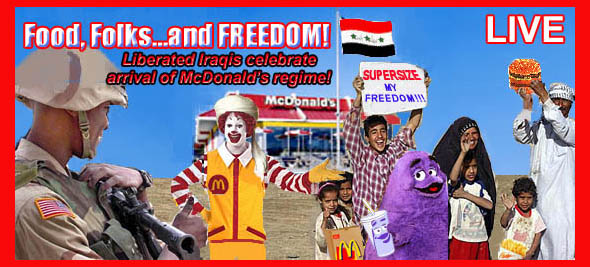 It spoiled my lunchtime, I tell ya.

via The People's Republic of Seabrook
GREEN PEAS*

The protest across the road is over. The Greenpeace crane sitters came down overnight. Greenpeace say that they got an undertaking from the Home Office that they would investigate the sourcing of timber for the building site for the HO new HQ.

Liberal Democrat MP, Sue Doughty (Guildford) raised this at Prime Minister's Questions. Blur was too ruffled on Eye-rack and promised to "drop a line" (I think you drop tabs and snort lines, but then that might not be the case.) I'm going to get on to my MP about this.

Meanwhile, with no sense of irony, DEFRA (pronounced DEATH-ray) is rabbiting on about economic tests and forests (that's here and not in Indonesia).

On the 2 Marsham Street site, the demolition crew is still chipping away at the "Rotunda". The developer is pouring concrete. They might answer your e-mails.

* - like whirrled peas, only different.
THANK GOD, IT'S THE FRIDAY FIVE

1. How many times have you truly been in love?
Probably twice, maybe never.

2. What was/is so great about the person you love(d) the most?
Everything? But, most importantly waking up in the morning, turning to look at me and not leaping out of bed screaming.

3. What qualities should a significant other have?
Patience, trust, understanding, a sense of humour and lots of money.

4. Have you ever broken someone's heart?
You betcha.

5. If there was one thing you could teach people about love, what would it be?
"Just say, No."
Thursday, June 05, 2003
SUBTERRANEAN HOMESICK ALIEN

"...Up above aliens hover making home movies for the folks back home, of all these wierd people who lock up their spirits, drill holes in themselves and live for their secrets..."
THOSE DEMO PICTURES IN FULL

As promised, I've uploaded pictures I took today of the protest by Greenpeace against the use of wood from unsustainable forests on a Government contract. Please feel to use any of these pictures, but as always link back to me. I have higher resolution files if you require.



Protest pictures here
DEMO UPDATE

There are still 11 Greenpeace demonstrators perched on the four cranes at the 2 Marsham Street building site for the new HQ of the Home Office. They've been there now for some 30 hours and threaten to stay until the Government responds to complaints about the use of unsustainable timber from Indonesia in contravention of Government policy and pledges given by Ministers. According to the Save or Delete site, a meeting with the contractors yesterday ended without resolution. It looks like the contracotrs and the police - in large presence around the site (including in Pret at lunchtime) - are going to sit this one out. Not a dicky bird from the Home Secretary ("I want to play a significant role in the development of coherent social policy for the Government") or Micheal Meacher (Minister for the Environment at DEFRA) ("The UK Government gives absolute priority to combating the importation and use of illegally logged timber in the UK.")

Meanwhile, work on the demolition continues, but the cranes are, for now, out of action.

I've taken a few photos which I shall upload tonight.
KEINE GESCHWINDIGSKEITSGRENZE

"Soon you could be downloading an entire movie off the net far faster than you do now."

Really?

An internet connection allowing feature films to be downloaded in five seconds could soon be a reality, New Scientist (via the Guardian)reports today. The system, called Fast TCP, will be 6,000 times faster than ordinary broadband links. It is being developed by Steven Low and a team at the California Institute of Technology, Pasadena.

Hang on sec, I'm still using a 56k connection.
Wednesday, June 04, 2003
JOBS UPDATE

First workers get sacked by text message, now ABN AMRO (surely "the friendly bank" or the "world's local bank" or "a bunch of money grabbing bastards", not sure which one) come up with a variation on the black bin bag method of sacking. Sacked by the car park attendant.

"...it really takes the biscuit when it's the car park attendant who's the one who's actually breaking the bad news," said a company mole. The report doesn't say whether the employee actually managed to get out of the car park.
ACTION DIRECT

Just got to work to find a Greenpeace demo at the building site across the road. All to do with the use of sustainable forests. Looks like a sub-contractor has breached the terms and conditions of a government contract. Ooops!

You can almost make out two flourescent clad protesters dangling from the crane on the right with a banner that says "Rainforest Demolition Site"

Update 10:38am - protesters now down. According to the BBC web site "police are at the scene". Er, I can only see two coppers huddling under a hoarding to protect from the rain, drinking Starfucks coffee.

Update 11:48am - banner now clearly visible on the nearest crane.




Update 2:02pm - demonstrators still on site it seems - work suspended on demolition (hooray, no more explosions) and construction - a few press photographers - more banners unfurled. I've now deleted the older pics as you can't really see anything. Sorry for the poor quality, these are pinched off our building web cams.
BUSH AND BLAIR FOR THE NOBEL PEACE PRIZE?

Dear Friends,
I have just read and signed the petition:
Reject Nomination of Bush and Blair for Nobel Prize
http://www.thePetitionSite.com/takeaction/302184339
Thought you've seen it all? Bush and Blair now nominated for the Nobel Prize! Reject this nomination by signing this petition.

Thanks for your help in advance!

It takes 30 seconds and will really help. Please follow this link:
The system centralizes signature collection to provide consolidated, useful reports for petition authors and targets. Please forward this email to others you believe share your concern. To view additional petitions, please click here:
http://www.thePetitionSite.com
Thank you

Tuesday, June 03, 2003
ABOUT

A few things you might not know about the donut...

1. I was born in a council house in the same road where golfer Nick Faldo used to live.
2. It was 1971. Short dresses. Classroom desks in a u-shape. Her name was Becky. She sat opposite me. Guess what i saw?
3. I've broken one bone in my body - my upper jaw. Larry Petrocelli, I know where you live.
4. I have three scars on my body: a one inch pink one on my right elbow courtesy of James Kennedy - if you are reading james I'm gonna get you; one small one under my left eye - thanks bro; and, one on my right hip - bike accident.
5. I failed English at Suffolk Community College.
6. I was a founder member of Dynamo Stony Brook Soccer Club - one season of mayhem in the Brookhaven Summer League.
7. I used to work for this man.
8. I used to edit this web site.
9. I belong to a Trade Union.
10. I once voted Green - actually, I think I voted Green twice - once in a council election and once in that famous European Parliament election when the Greens won 20% of the vote and ... no seats.
Monday, June 02, 2003
PHOTO FRIDAY - TRANSPORTATION

My Photo Friday entry for last Friday is on the theme of "transportation" - that's transport for us Brits. It also marries with the Mongolian theme of recent blogs as it's from my October-November 2001 trip to Mongolia. The picture is from an unidentified station in the middle of the Gobi Desert on the evening of my journey from Ulaan Baatar, capital of Mongolia, to Beijing.
TAKING OVER THE WORLD

More music. As alluded to elsewhere in this blog (can't provide a link as my permalinks are all crapped up - help anyone?), London in May seemed like the world music capital of the, er, world. (World music, what a dreadful, Anglo-centric term that is. What we (I?) mean is traditional, contemporary, fusion, folk, rock, classical music from different ethnic, religious and national backgrounds. Er, let's stick to world music.)

On the South Bank, we had the London African Music Festival. As usual, those infectious West Africa guys were there, but credit the organisers for dipping toes into North Africa. Just to prove that there is a rich musical heritage and current scene other than in sub-Saharan Africa. We took in two concerts in this series. Hossam Ramzy's eclectic mix of master musicians from Egypt and beyond has been covered elsewhere.

Souad Massi came highly rated. The Algerian chanteuse has been likened to Joni Mitchell and other great female singer songwriters. Her new album "Deb" has been called the most melancholic CD you'll hear this year. How surprised we were when she launched into bland euro-pop in her sold out gig at the Queen Elizabeth Hall. More surprising too, but Robin Denselow in the Guardian wax lyrical. We remained underwhelmed, disappointed even. Not that this was a bad performance, but what this MOR stuff had to do with Algeria or an African music festival.

In contrast, the support act, Abdelkader Saadoun, was much more enjoyable bringing together the traditional sounds of Algeria and upbeat modern takes on Arabic music. His flyer talks of an amalgam of countless styles and traditions in his music. Amazing that he fitter so much into a 40 minute set. I loved his plucking on the traditional mandolin, so far from the dull three chord strumming of Souad Massi. Being the QEH there was nowhere to dance, but we jiggled as much as we could in our seats.

Meanwhile, over the river, the Barbican put together one of the weirdest series in living memory - er, well Lee "Scratch" Perry curates Meltdown that could top it. X-Bloc Reunion brought together an eccentric mixture of artists from all over the former Soviet Union and its satellites. The festival kicked off with two legends of the Caucasus - Djivan Gasparyan from Armenia and Alim Qasimov from neighbouring Azerbaijan. Poignant this as these two countries have been at war for most of the years since independence. Unfortunately the two giants did not appear on stage together. Instead it was Russian folk music nutcase Sergey Starostin to link Qasimov and Gasparyan's sets with appearances at the end of the first and the beginning of the second.

Qasimov is an exponent of wailing singing style evocative of the Silk Road. Azerbaijan its a predominantly Muslim nation and its music reflects influences from the Arab world and Qawwali singing of Pakistan. What was missing from this shimmering performance was some explanation of the lyrical songs, some context.

Joined on stage by Sergey Klevensky, Starosin gave a virtuoso display on traditional flutes and woodwind instruments. After the break, he and Klevensky swapped between instruments, including bagpipes, that brought about one of the three or four hair standing on end experiences I have had in a concert. Never had I heard such a sweet, passionate yet haunting sound.

In his native Armenia, Gasparyan has the status of royalty. He is master of the duduk, the reedy woodwind instrument with roots in early Christian days in this mountainous country with such a sad history. Again lacking a bit of context, Gasparyan and two other duduk players played for an hour or so. Each tune had an opening evocative of the mountains and shepherds of his homeland before moving to a lyrical conclusion. Superb stuff: context and interpretation would have added to a special evening.

A few days later, Yat-Kha took the stage at the Barbican (the theatre, this time) for another unique performance. Yat-Kha have toured with their live accompaniment to the cult classic Russian film "Storm Over Asia" for several years. This was the UK debut of this weird collaboration. The film was made in 1928 and depicts the story of a poor Mongolian from the Steppes who gets embroiled in the struggle against imperialism and the forces of capitalism. Apparently the film suffered the censors cuts, but here was restored to its full 144 minute length. If a little clunky and blatant in its propaganda, the shots of the steppes and the Altai Mountains are stunning, even in faded black and white. Yat-Kha music fitted the film well, with the odd jokey reference. Yep, and throat singing. For the temple scene and the thrilling, swirling, wind blown finale, Yat-Kha pulled out the stops. A brave effort, especially with a depleted line-up missing their usual bassist, but much enjoyed by an expectant audience. Now I'm a Yat-Kha freak.

Roll on the next festival!
EUROVISION SCANDAL?

According to the head of Russia's Channel One TV network the Eurovision Song Contest is "...a political contest." Like, duh.

...par example...Here is the vote from Cyprus - Greece, 12 points. Athens calling - Chypre, douze pointe...

The irate TV boss went on to complain "the telephone vote in Ireland was suddenly cancelled and replaced with a jury vote. As a result, the Russian duet received a zero from Ireland." Aw, poor faux lesbian diddums. Seems like tATu were spoiling for a cat fight during the programme too.

All I can say is: Royame Uni, nul points! Rock on!

(PS - check out the Guardian's links page for more Eurovision fun.
CD REVIEW - KING OF WOOLWORTHS

Great name: King of Woolworths. What does that conjure up for you? Pick and mix sweeties? Cheap 7 inchers? "L'Illustration Musicale" is nothing like the Woolworths we have here in SE27. It's smooth and sophisticated. No Saturday girls pulling chewing gum out of their mouths or crinklies picking up cut price toys for the grandkids. Sounds like? Er, try Brian Wilson, (the good bits of) St Etienne, Montgolfier Bros, Air, Broadcast or even Add N to X out of Moby. Thankfully, the King doesn't write music for car commercials. Neither will you see him selling Harry Potter videos.
CD REVIEW - PHASER

There is something very familiar about the disk "Sway" from Phaser. Whilst creating their own distinctive sound, this DC combo assimilates everything from Radiohead to Oasis and then some in between. "The Bends" seems an obvious point of departure. "Northern Light" one of the instrumental tracks is half Sigur Ros, half Mogwai (in their quiet moments). A nice lush debut and promise of things to come.
CD REVIEW - YAT-KHA

From the steppes of Central Asia and the Altai Mountains on the borders of Mongolia, Yat-Kha are about as remote as you could get geographically. But, there music, if eccentric, is certainly accessible. Yat-Kah is a loose collective of musicians from Tuva, a republic within the Russian Federation, which sits in Southern Siberia. I checked the other day and there are no commercial flights to Kyzil, the capital of Tuva. That's how remote it is. On their web site, the group's driving force, Albert, talks of Tuvan villages cut off from civilisation because the roads have washed away.

I picked up two disks at the recent Barbican gig. The current CD - Tuva Rock - was sold out. That can be remedied on-line.

"Aldyn Dashka" is the name of the golden cup used for drinking fermented yak's milk, the traditional drink offered to visitors. Hospitality is a ritual for Mongolians with a rigid ethic. You enter the ger and circulate according to the rules - clockwise. You eat what is offered, even if it looks or smells repulsive. To refuse is to offend. And, you must drink the yak's milk. Disappointingly and thankfully, my scheduled visit to a traditional ger never came about when I was in Mongolia 18 months ago.

This album is made up of mainly traditional songs brought up to date by Albert and his buddies. Throat singing is highlighted here, but also the traditional zithers - Yat-Kha - and other exotic stringed instruments and flutes. Horses and other animals are important to Mongolian and Tuvan life. So, they feature as the subject of many of the songs together with songs of heroes ancient and modern. Titles like Spring Breeze", "I am a traveller" and "Rich Silver Mountain" in themselves say much about the music and the traditions of this isolated and distant land.

"Yat-Kha - in Europe Live 2001" is what it says on the tin. It captures the full group arounf the continent. Here too lots of deep growling throats, high soaring strings and female voice. The latter is a feature of the swirling "Ahoi". "Radik's Khoomei" shows off the throat, while "Takh-Pakh" is a real stomper - "just for fun". Close your eyes and you're riding the steppes.
Sunday, June 01, 2003
REVIEW: ELMINA'S KITCHEN - COTTESLOE THEATRE, 31 MAY 2003

May has been a busy month on the cultural scene. Two big world music festivals have dominated things, but bookended in there were two contrasting plays at the Royal National Theatre's studio venue - the Cottesloe.

"Honour" attracted because of two top notch actors - Corin Redgrave and Eileen Aitken. Pity that the play didn't deliver: already done marriage breaking done scenario, but with the ocassional good passage between the two leads. Very white middle class.

"Elimina's Kitchen" was an unknown. Written by newcomer Kwame Kwei-Armah and directed on his RNT debut by Angus Jackson, this is a parable about the important things in life and important life choices. Delroy owns a Caribbean cafe in Hackney, East London's feared Yardie haunt. The story revolves around Delly's relationship with his son who is attracted to the Yardie scene with its violence and quick money. But, some of the peripheral characters also face choices.

It sounds good on paper, but unfortunately the play reduces the characters to stereotypes and the gangster element reverts to cartoonishness. For South London white-boy (me), the patois is sometimes difficult to follow. The action is predictable. We are not told much: the sentiments admirable, but hackneyed (if you excuse the pun). Some brave acting and a nice prodcution (as you expect from the well funded RNT), but Jackson direction is fairly lifeless with Delroy talking too much to the corners of the theatre.

I applaud the effort to attract punters other than South London white-boy. The attraction of crime to youth is a subject worth exploring. It gets a fair airing here, just that this is not a play that will stand out in the crowd.
CHUNKY MONKEY

Got my latest order of CDs from the excellent Chunky Records, up there in Black Country Land. Unfortunately, Chunky is going out of business: probably the result of some G8 initiative to make more profits for Rupert Murdoch. Get over there while you can to help 'em pay the bills. And, if you've got any ideas where I can get good CDs at reasonable prices, drop me a line or click on comments. I know Smallfish (up by Old Street), but cleared out the stock of stuff I like last time I went there. Suggestions, please! Don't force me to go doggy-style.