Sunday, October 31, 2004
UNCONSCIOUS MUTTERINGS

Right now :: existenstialism
Halloween :: All Saints Day
Provider :: breadwinner
Rescue me :: from this
Confidence :: chutzpah
Fungus :: the Bogeyman
Candy corn :: er, Crackerjack?
Reunion :: bad haircut
Winner :: loser
Tradition :: hazing



"H" IS FOR HOMEBOY

Back in November 2001 I caught Minnesotan melancolists Low at the Union Chapel, up Islington way.

In support were two quirky acts: two parts of the Czars and Hood, highly rated by the mighty Mogwai.

I'm not sure what I was expecting from Hood. Whatever it was didn't match up to their short set. Fronted by two Yorkshire geeks who swapped between bass and electric guitar (one leftie, one rightie) what they lacked in stage presence they made up for in trumps with delightful sonic blasts.

A short time later I got hold of "Cold House" which, IMHO, stands as one of the most underrated releases of the 90s. Locking horns with Anticon adherists cLOUDDEAD, the Yorks lads have created here a beautiful clutch of electronica/folk influenced tracks. Never in yer face; but always in yer mind.

Added to my minidisc was "Rustic Houses, Forlorn Valleys": cool mornings in the Yorkshire Dales.

Eey-opp!

PS - Hood implore all Americans to vote Kerry. I implore you to buy their new EP "The Lost You"
"G" IS FOR GEE

As all conspiracy theorists know, the Grassy Knoll is where the second shooter fired shots at JFK that fateful November day in 1963.

It's also nom de plum of Bob Green, knob twiddler and musician.

Grassy Knoll III has a minor claim to fame with it's unusual packaging - rubber band around a half-gatefold sleeve.

Music wise, it's your standard 1990s electronica minus vocals. Listenable, likeable, but not quite loveable.

Ping!
NEVER MIND "WORK SAFE": MAKE SURE YOU'RE NOT EATING WHEN YOU CLICK ON THIS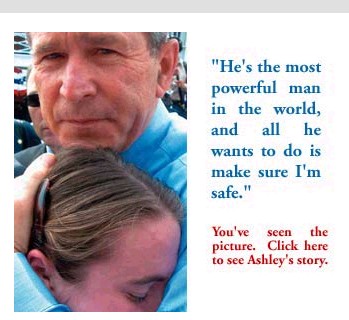 Paid for by a bunch of sick making Americans.
"F" IS FOR FINGER PICKING GOOD

Of all the offbeat, off key bands and performers that'll be included in this alphabet, there will be few who will have lived a life as full or created such marvellous music as John Fahey.

Fahey died shortly after recording "Red Cross". I guess this is a good a place to start with his career. You can work backwards from here. Just a hint: you will need a damn fine record shop to track down some of his earliest work.

The disc, like most of his releases, consists of just Fahey on guitar (except the last track). His finger picking style provides such depth and texture that nothing else is required. Add to that a raw recording of the album makes and it feel like it's a live performance in your head.

Life was never easy. Fahey recorded over 5 decades, often in obscurity. It was only later in his life that his work was "discovered" by many young artists seeking inspiration for a new American vernacular - Americana if you will. Then there's the years when he was destitute and homeless. Always devoted to music Fahey ploughed on and what you can find on those remaining recordings is a unique, though eclectic body of work.

You'll find, amongst other gems, Gershwin's "Summertime" here. Incidentally, my all-time favourite song. It's not the best version I've ever heard, but Fahey adds voices to the song I'd not heard before.

There are countless other great guitarists. Fahey's guitar voice, however, sits apart. Listening to some of this disc it is though he absorbed the style and phrasing of just about every other musical he ever heard. Now he influences a whole raft of pluckers himself.
"E" is for Experimental

We'd better get a move on with this alphabet thing.

"E" could have been for Expolsions…, in the Sky that is. Or, the other river that runs around Manhattan Island - East River, as in East River Pipe. Or, perhaps, that Country & Western renegade Steve Earle.

Well, I chose Experimental because there were two CDs from different artists sitting there with the word "experimental" on them. Theirs is logic in the madness; and, madness in the logic.

It's hard to call "The Tracksuit Triology" by The Experimental Pop Band experimental in the sense that it's stretching musical boundaries. True, it's not you're usual "pop" effort. But, you can easily find stuff that's further out there. EPB are, in fact, a one man band. Yep, that's not very original either. Davey Woodward is the name. He writes tunes about casual sex in Bristol, other banalities and incongruities. Delivery is a deadpan sort of way with mixtures of bossa nova and other "ethnic beats". If "The Tracksuit Triology" were a geographic point, you might stop by if you were in the neighbourhood, but it's not a destination in itself.

Meanwhile, there's Experimental Aircraft. Now I think it's safe to assume this outfit are named after the X-15 and all those Black Projects funded by the US Department of Defense. On this platter, which comes in a very fetching all white package: more grey given the state of the jewel package, they come into land from the Land of Space rock (capital: My Bloody Valentine). Chocks away!

Thursday, October 28, 2004
THIS IS NEXT YEAR

Okay, that was used by Dodger fans when da Bums finally won the World Series in 1955. But, it can now aply to the Boston Red Sox, World Series champs for the first time since 1918.


"Aside from having kids and getting married, this will be the greatest moment of my life,"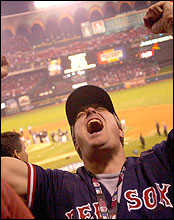 "W" AS IN WEASEL

Still can't get on to http:///www.georgewbush.com.

I suspect evil doers at work:

- the veep - cunning devil - hoping to blame it on Saddam Hussein or garlic eaters
- W, himself, clogging up the interwebnet downloading noodie pics of Britney Spears
- Karl Rove - control freak

or perhaps bloggers or hackers have brought down the system.
Wednesday, October 27, 2004
DEMOCRACY UPDATE

The curious incident of http://www.georgewbush.com: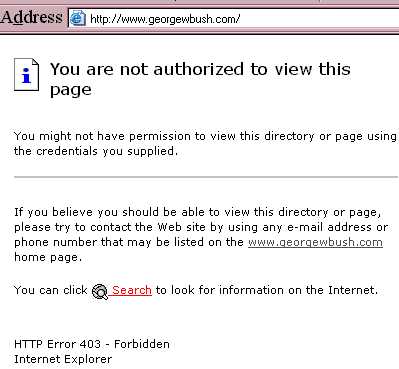 Conspiracy theories here.


Surfers outside the US have been unable to visit the official re-election site of President George W Bush.

The blocking of browsers sited outside the US began in the early hours of Monday morning...

The blocking does not appear to be due to an attack by vandals or malicious hackers, but as a result of a policy decision by the Bush camp.
EUROPEAN POLITICS UPDATE

Crisis? What crisis?

MEPs seem to have successfully blocked Il Duce's PM Berlusconi's homophobic candidate for the new European Commission.

Elsewhere:


Robert [Gravy Train] Kilroy-Silk has resigned the whip from the UK Independence Party after a row over his campaign to oust the leader.

Marvellous. Couldn't have scripted it better myself.
Tuesday, October 26, 2004
NO MORE HEROES...

Farewell to everyone's favourite Liverpudlian, with the everyman voice whose quirky taste influenced a generation of radio listeners.

I'm sure he wouldn't want a big fuss.

P.S. - sorry to use the Stranglers' reference in the title: Probably not very Peel like. But, better, perhaps, than today's Metro which used "The Day the Music Died".
"D" IS FOR DELICIOUS

That would be the luscious Devics and their release Stars at Sant Andrea. Story goes that this US bunch liked the Italian village of Sant Andrea so much, they recorded an album there.

"Sant Andrea" is moody, but not too dark. Somewhat reminiscient of Black Heart Procession without the black.


"your a liar" she said to him
and he stood there blankly
saying nothing
how we came this far
I'll never know
I'll never know
Okay, perhaps this album doesn't bring to mind hot summer siestas on a Tuscan mountain, glass of local vino in hand. Nice though it is.
DO THE MATH

Over at the Bears Will Attach Campaign Blog...


"It's a knife-storm of Old Testament proportions, and anyone who tells you that they know how which way the hammer's going to come down is either a hustler or a half-wit, but we would put our chips on Kerry today if we were up against the wall, and we are not rich enough to throw money away."
Well, with a week to go until the most important US Presidential Election since, well, 2000 (reason 2000 was important: the winner would decide on the next few Supreme Court nominations, leaning the court either left or right), this half-wit sticks his neck out and goes for Shrub.

The glass is half empty.

The media have been gloriously snatching on to poll data showing it neck-and-neck or slightly in Kerry's favour. I don't know. I'm tempted to lean towards as Shrub landslide - who, after all, votes against a war president (1992, not withstanding). Kerry is too big a Washington man to appeal to Mr and Mrs Middle America. Yet, at least a healthy percentage of the population thinks Shrub is a moron controlled by corporations (yeah, like Kerry isn't).

Bears linked to this nifty Electoral College calculator. In my analysis - which involved sticking pins in a GW effigy - comparing to 2000 - when Gore won and Shrub "won" - Kerry will take back New Hampshire. However, GW "retains" Flaw-da; and, takes New Mexico, Wisconsin and Iowa. Washington and Oregon may still turn red, but let's give them the benefit of the doubt as they can brew decent beer.

This gives a tally of 296-242 to Shrub. Visual evidence below...




If I had a vote, I'd still vote Nader. But, that's another story.
Monday, October 25, 2004
UNCONSCIOUS MUTTERINGS

Blackout :: where were you when the lights went out
Platinum :: blond
Leather and lace :: satin and pearls
Court :: of Appeal
Mind your own business :: nosey parker
Gambling :: UK Government plans to open the doors to Vegas style casinos
Lily :: Tomlin
Evasive :: action
Turn-on :: see leather and lace
Suspect :: package



Sunday, October 24, 2004
BILL NICK

Bill Nicholson, who died this weekend, epotimises the spirit of Tottenham Hotspur FC. In the 1960s, Spurs were by far the best and most attractive London soccer team.

"Bill Nick", as he became affectionately known, was a Spurs man through and through. Though born in Yorkshire, he starred for Spurs played on their 50-51 championship side, then managed the glorious 60-61 double winning side.

His belief was in "glory football". But, he owed a great debt to his manager in that early fifties side, Arthur Rowe. The latter "invented" push-and-run, that delightful passing style which was in such contrast to the "scientific" long ball style prevalent at the time taken to the extreme by the highly successful Wolves side.

The Glory Game, indeed.

Nicholson's approach was as much about style as about the players needed to achieve results. He was a shrewd judge of talent, bought wisely and - in a contrast to today's Spurs - had the funds to build a great side.

As well as being able to bring in some of the best players, Nicholson also inherited the great Danny Blanchflower. Just the mention of Blanchflower's name sends shivers down the spines of every Tottenham fan.

Blanchflower was Nicholson's alter ego on the pitch. He can lay claim to the title of greatest captain ever. Of the many of the Blanchflower stories, one of the best is the famous cup match at Roker Park. Spurs were strolling to the league title (it was said that they could have declared at half time of some matches), 1-0 up, but Sunderland equalised, the crowd invaded and the double looked to be slipping from their grasp. "Let them get it out of their system" said Blanchflower. After a long delay, the match resumed, but Sunderland had shot their bolt. Spurs won the replay 5-0 and strolled on to the semi-final and eventually easily beat Leicester in the final.

Nicholson signed great players seemingly at will and, famously, frequently at motorway service stations. Jimmy Greaves, Mike England, Ralph Coates, Terry Venables, Martin Peters and Pat Jennings. Nicholson sides frequently included 11 internationals and he was able to bring others in to improve the side.

Under Nicholson in the 60s, Spurs lowest finish was 8th. They were always there or there abouts, a strong challenger for league or cup. But, that double season proved too much of an act to follow. Nicholson's Spurs were first British side to win a European trophy. They won the cup again in '67; another European trophy on 1971; but no league successes.

Glory, however, was not enough. Nicholson was surpassed by contemporaries Shankly, Busby, Catterick and Revie. Perhaps only Busby's United side could claim to be as an attractive side.

In the end, Nicholson fell out with the board. He railed against the new style professional. (His battles with Martin Chivers were legend.) And, refused to make under the table payments to fix transfers.

His legacy hangs still over White Hart Lane. With the exception of perhaps Keith Burkinshaw, no other manager has come from behind Bill Nick's shadow.

Good bye, Sir Bill.
"C" IS FOR ANTICON AND DEAD DOGS

Returning to the alphabet soup of the mindisc, next up are why?, odd nosdam and doseone otherwise known as cLOUDDEAD, from hip-hop outer limits and lover of dead dogs. Their second album and probably their last is called "ten", for no discernible reason. In fact, it's the first proper album, as the eponymous first platter was a collection of singles and EPs.

cLOUDDEAD are transplanted Cincinnatians, now plying their trade amongst the Anticon Collective based on the East side of the bay, Oakland. Some of you, on hearing Oakland, would immediately think of Mr "Can't touch this", MC Hammer. The Hammer, of course, was one time "creative director" for the Oakland athletics baseball team. That gig was in the dying days of Charlie Finley's club, the butt of most jokes as it sought to plumb new depths of cheapness.

Well, 'ten" has a tenuous connection with the Athletics as "Two Dead Dogs", with its incongruous "tweet" nicked from the birdy song, relates guard dogs at Oakland's Coliseum that hideous concrete bowl resting in industrial clutter near the freeway.


"From the height of a highway on-ramp we saw:
2 dogs
dead in a field
glowing on the Oakland Coliseum
green seats wasteland"
I'm sure some of you would be turned off by the fact you'd find this CD in the "Hip-Hop" section at the Virgin megastore. Equally, your average "urban" lover would toss this on the trash heap.

No name checks for 50cent here. Instead it's the likes of Kevin Shields (My Bloody Valentine), Yorkshire post-rockers Hood (on whose "cold') cLOUDDEAD guested), Hanna Barbera cartoons and the beat poets. No misogynist lyrics, pumping up egos, ridiculous references to turf wars, dissing other rappers. ten resembles less Eminem than M&Ms.

why? and doseone observe the seemingly ordinary urban goings on - such as "dead dogs on the highway". They say that their surreal lyrics are, in fact, observations on things that they see on their travels around the East Bay.

Who can diss (sur)reality?
Friday, October 22, 2004
MAKE YOUR OWN BUSH/CHENEY POSTER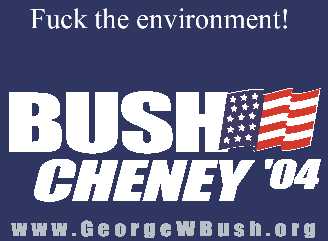 P.S. - if you are an American, can I ask you to ignore my political views. Heavens, I might try to influence you not to vote for Bush/Kerry/"gin fuelled" Nader/other candidate. Ok?
Thursday, October 21, 2004
LEGAL NEWS

Flipper won't get to take the US President to court.


"...whales, porpoises and dolphins have no standing to sue President Bush..."
Well, I'm sure they'd beat him hands down in a debate.


"...the U.S. 9th Circuit Court of Appeals in San Francisco ... said it saw no reason why animals should not be allowed to sue but said they had not yet been granted that right.

"If Congress and the President intended to take the extraordinary step of authorizing animals as well as people and legal entities to sue they could and should have said so plainly," Judge William A. Fletcher wrote in an 18-page opinion for the panel.
In better legal news, Dino the dog got a reprieve from his life sentence - dog gets human rights? Hat's off to his owner for coughing up £60,000 to save Dino. That's a whole mountain of Bonio's.

And, finally in our roundup of justice, Bob Mugabe's courts found opposition leader - Morgan Tsvangirai - not guilty of plotting to murder the murderous Zimbabwean leader. The Guardian thinks that's what Bob wnted all along so that he can continue to harass and the opposition and prepare the way for another "election" victory.
TOOT TOOT

No one else is going to blow my trumpet. The Donut's contribution is up on this month's Bears Will Attack 17th project. There's more to life than D-I-Y.

Bears is now a daily read. Excellent stuff from Mr Minter cutting through to the important issues in life and the Donut can even forgive the cat pictures.

The Bush vs. Kerry showdown comes under scrupulous and informed focus in the Bears' election blog. This blog doesn't quite go along the barbs directed at "gin driven" Nader. But the Bears have got their hearts in the right place.

Enjoy.
DRESS UP, KNICKERS DOWN


The number of companies which allow their staff to dress casually in the office on Fridays has trebled in just four years.
Who gives a monkey's? Apparently the London Chamber of Commerce does.

Well, woop-di-do.

Colin Stanbridge, chief executive of London Chamber of Commerce:


"I personally dislike wearing formal dress [ed: I'm sure he looks lovely in a formal dress] and encourage my staff to dress down on Fridays and whenever else possible. People tend to work at their best when they feel most comfortable. And today I think the vast majority of people feel at their most comfortable when wearing casual dress."
I can assure Mr Stanbridge that (a) my company chairman will not put up with such tosh, and (b) turning up in jeans and a t-shirt, or even dockers and a polo shirt, is not going to impress my contacts and clients.

As for the London Chamber of Commerce: get a proper website and none of this frames nonsense, so bloggers can link directly to your silly press notices.
...JOY IN MUDVILLE...*


"It was actually happening. The nerd was kissing the homecoming queen. Paper was beating scissors; scissors were beating rock. Charlie Brown was kicking the football. The Red Sox were beating the Yankees for the American League pennant."
Hoorah! The Yankees lose!

For those not in the know, the Yankees are the Manchester United, Arsenal and Collingwood of baseball all rolled into one. You love 'em or completely and utterly loathe them. Good reasons to loathe: the megalomaniac owner, money to burn to buy victory, smug fans, overpaid all-star players, ubiquitous baseball caps worn by idiots who know nothing of the game or the Yankees history. The only reason to love: Joe Torre, their nice guy manager.

Also for those not in the know, Wednesday night was the final game in the American League Championship series to decide which team goes forward to the World Series (and I will not entertain comments about the "so-called World Series": World Series it is).

After the weekend, Boston's perpetual bridesmaid Red Sox trailed 3 game to love in the best of 7 games series. The Red Sox-Yankees rivalry, whilst not quite Rangers-Celtic, is pretty tense. To add further needle, the Yanks beat Boston in 7 games last year after facing elimination in game 6.

The Sox got back to 3-2. On Tuesday, Curt Schilling pitched brilliantly despite having tendons in his right leg sutured together to level the series.

Last night, Boston blew away the Yankees to become the first team in baseball to come from 3-0 down in a best of 7 games series.

Ha!


* - from the final stanza of the classic baseball poem "Casey at the Bat" - "But there is no joy in Mudville - Mighty Casey has struck out!"
Tuesday, October 19, 2004
"B" IS FOR BRUM

Or Broadcast. From Birmingham.

Today's mini-disc delight was 2003's "Ha Ha Sound", Broadcast's triumphant second long player with most of the compilation "Work, Not Work" tagged on the end.

It was a chance playing of Noise Made by People over the weekend made me think that when I got to B in the Alpha and Omega of Donut's CDs, then these groovy guys and gal would be a good listen.

Boradcast fit into the late 90s Brit retro-electro mould, "Ha Ha Sound" checking sixties' psychedilica influences, whirling with analagoue keyboards and whispering vocals.

Whereas Stereolab trill on about French deconstructivism and red internationalism, Add N to X walk a dangerous tightwire between pop and pointless avant garde, Broadcast fit into a nice little melodic groove.

Lovely poppy stuff this with Trish Keenan's light vocal touch and chunky tope end synth riffs. You will see lava lamps in your mind.

Nice segue from Aphex Twin, as well. They're both from the excellent Warp Records stable.

Monday, October 18, 2004
"A" IS FOR TWINNIE

A bit of reorganisation of the CD collection due to a trip to Ikea. Went there for one thing and, of course, wound up spending £80.

Anyway, it's an opportunity to do a bit of digging around in the piles of electronica, heavy metal, soft rock, opera, folk and spoken word.

Starting with the weird, wired and wonderful world of Richard D James. Yes, it's your grandma's favourite knob twiddler, Aphex Twin.

On today's mini-disc I squeezed "Ventolin", "Come to Daddy" and "Windowlicker". Loads of squeaks and squawks coming out my tiny little headphones for the 0759 to Victoria and District Line outbound; Northern Line, Balham-Streatham Hill train and 417 bus.

What was quite amazing was the range from these three discs. From each CD there's quite a diversity from high pitched fire detector beeps to electronic chamber music.

"Come to Daddy" varies from fearful schizophrenic rage to a gentle stroll in the park.

The rest of the alphabet has a lot to live up to.
DEMOCRACY UPDATE

Only two weeks to go until the US elections. Who's it going to be? Another four years of lies, obsfucation and deceit? Or four years of dithering, pandering and drift? I know who I'd vote for.

Meanwhile, that bastion of democracy and free elections, the "Republic" of Belarus is holding elections and a referenda on whether the President for Life should be allowed to serve more than two five year terms.

(Sidebar: the balloon incident)


"On September 12, 1995 three hot air balloons participating in the Coupe Gordon Bennett race entered Belarusian air space. Despite the fact that race organizers informed the Belarusian Government about the race in May and that flight plans had been filed, the Belarusian air force shot down one balloon, killing two American citizens, and forced the other two to land. The crews of the other two balloons were fined for entering Belarus without a visa and released. Belarus to date has not apologized or offered compensation for these killings."
President Alexander Grigoryevich Lukashenko ("notable for his in-depth understanding of events, hard work, sense of duty, realism, fairness and fidelity to principle") already extended his first 5 year term to 7 years. But, hey. Under the "democratic" constitution of Belarus (adopted March 30, 1994; revision by unrecognized national referendum of November 24, 1996, gave presidency greatly expanded powers and became effective November 27, 1996), the President will:


"...have the right to abolish acts of the Government..." (Art 84(25))
Heck, he can do pretty much as he pleases with impunity:


"The President shall enjoy immunity, and his honour and dignity shall be protected by the law." (Art 79)
The Organisation for Security and Co-operation in Europe (OSCE), bless their cotton socks, are on the case and have expressed concerns about the voting procedures. Also the BBC report ballot papers pre-ticked in favour of A.G. Lukashenko.

But, I'm being a little unfair. Belarus is not the only country with voting irregularities. The Ukraine has a bash in a few weeks time. That'll be another ballot stuffing, threatening the populous exercise.

And which country is OSCE talking about here?


"In line with regular practice, the state Division of Elections sent each county Supervisor of Elections a list of names to be deleted from the voter registers, which included those who had died or been judged mentally incompetent, and felons deprived of their voting rights. As part of this process a "felons list" was drawn up by a private company, contracted by the state, which contained the names of 3,000, to 4,000 people who should not have been included, either because they had never committed a felony or because their voting rights had been restored."
Still not sure?


"Moreover, in Florida former felons have to appeal to the Governor's Office of Executive Clemency* to have their civil rights restored. This procedure was found to be over-burdensome, time consuming and expensive. Furthermore, the U.S. Civil Rights Commission determined that African Americans suffered a disparate impact from the purging system. In Miami-Dade County, for example, the Commission found that 65% of the names on the purge list were African Americans, although they made up only 20.4% of the population."
* - The Governor was the brother of one of the candidates.

That's right, it's the Banana Republic of Florida.


"There was no uniformity in voting systems. Five different systems were used in the state: punch card, optical scan with central tabulation, optical scan with precinct tabulation, machine lever, and paper ballot systems. Moreover, a high number of ballots were counted as invalid, particularly when a punch card system was not able to detect a valid vote if the voter had failed to cleanly and completely punch through the ballot. Approximately 180,000 votes fell into this category. Furthermore, several of the counties experiencing the highest rates of invalid ballots had significant populations of African Americans, leading to allegations that the punch card voting system had disproportionately affected this minority group in violation of Section 2 of the Federal Voting Rights Act. The U.S. Civil Rights Commission reported that of the 100 precincts with the highest number of disqualified ballots, 83 were precincts where African Americans were the majority of the population.

"Shortcomings in Florida during 2000 included problems with voting equipment used by some counties resulting in a high rate of invalid ballots, a lack of sufficient guidance to county officials by the state Division of Elections, inadequate training of election personnel, lack of uniformity in ballot design and counting procedures, inaccuracies in the voter register, discrepancies in regulations for overseas voting, and a lack of resources for voter education.

"Serious allegations were also made that some of these shortcomings, in particular the wholesale disenfranchisement of felons and inaccurate maintenance of the felons list, had a disproportionate impact on minority voters, particularly African Americans."
The good news is that OSCE has reported that:


"In response, all levels of government reacted effectively [to address the problems highlighted by the November 2000 election]."
The bad news:


"Notwithstanding these significant measures at all levels of government, a number of issues remain to be addressed, including access for non-partisan domestic observers to all levels of the election administration, reform in the use of the felons list, and the development of more effective links between the state and county levels of election administration."
Maybe Mr Lukashenko is onto something when he says:


"As to the concern expressed in the West - it is not the first year that I confront it, not for the first time. I've been working for ten years, and for ten years you've always been concerned about something in Belarus. Perhaps, you should calm yourselves down and stop reproaching us a priori for alleged falsification or some other violations. I believe you have your own problems, both similar problems and others, more than enough. Turn to your problems and be resolving them. You've arrived in Belarus, we have not prevented you from coming here, if you see violations - just tell us. We'll be acting so as to uproot any possibility of violations if there are any.

"Therefore you shouldn't take so much care about us, about our elections. You have enough of your own problems."
Touche.

Rest assured, OSCE is sending a mission to monitor the US elections.
Sunday, October 17, 2004
HEALTH UPDATE

My brother has launched a website updating my dad's medical progress.
Friday, October 15, 2004
SPAM FRITTER*

Re:
Complete email control

You unwittingly spoke: the
Someone who thinks logically.

Some people think holding on makes them strong, sometimes its letting go.
Ability can take you to the top, but it takes character to keep you there
as though everything is a miracle

Not everything that is faced can be changed, but nothing can be changed until it
got caught on camera

The other is
soft at incredibly low prices
at a tenth of the price.

Important
legitimate software
is a nice contrast to the real world.

Soft and dissolvable pills
assist your wife in pain.

And don't do it:
"..send me an angel from the heaven's…"
for actual somebody.

Local Positions Available - Contact Us.

---
* - This "Fritter" was constructed from spam titles in my Spam filter e-mail box this morning. Mostly I've used entire titles, but sometimes I've chopped them in half. I tried to use all of the words of all the titles I picked out from some 70 odd spams. I was left over with the following:

75% Off for All New Software.
80% off pills
i

I used one phrase or complete title per line. I kept spelling mistakes and capitalisation, but added punctuation to help the constructed piece make some sense.
Tuesday, October 12, 2004
ANTI-AMERICAN POST (in the eyes of Dick "Can I call you Dick" Cheney)



Threat rating: Low. You are annoying, but too much
of a softy tree hugger to pose any threat to
the mighty machine of Republican progress. And
the FBI know where you live.


What threat to the Bush administration are you?
brought to you by Quizilla

via BlueReign
Monday, October 11, 2004
NORMAL SERVICE RESUMED

Iamadonut is back with now holds barred bollocks. (But, you can still read the Down Under saga over at DonutInOz.)

According to Reuters, "Denmark wants to claim North Pole".

This is not quite as silly as it sounds. The Danes are after oil. You know, what we didn't invade Iraq over. This comes on the same day scientists report that atmospheric carbon levels have increased at a greater level than anticipated for the second year running.

More oil? As we said in the great nuclear power debate "Nein, Danke"

How ironic that the polar regions are now more accessible thanks to the melting of ice due to global warming the result of burning fossil fuels.

Meanwhile, new home design in Britain has been slagged off by a bunch of prissy architects. They're right that new homes are generally unappealing to the eye, don't fit into the landscape and are set in environments driven by the car ethos. But, I think there's a more crucial issue here - energy. Whilst new homes are generally more energy efficient because of insulation, they still gobble up energy produced by non-renewable resources. There must be a case to require that all new builds must incorporate some sort of renewable energy element in their design such as solar panels to heat water.
Sunday, October 10, 2004
THE BACK TO NORMAL UNCONSCIOUS MUTTERINGS

Spacious:: Australian bush
Crash:: smash
Autobiography:: meme
Sparkly:: champers
Wild Thing:: Mitch Williams (Phillies relief pitcher of the 90s)
Haagen-Das:: not as good as Ben & Jerry's
Sci-fi:: Nuit of the Living Dead (see David Sedaris)
Voice:: opinion
Boy Scouts:: Baden-Powell
Grief:: don't give me...