Wednesday, March 31, 2004
UNCONSCIOUS MUTTERINGS

Pitbull :: terrier
TD :: Charles Haughey
Carter :: USM
Japan :: Nippon
50 :: cent
Streak :: DiMaggio
Rifle :: man
Trap :: bunker
Easter :: parade
Mitt :: catcher



HOLIDAY SNAPS WILL FOLLOW

Had a nice cup of green tea here.
DOWN THE PUB

Tomorrow will see me leave this job and celebrate down the pub. However, it won't be at this establishment.
FOOTY BLOGS

I've been scouting around for footy blogs. Arseblog is well known. Here's a few I've come across.

Barnsley supporters click here.
Liverpool blog here.
Blog FC - a community blog with infrequent entries
Round and White - ditto, but with a few more links - not pete but (re)Pete.

A bit surprised that there aren't more footy blogs about.
Tuesday, March 23, 2004
NO MORE BLOGGIN'

Fret ye not, dear reader. A temporary blip in the blogging whilst the donut reapplies glazing.

I can report that the Lambchop gig at the Shepherd's Bush Empire was terrific. But, now it's off to foreign parts for a wee break from the grind of London before the new job.

Ta, ta, for now.
Monday, March 22, 2004
CAMPAIGN UPDATE

Eagle-eyed readers will have already noticed a few more links to selected candidates for the US elections in November 2004. Don't forget, not only is it the election for the Leader of the Free World (tm), but also 1/3 of the Senate, all of the House of Representatives, a sprinkling of State Governors, a shedload of state representatives, sherrifs, dog catchers and licensed executioners.

If you crave an endorsement, send me an e-mail, a gif or jpg banner of no more than 100x100 and a large brown envelope. I'll do the rest. Oh, and give me a job in your team after you get elected.
BLOG ENDS

If you don't already know, there's a new address for Dave Barry.

Bears Will Attack have posted my "Day 17" contribution.
Sunday, March 21, 2004
UNCONSCIOUS MUTTERINGS

Wife :: husband
Criminal :: justice system violated by Bush and Bliar
Campaign :: finance reform
Infection :: Bush and Bliar
Portland :: Timbers (and Bill Walton)
NASCAR :: good ol' boys, chewing tobacco
IMAX :: Cinerama
Martian :: Chronicles
Nike :: third world explotation
Trial :: lawyer



THE FENCE BLEW DOWN LAST NIGHT...

...in the wild gale we've had over the last few days. But, the bulbs were safely inside and are still growing.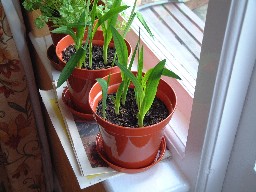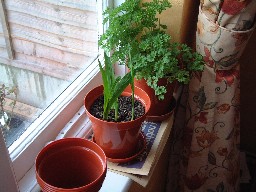 Saturday, March 20, 2004
FRIDAY NIGHT, SATURDAY MORNING

...grow my babies!...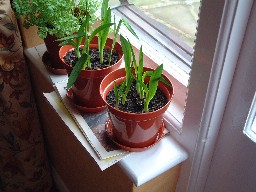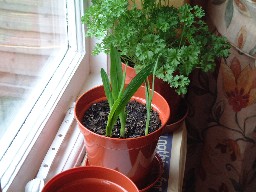 ...and some chilis too...


Friday, March 19, 2004
GREEN STUFF

More from the bulbs...

Day 9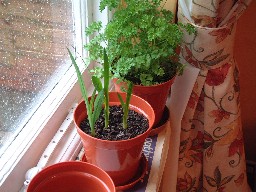 Day 8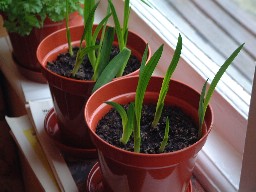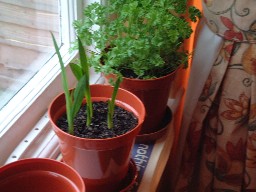 IF THE FRIDAY FIVE WERE IN A FOREST, WOULD ANYONE HEAR IT?

If you...

1. ...owned a restaurant, what kind of food would you serve?
Vegetarian, of course. Probably a mix of ethnic types with some veggie versions of good ol' British grub.

2. ...owned a small store, what kind of merchandise would you sell?
Weapons of Mass Destruction and baseball cards

3. ...wrote a book, what genre would it be?
Semi-autobiographical

4. ...ran a school, what would you teach?
How to cheat at Scrabble

5. ...recorded an album, what kind of music would be on it?
Post-rock, jazz, ambient, prog, dub, alt-country and stylophone.
Wednesday, March 17, 2004
DAY 7

A week of growth...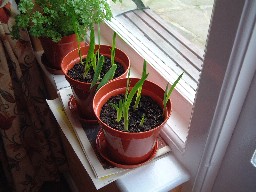 SEVENTEENTH

My contribution to Bear Will Attack's Day 17 project.

--------

This 17th was in some ways a pivotal day. This morning was spent having a handover for m new job. After nearly 20 years of working in the civil service, I have taken a momentous step into the private sector. Despite the trepidation and mad moments of fright in the middle of the night, the anticipation is growing every day.

We spent a couple of hours going through the people and issues that will take up my working life in a couple of weeks time. Needless to say the only way to learn the job is to do it. For a month or so I expect to think what the hell am I doing.

It was a good opportunity to try out a possible route to the new office. However, it involves taking the underground and I've got to say fear of bombs or not I do not cope with the confined space of the London tube. Looks like there will have to be a change of plan.

Back at my current office, I did the usual firefighting. Lunch was a sandwich from Pret instead of brown bagging which is the regular option. In between munches it was blogging time and following the Budget news. Hey 40,000 civil servants to be canned. Too bad I can't hang on for redundancy.

Later on it was time to shoot the breeze with a former member of staff who coincidentally moved to the private sector just a month or so ago. Hey, our little section is hemorrhaging fast.

Back on the overground - thank you - to our little mansion.

Reading matter at the moment is "What Should I Do With My Life?" which sounds terribly like a self-help book. It probably is in a way, but the stories of everyday folk (who just happen to have law degrees from Georgetown) is interesting. And, why not read a book with that title when there is a big upheaval just around the corner.

Home, James!

My turn to cook dinner - Frittata and salad - lifestyle TV and mo' bloggin'.

Plenty of routine today - including day 7 of plant pix - but planning for new routines too.
FAMILY BIDNESS

Blimp the band is back on line and it's raining Javascript in Swanmore.
CAMPAIGN UPDATE

Apart from "watching" the Budget, I spent lunchtime catching up on news of the US Presidential race (as if I'd be interested in any other Presidential race).

So, Kerry thinks that foreign leaders would be happy to see the back of Bush. Kerry won't name names. Of course, you wouldn't expect him to do so, but I think he did his campaign no favours whatsoever by this statement. Do you think your average voter in Florida, Ohio, Wisconsin or California (key swing states) cares whether Schroeder or Ahearne would vote Kerry?

There was a piece a week or so ago on BBC Online about the lack of contact between No.10 and the Kerry team. The author seemed surprised.

This week something odd happened. A left-of-centre party chose its candidate to challenge for the presidency of the world's last remaining superpower. That superpower's closest ally happens to be led by the leader of another centre-left party. You might imagine he would be the first on the phone to congratulate the newly elected candidate and wish him well in the forthcoming election. Yet this close ally did nothing, said nothing, and sent no message of congratulation.

I don't find it odd at all. Heads of Government do not and should not get involved in the electoral process of another country. Yes, there were close links between Blair and Clinton and there were exchanges between Labour and the Democrats. But, those took place when Labour was in Opposition and when Clinton was in office, the exchange was one way and there was no question of the Democrats taking sides in the UK election. (Ahem! Of course, theirs is a long history of the US Government influencing elections behind the scenes - probably most recently in Georgia.)

Bears Will Attack helps out with a link to the CBS/New York Times poll that puts Bush back on track. The Guardian blames Nader - but fails to provide a hyperlink. The numbers look a bit wonky in places.

The poll found that 39% of those asked saw Mr Kerry as a liberal

Yet,

Fifty-seven per cent said "most of the time he says what he thinks people want to hear", while only a third thought he stayed true to his beliefs.

Hmm, some inconsistency there.
4P ON A BOTTLE OF WINE

I couldn't be bothered to watch the Budget speech even though my employer has kindly provided broadband access to BBC News 24, Sky News and the Parliament Channel.

I chose the Guardian's alternative "real-time" Budget coverage. Plenty of coverage of the slash and burn of the Civil Service*:

13.26 "Our prudence is for a purpose!" exclaims Gordon. And all you civil servants should remember that as you begin the long journey home to your families tonight.

But, the big question is whether or not Charles Kennedy was on a bender last night in anticipation of increased duty on beer, wine and spirits. He certainly looks pissed on the front page of his web site and I can report exclusively that I saw him get plastered at Chimes in Pimlico back in 2000.

* - Dear Reader, there'll be more comment from the Donut on whither the Civil Service in due course (as they say around here).
Tuesday, March 16, 2004
DAY 6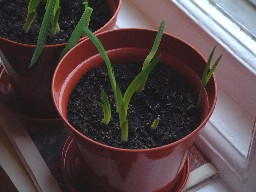 ...not yet fragrant...
LOST AND FOUND

Lost a crocodile...? Found in a German recycling plant.
Monday, March 15, 2004
PART FIVE

Blooming marvellous...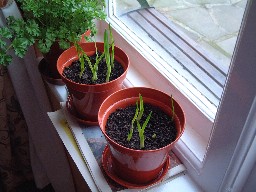 (BAD) POETRY CORNER

This from our Poet Laureate:

"...O forwards and backs you have all
Shown us wonderful ways to walk tall
And together with Clive
You will help us survive
Our losses with other-shaped balls*. "

* - except earth shattering reuslts like skittling out the Windies for 47**; 5-1 versus the Old Enemy; er, Curling, anyone?

** - "official" grovel here
THE DONUT WILL NOW OBSERVE A MINUTE'S SILENCE

Meanwhile, at 11:00 am there was a hastily arranged three minute silence in memory of those killed in the Madrid bombings.

I wanted to observe the silence. However, here there were a few people who continued to burble away on the phone or clatter at the keyboard or even walk around the building. I tried to spend the time reflecting, but was irritated that others showed a lack of respect.

It's true to say that Britain and even busy London is a bit better now at observing silence on Armistice Day, though the official wreath laying has been moved to a Sunday. But, the habit of a national silence (there were several after "9/11") is in danger of becoming overused. And, can anyone explain why it was three minutes? It used to be 2 minutes for Armistice Day for millions lost in war. Others have probably commented that we observed no such moment, minute or nano-second for those massacred in Baghdad, or Jenin, or the thousands in Bhopal killed by Union Carbide, the genocide in Rwanda, Bloody Sunday, Bobby Sands - the list is endless...

Walking back to the office after lunch I even contemplated on the idea of abolishing "a minute's silence" or at least ignoring it, sticking to a few quiet moments by myself each day to think about the horrors that man subjects upon his own kind and what we are to do.

Does that sound too much like prayer?
IT WAS AL-QAIDA WOT WON IT

On this morning's Today Programme there was a comment to the effect that al-Qaida had a direct influence on democratic elections. I cannot recall the exact quote, but I think it was uttered by Edward Sturton, one of the presenters.

Sorry, but this is poppycock.

The bombings in Madrid on Thursday and the immediate reaction by the incumbent Government ("it was definitely ETA") followed by the gradual leak of information linking the attacks to groups sympathetic to al-Qaida must have been in the minds of many Spaniards as they voted yesterday.

But, think about this too. The Popular Party pinned the war on terror and the war on Iraq to its mast. Polls last year indicated something like 80% of Spaniards opposed the war.

To suggest that it was al-Qaida that influenced the election is mistaken. The Spanish people made a judgement on their government and its record. That Spain is a victim of such a vicious attack, to many minds, is the result of those actions. The electorate took that judgement.
Sunday, March 14, 2004
UNCONSCIOUS MUTTERINGS

Old Navy :: Player's No. 5
Out :: of my hair
Indecent :: haste
UPN :: bad TV
Pupil :: iris
Toothpaste :: walrus
1999 :: a rather bad party on New Year's Eve in DC
Passion :: play
Social security :: safety net
Cliff :: Richard



HOW GREEN IS MY WINDOW SILL

...getting greener...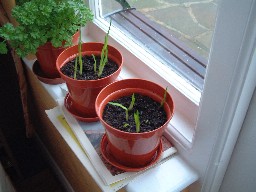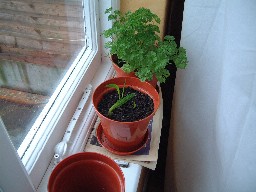 ... and a trip to the garden centre today to buy some rose plants. It's beginning to feel like surburbia. There'll be a greenhouse out back soon with tomato plants and salad leaves.
Saturday, March 13, 2004
FROM THE LAND OF MILK AND HONEY

Dark humour from the Caucasus.

"You know, you should never put poor people in charge of a country. They rarely make good leaders,"

Aslan Abashidze, self-proclaimed President of the autonomous republic of Adjara (that's a small piece of Georgia).

GROW YOUR OWN

Fresia bulbs that is (with Parsley in the background).

Day 3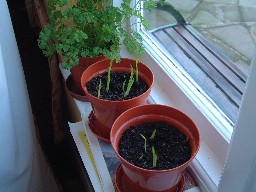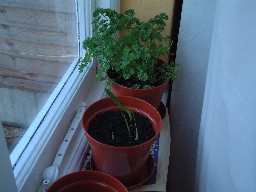 Day 2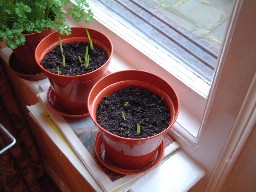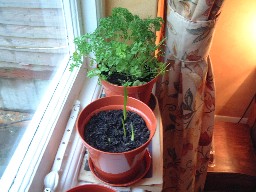 Day 1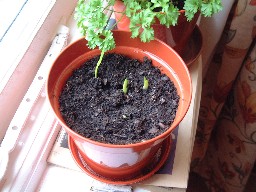 Friday, March 12, 2004
THE 5-4-3-2-1 FRIDAY FIVE

1. What was the last song you heard?
"Obviously Five Believers" - Bob Dylan

2. What were the last two movies you saw?
"Cold Mountain"; "Touching the Void"

3. What were the last three things you purchased?
Printer cartridge, light bulb and Ibuprofen

4. What four things do you need to do this weekend?
Sleep, change a light switch, drink a margarita, shop for curtains

5. Who are the last five people you talked to?
Steve-o, ST, Wonette, Marky-Mark
Thursday, March 11, 2004
FREEDOM LOSES

There's not much I can add about today's carnage in Madrid. It speaks of inhumanity, frustration and pain.

But, UK Foreign Minister Jack Straw's comments on Channel 4 News that the bombings tilt the balance in the question about civil liberties are staggering. The bombers win when we here the likes of Straw using this attack as an excuse for infringing freedom. Leave aside the Basque question, which I suspect few commentators will tackle. Today's bombings must not lead to further draconian measures against civil liberties. [Ed's Note: please let me know if you can find a transcript of Straw's interview. It's not on the C4 site.]

I believe that many or most or maybe all but a few of the bombers are sick individuals. But, attacks on liberty and self-determination provide the fertile soil in which grows the discontent that can lead to young men and women taking up arms. Attacks on liberty help the bombers and produce more bombers.

One further observation: several of the talking heads claim that today there are many more links between "terror" groups. I disagree. There have always been very close links between the IRA and ETA, not to mention strong affinity with the old PLO, Red Army Fraction, Baader-Meinhof, Action Direct et al during the Seventies. Of course, most of the above probably also received funding from East Germany, Libya, and elsewhere. Does al-Qaida now provide succor; technical, tactical and strategic assistance; financial support? If so, then surely it will be easier to trace the links and crack these organisations.

So, perhaps more and better policing, but not less civil liberties...
THIS IS NOT FOR THE FAINT HEARTED





via Julie's Journal in the Flesh
DONUT NEWS

Meanwhile, also from the FT (why am I reading the FT?):

The backlash against refined carbohydrates appears to have done little to curb US appetites for doughnuts, as Krispy Kreme reported another quarter of sweet profits and sales ...

Krispy Kreme said net income for the fourth quarter rose 45 per cent to $16.4m, or 26 cents a share, in line with expectations. A year earlier it earned $11.3m, or 19 cents, before a 9.1m pre-tax charge. Including the arbitration award, the company earned $5.6m or 9 cents a share.

Hardened arteries anyone?
...BAKED BEANS AND SPAM...

According to Sen Ron Wyden (D-OR):

"Today's filing proves that the days of spamming with impunity are finally over, and all those who abuse e-mail and threaten its viability as the internet's most popular and useful application should take notice."

I'd like Senator Wyden to explain the 30 odd pieces of spam in my mailbox this evening. That doesn't count the 100 pieces intercepted by my ISP.

Yes, it's the Can-Spam Act and yesterday saw the first prosecutions under the new act. Civil prosecutions, that is: not criminal.

Critics of the new law have argued it does nothing to bolster ISPs' ability to sue spammers and it does not provide for additional resources to enforce criminal provisions of the act.

"It's always a good thing when an ISP sues a spammer, but if anyone thinks this will turn the tide, they are sadly mistaken," said David Kramer, an attorney at Wilson Sonsini, a Silicon Valley law firm.

Me? I'm thinking of SpamNet.

More here from BBC Online.
Sunday, March 07, 2004
UNCONSCIOUS MUTTERINGS

Dogma:: catnip
Spirit:: tequila
Voodoo:: doll
Demon:: devil
Digital:: dsiplay
Ceremony:: wedding
Research:: fellow
Career:: change
Penis:: envy
Film::review



Friday, March 05, 2004
DUH!

So Lord Hutton is surprised at the reaction to his report at the BBC. What did he expect?

"Lord Hutton is said to be particularly concerned that the BBC overreacted to his findings, leading to the resignations of Mr Davies and Mr Dyke"

Hutton believes that the BBC "overreacted" and that his criticism was not meant to be a "blanket criticism of the entire BBC's editorial system."

"Lord Hutton did not expect any BBC resignations to flow from his report, not even that of Gilligan."

What planet does this man inhabit? For better or worse, the Hutton Inquiry was always going to be about who lied and who bent the truth. The media, politicians and (I guess) the public expected the inquiry to apportion guilt. In true trial lawyer style, that's exactly what Hutton did. By naively focussing on narrow points of process, he was with little thought of the political ramifications.

I was going to make some witty comment like "you pays peanuts, you gets monkeys", but as Hutton probably got a tasty slice of pie it is not appropriate. I'll stick with law lords are out of touch with reality.

Do you think Hutton knows what supersizing means?
RETURN OF THE FRIDAY FIVE

What was...

1. ...your first grade teacher's name?
I remember a Miss Owen at some stage early on in schooling, but not much else.

2. ...your favorite Saturday morning cartoon?
I was a big fan of Johnny Quest, Banana Splits and Wacky Races

3. ...the name of your very first best friend?
If I said an imaginary friend you might get worried. So I'll stick with Robert, who moved to Australia when I was 7.

4. ...your favorite breakfast cereal?
I quite liked mixing cereals together - Cheerios and Corn Flakes go together well. Shreddies were also a fave. Nowadays it's a bagel or toast for brekkie - with Marmite and/or peanut butter/jam/marmalade

5. ...your favorite thing to do after school?
White slice of toast with mayonnaise, a catnap and trash TV (Star Trek, Gilligan's Island)
Thursday, March 04, 2004
FULL SPECTRUM DEMOCRACY

That Beatnik guy has changed his moniker. And an announcement that he's on sabbatical generates 5 comments. Impressive.
Wednesday, March 03, 2004
IF I RULED THE WORLD...

Well, I can rule a country...

Visit the home page of the Rogue Nation of the Sugar Coated Donut

via The Urban Badger
A LITTLE DILEMMA

One of your good buddies gives you ride in his publicly funded aircraft as you go off huntin' and fishin'.

Meanwhile, a bunch of hairies have taken your friend to court saying that he ran a consultation exercise on a new policy which fails to stand publc scrutiny as all he did was allow some of his other buddies to write the policy.

The hairies want to see the paper trail. Despite Freedom of Information legislation, your good buddy flipped them off.

Now, the hairies say its not fair if you sit as judge to hear your buddy's case.

What are going to do … Supreme Court Justice Antonin Scalia?

Whatever happens, it probably won't wipe the smirk Dick Cheney's face because we all know he's not really alive (and certainly not human).
WHAT YOUR PARENTS DO TO EMBARRASS YOU

This
Tuesday, March 02, 2004
BUSH LEAGUE ECONOMICS

Spotty 18 year old McDonalds' employees are the manufacturing backbone of the US according to Bush policy wonks.

Newsday, which used to be the Lawngisland evening paper, reports:

"White House economists wonder whether hamburger flippers at fast-food restaurants should be considered manufacturers..."

Something to do with fiddling the numbers, then.

"If fast food is classified as manufacturing, perhaps the neighborhood lemonade stand should be considered part of the military-industrial complex," - US Senator Charles E. Schumer, the New York Senator who is not Hillary Clinton....

"The White House McDonald's, whose customers include many White House staffers, though no president since Bill Clinton, is an economic indicator of its own. Business has been slow and Pardo doesn't anticipate new jobs any time soon. "Maybe this summer," he said. "

Well, there's plenty of fried chicken up there in Harlem for Bubba...
THANKS, MUM

Thanks to Supermum for the shout out. For the kind words you get ... well, you could get a boston creme donut, but how about blogrolling?