Friday, December 31, 2004
2004: THE YEAR OF THE BLOG (APPARENTLY)

From (the Blogger's favourite) BBC Online


Web logs or blogs are everywhere, with at least an estimated five million on the web and that number is set to grow.

...this year the focus has been on blogs which cast a critical eye over news events, often writing about issues ignored by the big media or offering an eye-witness account of events.
Ignore me at your peril!


Most blogs may have only a small readership[ahem], but communication experts say they have provided an avenue for people to have a say in the world of politics.

US research think-tank Pew Internet; American Life says a blog is created every 5.8 seconds, although less than 40% of the total are updated at least once every two months.
Well, this blog is likely to get updated a little more often than twice a month. The same might not be said about others in the Iamadonut stable, viz. Commuterland, DonutInOz. You can help the former by contrinuting your commuting stories. As regards the latter, you expect me to update my holiday blog 2 months after I got home? Answers on a postcard or drop a comment in the comments box.

Happy New Thing.

Thursday, December 30, 2004
HUMBUG UPDATE

Thanks to my bro for the goat and to sis for the health worker.

Next stop: Disaters Emergency Committee - Asian Tsunami Appeal.
Wednesday, December 29, 2004
BLOG SAVES THE WORLD

Not quite, but...

The internet gets blamed for a lot of things. Sometimes the power and speed of the beast can do a bit of good.

Visit the SEA-EAT blog for information on the south Asian tsunami and how you can help.
ULTIMATE HUMBUG

No iPod in your Xmas stocking?


A man angry that he got no presents for Christmas burned down his parents' house early the next morning...It was not immediately known whether he had a lawyer.
Breaking News: My brother "bought me" a goat for christmas.
Sunday, December 26, 2004
UNCONSCIOUS MUTTERINGS

holiday :: vacation
fault :: earthquake
beep :: mobile phone
bubble :: South Sea
needle :: and a spoon
fare :: tariff
treat :: chocolate
express :: high speed train
webcam :: porno
capital :: Karl Marx



Saturday, December 25, 2004
HUMBUG DAY

Sometimes known as the largest car park in the world, the M25 was eerily empty at 6pm today.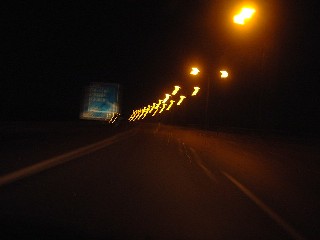 ...and, yes, it's a blurred picture. But, hey, I was travelling at 80mph at the time on the way back from mum and dad in Essex.
Friday, December 24, 2004
CHRISTMAS IN BLOGGY-LAND

Over at Hot Buttered Death, James is trying to figure out the fiendish King William College quiz, reprinted in the Guardian. Er, I think I got a few more. Viz.

Celebrated its centenary with the opening of new HQ in Vincent Square? [in 1904]
Royal Horticultural Society

[What connects] Wallsend and Bowness?
Hadrian's Wall

Cheriton and Sangatte?
Channel Tunnel

[Who or What] Stretch of water received 257,000 barrels of North Slope Crude on Good Friday?
Prince William Sound, Alaska

[Who achieved, superlatively] 68 - 27 - 90 - 19?
Jim Laker

---

Shmeder is a Pirate.


I am obsessed with those announcement boards on the side of the road. I especially like the ones churches post. My favorite is the Lovingway church just north of that Grease Monkey. A few years ago, I was doing the good old "drive of shame" home after a fun night of debauchery. The sign was perfect for that morning:

The sign of the beast
Sex, Sex, Sex
---

Dustinbinman has moved to Moveable Type.

Best Songs of 2004


Modest Mouse - Good News for People Who Love Bad News
The good thing about the title of this album is that you can change all the words around and it still means the same thing. Probably. I thought this band were Canadian, which meant that I automatically didn't like them without hearing any of their stuff. Then I heard "Float On" and changed my mind. Then I heard that they weren't actually Canadian, but from Seattle, and thought that I'd better not like them again. But I can't help it. It's a fine jangly album. Apparently they've been around for 20,000 years, but this is the first decent thing they've done. Just so you don't go and waste money on their earlier stuff.
No, they've produced plenty of excellent stuff previously. But, "Good News.." is a stonker.

---

And, in other news, I need to update my blogroll as some old friends have moved on or given up the blog habit (lucky them). Aha! A New Year's Resolution!

Humbug!
Thursday, December 23, 2004
MORE HUMBUG

Santa Workshop Under Threat From North Pole Thaw - report.


"Santa may have to move from the North Pole within our children's lifetimes," [said Stefan] Norris [WWF spokesperson].
And I was sure I saw his Grotto in Covent Garden Piazza this lunchtime.


A Danish official suggested rescuing Santa by building a giant floating ice rink for the workshop if the Pole thaws.

"Why don't we build some electrical facilities to ensure the ice stays on the North Pole for him?" said Alan Boldt, spokesman of the Danish Ministry of Science. "This should be a subject for the United Nations."

He said Danish group Vestas could build windmills to provide Santa with power.
Meanwhile, idiots like this wantonly burn electricity with no thought for poor Ol' Saint Nick, ice melting around his black wellies as we speak.


Wednesday, December 22, 2004
BAH HUMBUG 4

Amongst the seasonal cards I received at work (most directed to my predecessor who left back in March - that sums up Christmas cards, for me), my favourite (pdf file) is from my friends at the General Consumer Council of Northern Ireland. It lists a whole load of Christmas consumer facts of which I particularly like:


15% of all gift vouchers are never spent.
I think I know what business to start up in!

Also, we spend £2 billion a year on "useless presents" (that's about 35 per person in the UK.) The Abbey (which used to be a respected mutual building society and is now a crap bank owned by Spaniards) estimates that £1 billion a year is spent on "unwanted gifts". Donate unwanted gifts to Help the Aged.

Better still, buy a gift with meaning - such as a camel for a poor African family - at Goodgifts.
BAH HUMBUG 3

Anti-Christmastarians strike back...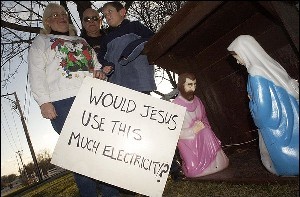 "...the glowing plastic Joseph and Mary and the three wise men sitting in front of the house look dejected. The manger between them is empty, as it has been since someone swiped the baby Jesus two weeks ago. Several days earlier, a sign was left at the house asking, "Would Jesus use this much electricity?""
Washington Post (registration may be required and virulent pop-ads)

Over the pond this year, conservative christian groups are "fighting back" against what they see as anti-Christmas campaign by civil liberty groups (see another Post article - before it expires). For years, the American Civil Liberties Union and other groups have campaigned to ensure that the US Constitution's precept of separation of church and state (though even this liberal thinks that the writers of the constitution didn't really mean that) is vigorously abided. So, in what for many christian groups is politically correctness gone mad, state buildings cannot display nativity scenes or any Christmas oriented decorations with an overt religious feel to them. The re-election of the Shrub with his 17th century brand of "christianity" has perhaps emboldened conservatives to take on the liberal humbugs.


"From Mustang, Okla., to Maplewood, N.J., they are filing or threatening lawsuits to win the inclusion of manger scenes in school plays, Christmas carols in school concerts and Christmas trees in public buildings."
It's madness of course. But, then so is orgy of consumerism and bad TV programmes that the 21st century Christmas has become.

So, I'm a humbug. Yep. I stopped celebrating Christmas about 4 years ago. For many years Christmas had lost its "magic". Every year, my family (well, the ex-Mrs D, me and the hounds) schlepped all over southern England around the 24th or 26th. We ate too much; bought too much; gave presents that people didn't need; and, tolerated overheated houses full of relatives.

Enough.

The consumerist side of Christmas went on for me for another couple of years. But, separated from wife and separated by an ocean from the family meant that I didn't have to put up with the forced bonhomie, the endless treks around the M25 in gloomy, wet and cold weather.

Returning to the UK, I decided to make the complete break. After awhile, the family has comprehended that I don't celebrate, but I know they don't understand.

It's a shame really. My family remains important to me, particularly in the current circumstances. It's just this damn Christmas thing that I don't like. I'm not the only one and I don't think it makes me special. I would just prefer to give presents to the ones I love when I feel like it. The calendar should make no odds. As a veggie and an atheist, I don't want turkey or Christmas carols or midnight mass. (Though I do miss Eric and Ernie.)

For a couple of years I worked at a homeless shelter on the 25th. That was an eye opening experience, but not to be repeated. It gave little in the way of "satisfaction". It certainly made me think of what other people don't have. Yet, my volunteering made but a small difference. So much more needs to be done by society to make society inclusive. That includes bringing those of other faiths (or no faith) together.

It didn't make me a better person and I don't deserve a medal. And, it didn't really get me away from Christmas as all the "guests" had a Christmas meal, there was a tree, carols...

If you do celebrate, Happy Christmas dear reader. Enjoy the day in the way you think best. I'll have a day up with my parents this year. At least the roads will be quiet.
Monday, December 20, 2004
BAH HUMBUG 2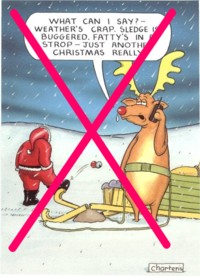 No unfunny Christmas cartoons here, thank you.
BAH HUMBUG 1




Yorkshire Soul's friends over at PETA protest against Christmas fur.
Sunday, December 19, 2004
UNCONSCIOUS MUTTERINGS

Perfect Gift :: whirled peas
Santa :: fat bloke
Lucy :: LSD
Buckets :: ...of rain
Recital :: beginning bit
Stamp :: ...out hate
Teacher :: blended whiskey
Matchbox :: car
Spit :: roasting on a...
Feeling :: Morris whatshisname, who sang that song - "Feelings"



Saturday, December 18, 2004
MOTHER AND SON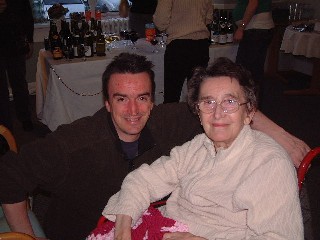 Friday, December 17, 2004
KIT-KAT AT 23,000 FEET

Back from Brussels on the businessman's special flight to Heathrow. A beautiful early evening over London and the South-east. Southend pier clearly visible. So too, the Kursaal. When I lived in Southend (Westcliff-on-Sea, to be more correct), the Kursaal was still a rundown amusement park.

We joined the stack over Brentwood, circled three times before joining the approach for the southern runway. Over Brentwood, the M25 stood out as a chain of yellow headlights or, in the other direction, bright red lamps. The third time I could even pick out the roof of a truck as it passed under each streetlight.

Better than drugs...
Tuesday, December 14, 2004
WHAT OTHER PEOPLE BLOG

Forlorn pay telephones in London. It's high time we put them out of their misery.

I always thought the Lake Effect had something to do with the snow.

Injury Attorney anyone?

More blogging adventures from Duluth, Minnesota, home of slow-core 2/3 Mormon group, Low.

Another Vegas vacation. (The other one was Yorkshire Soul's.)

Bears playing bass.

Ryan of Beatniksalad is still away, now in Brazil.

Scornfate wants this shirt. So do I! Fight!

Clan Lamont down under.

...round Iamadonut, it's a bit quiet. Off to Euroland tomorrow.
Monday, December 13, 2004
HOME COOKING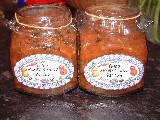 Pete's Wicked Chutney: no limits to my talents.
EUREKA!

Seismologists take a bath.


A tin bath on the cliffs of northern Iceland, where locals take a dip to treat skin complaints, could help scientists give an early warning of big earthquakes and save thousands of lives.
What next? Sitting on the toilet to help predict winning lottery numbers?
Sunday, December 12, 2004
FOOTIE NEWS

Sod, the Arsenal. The Canaries picked up three points away to Halesowen, wherever that may be. After the trials and tribulation of the last fortnight, that was a filip for the boys from Top Field.

Donut regulars will recall the Freddy Adu watch. Freddy is DC United's 15 year old phenom. Signed out of high school (in fact before he graduated), Freddy had already starred for the U.S. Youth Team and had been called up to the full World Cup squad. Freddy was born in Ghana, but has U.S. citizenship and has the potential to be the first U.S. soccer superstar.

However, 2004 has seen Adu spend more time on the bench than on the field. Nevertheless, he did play in all 30 league matches average 48 minutes per match. Freddy notched 5 goals.

D.C. United turned their season around mid-summer, raced into the playoffs and, as in the MLS's inaugural 1996 season, United won the playoff final. Adu made a later appearance in the final as D.C. clung on to win 3-2 over the fancied K.C. Wizards.
"U" FOR ULULATE

Until recently, there was an excellent web portal to all the "post-rock" bands you could shake a stick at: "www.post-rock.com". Gone now. There's always Post Rock bands. But, Post rock dot com led me to Ui sometime around the halcyon pre-millennium days.

Around about then, probably in a credit card induced haze, I picked up the EP "Iron Apples" and the full length "Lifelike". In the usual post-rock idiom, here were a clutch of instrumental driven numbers, unconventional instrumentation and assimilated dub, dance, jazz and prog in equal proportions. On my wee mini-disk this was a pleasant melange of semi-cerebral, danceable tunes.

Ui brought back memories tequila fueled dance sessions at some bar on Capitol Hill, bizarre Senate hearings, obscure bowl game on ESPN, Monday night wrestling on TBS and late-era episodes of "Seinfeld". Oh, bring on the ninties.
UNCONSCIOUS MUTTERINGS

Plot :: 2.4 acres of prime arizona desert
Farce :: woops, no trousers!
Unexpected :: woops, no trousers!
Siren :: Greek myths
Ben :: Kweller
Freshman :: Phi Beta Kappa (like, I would wanna be a frat boy)
Quicksand :: slow concrete
24 hours :: 24 horas
Spunky :: [deleted]
Vicious :: oh, I thought you said "viscous"



Friday, December 10, 2004
YES, IT'S THE STATUTORY "SORRY, I HAVEN'T BLOGGED IN A WHILE" POST

1. First on the list of excuses, is the technical difficulties at Donut Towers. My 4 year old laptop is playing up like only a 4 year old laptop can. I suspect an imminent hard drive failure as I'm experiencing lock-up or should that be lock-down. There's also probably an issue with my recently downloaded firewall probably conflicting with a rather unstable copy of Norton Anti-Virus. Uninstaller won't uninstall NAV.

2. What's left of my brain is in a holding pattern somewhere over Western Flanders. Yesterday's Brussels trip was a good argument for not travelling to Brussels by plane. It's a 40 minute flight, but the block time (that's the time the plane leaves the terminal to the time it reaches the terminal at the other end) is an hour and 10 minutes. Freezing fog and general Belgian-ness meant we "pushed back" then spent more than an hour parked on the tarmac at Heathrow. Take off - hurrah! Only, we got stuck 15 minutes out from Zaventum (why do airports always have horrid names). The fog hadn't cleared and Captain Over told us that we'd have to circle for 1 hour and 10 minutes. And, we had only enough fuel for an hour of circling. Groans in the cabin: but, I thought I might get a day off back in London! I didn't. We landed just over an hour later - 3 hours and 35 minutes after leaving the terminal at Heathrow.

3. Life sucks. My dad is still in hospital. We're hoping he will get out soon so that he can be back with mum. My mum is already in care. Looks like we're going to have to find a permanent care home for both of them raising financial and other issues. I'm travelling to see both of them every Saturday. So, I don't get much free time anymore. (Which is why I'm blogging when I should be working.)

4. Merry Christmas, War is Over. I don't celebrate the former and the latter isn't true. It's not an excuse, but hey I thought I'd get in the seasonal, "bah humbug" spirit.

5. This blog lives on your visits. But, this blog needs daily posts. That's my New Year resolution, only I don't go in for that stuff either.

6. Work goes on to compile one of those "101 things" things. Look forward to all you need to know about this blogger. As a taster:


Number 34, Most embarrassing moment? Probably: Dhaka, large gin & tonics after Tiger Beers, false tooth, month or so following speaking with a lisp.
8. There are a couple more letters in the musical alphabet project. It's been good to listen some stuff I haven't heard in ages such as today's helping of the Finn with coke bottle glasses, Edward Vesala. He even qualifies as a crazy Finn.

7. Last I heard, the National Hockey league lockout continues. Meanwhile, lots of NHL players are earning money in leagues around Europe. I hear that the North American Minor Leagues are playing. So, does anyone care that the NHL is absent? And, I read the other day that somebody is trying to resurrect the World Hockey Association. Do you think Gordie Howe will make a comeback?

Okay, that's enough lame excuses. Back to work...
Sunday, December 05, 2004
UNCONSCIOUS MUTTERINGS

Delightful :: delirious
Impact :: meteor
Consolation :: goal in the 90th minute
Donation :: sucker
Blue moon :: green planet
Grinner :: mental patient
Smoker :: cancer patient
Muse :: women in boots
Tweet :: Sylvester the cat
Guitar :: solo



MYERS-BRIGGS TEST

Time for a new career...?


Withdrawn (I) 63.89% Outgoing (E) 36.11%
Realistic (S) 51.35% Imaginative (N) 48.65%
Emotional (F) 57.14% Intellectual (T) 42.86%
Improvised (P) 59.38% Organized (J) 40.63%

You are a Specialist, possible professions include - bookkeeper, clerical supervisor, dental assistant, physical therapist, mechanic, radiology technologist, surveyor, chef, forester, geologist, landscaper designer, crisis hotline operator, teacher
Take Free Career Test
personality tests by similarminds.com
via Yorkshire Soul
Saturday, December 04, 2004
FOOTBALL NEWS

Great result for Spurs even if the performance was mediocre. Not so good for the Canaries, Hitchin Town that is, not Norwich. Having sacked their manager, Kerry Dixon (yes, that Kerry Dixon), the lost twice in a week including today's 0-2 home defeat to table topping Merthyr Tydfil.

Elsewhere, hats off to Shane Graham who has made history by playing for two different teams with the same name: Ashford Towns in Kent and Middlesex.


"Following his release from Ashford Town (Kent), Shane Graham has impressed sufficiently in the Tangerines' Reserve Team, to be asked to signed Southern League forms. Shane has now become the first player to appear for both Ashford Town teams. He is a 22 years old striker, who has also played for Margate, Tooting & Mitcham and Croydon Athletic."
From the Southern League website.
Thursday, December 02, 2004
TEA TIME

Aujourd'hui...

Frantic laptop doodling by Nobukazu Takemura - "Scope" and "Sign". More squeaks than from a mouse organ; more static than Radio Luxembourg.

"T" is for Thrill Jockey.



"Takemura has stated that "making music for me is like a child humming," this simple statement belies the complex nature of the music, but also speaks to the heart of the results, playful melodies and whimsical textures and sounds. A great example is the melodically effected, computerized vocals on the title track, "Sign". Takemura amazingly manages to make the computer "vocals" sing. A further example of his playfulness is indicated by the twist of the sing into the title, "Sign"."

STARS IN THEIR EYES


"S" is for serene.
ARE R

A second helping of R in this wee musical alphabet journey:

"This post-rock stuff's all very well" I hear you cry. "What about some classical?" you ask.

Okay, classical is, as we know, a misnomer. Strictly speaking the "classical" period was around the time of Bach, Vivaldi and Mozart. You've then got "romantic" - Beethoven et al. Oh, and baroque. That was Bach wasn't it? The Twentieth Century saw a number of different periods/styles. The Wire categorizes contemporary serious/classical as "modern composition". Whatever.

Steve Reich is hardly baroque. I think the word minimalist springs to mind. "Six Marimbas" is one of my favourite pieces of music. As it says on the tin, it's a piece played on six marimbas. Interlocking, shifting rhythms, polyrhythms, riff driven, drone like. Reich owes a great debt as much to rock music than to the great classical/serious music tradition. Then again, listening to the rhythmic passages being turned upside down is all at baroque. Minimalist: not accurate.

Also on the disc, "Electric Counterpoint", a three movement piece written especially for poodle permed, flashy Midwestern jazz guitarist, Pat Metheny. Finally, Reich's haunting vocal piece "Proverb" based on a passage by Wittgenstein.


"How Small a thought it takes to fill a whole life"
Wednesday, December 01, 2004
HAPPY BIRTHDAY

Today's my dad's 79th birthday. A couple of months ago it didn't look like he would make it. As regular readers know, my dad suffered a very bad stroke at the end of August. He was left for nearly 24 hours before a neighbour raised the alarm and paramedics got to him.

It was touch and go for several weeks, not helped by a bad chest infection. Dad's made slow and steady progress. He can sit up now and his voice is much stronger. However, he still has no mobility in his left side and his cognitive skills are impaired. As a result, he is "confused" a lot of the time.

It was good today that he had his family around him, including my mum who was in respite care the night my dad collapsed. Still a long way to go.