Wednesday, August 25, 2004
FASHION UPDATE

Thinking of some new threads?

Try here.

(marginally work safe)
SHAGGY DOG STORY

Presumably this dog is not a fan of the single currency:


A German woman thought she had been robbed by sedative-toting thieves when she returned to her car to find 380 euros missing and her dog vomiting, only to discover the pet had eaten the cash...

"The dog spat out the rest of the money in shreds along with the bank statements."

"...the damaged bank notes can be changed at the state central bank..." the police said in a statement.
Good job Bowser barfed them rather than...

Monday, August 23, 2004
DRUG ADDLED UNCONSCIOUS MUTTERINGS

Olympics :: drug taking
Wicked :: drug takers
Intoxicating :: drugs
Radical :: drug taking libruls
Misinformed :: public (don't know about the drugs)
Triplets :: triple dose
Coronation :: medal ceremony
Asimov :: wrote about robots, but not drug fueled athletes
Contemporary :: just gimme the drugs
1 :: drug fueled athleter, looking out for...



NEVER MIND SNICKERS, GIVE ME A MARATHON BAR

Yep, that bloody Marathon and the great British failure. The BBC (warning: don't click on the message boards offering "support" for Paula; could induce vomitting):


A tearful Paula Radcliffe has revealed she has no idea what went wrong in her failed bid for Olympic marathon gold.

"You go through bad stages in a marathon, but never as bad as that," she said.

"I've never before not been able to finish and I'm desperately trying to find a reason for what happened.
The Washington Post thinks it has a clue to the reason:


...character was needed given the conditions, with temperatures well above 90 degrees at the start. Sixteen runners failed to finish. Paula Radcliffe of Britain, the world record holder in the women's marathon, was running in third place with less than five miles to go. But to the great disappointment of hundreds of British fans watching on a giant television in the stadium -- not to mention those lining the last few miles of the course clutching Union Jacks -- Radcliffe stopped running, bent to clutch her knees, tried to start again, and finally sat down, tears rolling down her cheeks. She did not finish.
I make no comment on character. It was a shame. But, it made compulsive viewing and ranks as one of the best British sporting catastrophes of all time just behind the "Hand of God".

Oh, and congratulations to Mizuki Noguchi, a very good Marathon runner, who coped with the conditions and ran a very intelligent race beating the best runners in the world. Apparently there were other highly dedicated and motivated runners in the field.
MONDAY MORNING

Back to work...


Take 'em away,
Take 'em away, Lord,
Take away these chains from me.
My heart is broken
'cause my spirit's not free.
Lord, take away these chains from me.
Sunday, August 22, 2004
FOLLOW THE BEAR

From the BBC and elsewhere (via Bears Will Attack), plus all over the web by now:


A black bear went on a binge at a campsite in the US state of Washington - guzzling down some 36 cans of beer.

"He drank the Rainier [local brew] and wouldn't drink the Busch beer [gassy mega-beer]," said Lisa Broxson, bookkeeper at the campground and cabins resort east of Mount Baker.
Nice touch about the local brew, trouble with the story is that the Rainer brewery has been bought by industrial brewer Pabst.

Methinks, there could be huge marketing based on this. But, hopefully, not along the lines of the godawful Hofmeister (George the) Bear - of the "For great (sic and sick) lager, follow the bear" slogan - the satin jacketted, lay-dees magnet, darts playing icon of the 80s. (More like beer gut, brewer's droop, bad breath and gas.)
WEATHER UPDATE

From the sad, but funny file.


"A lightning strike … killed 31 cows … in … Denmark ..."
SECURITY UPDATE

US Aviation Security authorities' faux pas.


"Senator Ted Kennedy…[has] been blocked … from boarding commercial airline flights because his name was on a "no-fly" list intended to exclude potential terrorists."
Wednesday, August 18, 2004
MEMORY LANE

Here's a couple of favourite self-portraits whilst living the good life in the U.S. of A.




That's me against the razor like peaks of the Grand Tetons (or big tits) in Wyoming. This was my first holiday as a newly single person back in 1998. I'd taken a few (long) weekend drives – up to the Baseball Hall of Fame in Cooperstown and down to the Great Smokies. But, this marked the first extended stay on my own.

There's great freedom in travelling on your own, but on long drives you can get a bit lonely, even stir crazy. It was a bit like that driving from Salt Lake City to Yellowstone. I remember stopping off in Idaho Falls just looking for someone to talk to settling for an ice cream and a wander around town.

Yellowstone was also my first experience of camping for nearly twenty years. The tent pegs that easily went into the lawn back home in a trial run bent in the first campsite in the park. On the second day it rained. If you've camped, you'll know that once you get wet, it's pretty hard to dry out.

Jenny Lake campsite in the Grand Tetons, about a week and a deluge later, was where I finally dried out. It's also where I started a twenty mile round trip hike up into the mountains. I was complete with bear bells and lunch. There were bears around as every hiker I met told me, but I never saw them. Perhaps the bells helped or maybe my lunch put them off.

Anyway, I look a happy hiker.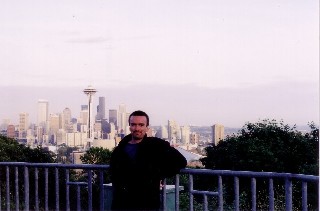 A year later it was off to Alaska. Having originally planned to drive up to Alaska, I was politely told I was mad by everyone I met. "Take the ferry" they said. And, they were right. The ferry trip was truly memorable despite no cabin, bad back, bad cough and dreadful food. I felt proud too that I was one of the few passengers who rode out the waves when the ferry hit open water. No puking for me!

But, first I had to get to Bellingham, WA to catch the ferry. So, I had a few days in Seattle: got soaked bike riding on Bainbridge Island, caught a few games at the Kingdome, drove up to Mount St Helens and drank plenty of coffee. Oh yeah, and used my new tripod to set up a picture of myself against the Space Needle.

Of course, you will recognise this classic picture as the basis for Iamadonut's banner. Check out the beard. That's about as hirsute as I get!

TINKER, TINKER

I'm sure your keen to know the progress of GBH Uffington, Iamadonut's entry in the Guardian Fantasy Football League.

Not a great weekend. With Malbranque and Judas Campbell injured (oops, missed that!), the side was always up against it to score points. Charlton's 4-1 shellacking at the Reebok was a shock - Hreidarsson in the squad (ouch!) knocked off £140k.

I had to go for Ian Dowie as manager at some time in the season and figured the first match - a six point relegation battle (yep, even at this stage) - and a point at Norwich wasn't bad. I'll keep hold of Dowie for one more match and see what happens - three points at Everton? The week after that Palace play Chelsea so I may be looking for a new manager soon. Then again, Dowie owners around the country might be looking to dump him.

Malbranque and Campbell have been ditched to be replaced by Simon Davies (possibly a bargain, even though he plays in a feeble Spurs' midfield) and Olof Mellberg picked up after a great performance in the opening weekend. With Villa away to West Brom in a Sunday derby match, could pick a few pounds there.

I'm keeping hold of van Persie though he's not yet cracked the first team for the Arse.
MANGIA! UNCONSCIOUS MUTTERINGS

Server :: My name is Candee, I'll be your server tonight
Charlotte :: potatoes
Jackson :: Hole, Wyoming where I had a delicious pizza in 1998
Resentment :: that your partner has a bigger portion than you
Controlling :: the one whoe serves dinner (see above)
Intense :: flavour - like truffles
November :: bonfire night - baked potatoes
Donkey :: not a delicacy, as far as I know
Weave :: interesting pattern on French Bread?
Satisfies :: sated, as in after a good meal



Friday, August 13, 2004
IT'S ALL GREEK TO ME

News breaking overnight about an Olympic "drug scandal". This one sounds bizarre:


Greek Olympic stars Kostas Kederis and Ekaterina Thanou have been injured in a road accident and taken to hospital.

The crash happened shortly after they missed a drugs test, which could result in them being banned from the Olympics.
Meanwhile, Channel 4 screened a programme folowing a study by an Australian university into the effectiveness of performance enhancing drugs. It'll be interesting to see how the study fares in peer review. There might be questions about the conditions under which the trials took place. But, there were clear indications that steroids improved performances in power events like the 100m.

Worth cheating at the Olympics? Only, if you don't get caught.

And, today the Olympics start.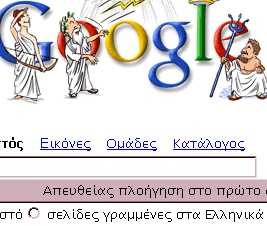 Thursday, August 12, 2004
YOUR WORST FANTASY?

Ok. The mighty GBH Uffington XI (plus Sheepskin coat) takes the field on Saturday.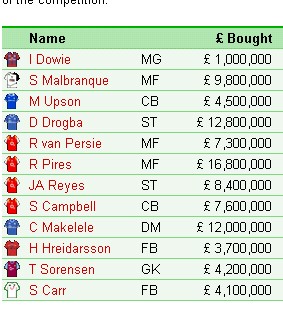 Here's that world egg beating lineup.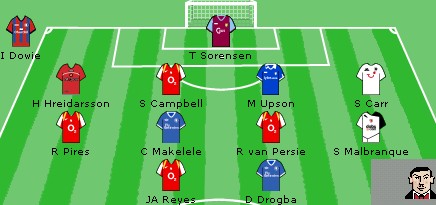 Come and have a go, if you think you're hard enough.
BLOGGING BAN AT THE OLYMPICS

This from Scott's Noo Joizy Olympic Blog. Seems like Scott's okay, but pity those poor bored Canadian athletes stuck in the Olympic village with no Tim Horton's, no CBC, no Labbatt's and forbidden to talk to the world about it. Eh?


To me this is a step backwards in the ideals of democracy and the Olympic Games, but then again the IOC is making a few dollars, are they not.
No argument there, Scott.
...OF BIBLICAL PROPORTIONS

The 'papers and the evening news are full of the coach crash in Austria – 5 dead Britons. Heck, how does this compare with Darfur. War, rape, ethnic cleansing, bombing, orphans, forced movement, genocide (though not according to the European Union), refuge camps, more bombings, starvation, rain, floods, thousands dead with disease surely to follow taking thousands more. And now...locusts.

Compare our lack of willingness to send peace-keeping troops (just send £5 million in aid: it's Africa, y'know) with the haste in which we plunged into war with Iraq and Serbia.
Wednesday, August 11, 2004
OLYMPICS UPDATE

Following on from the Workers' Olympics, the Fair Play at the Olympics campaign staged a sew-in to highlight the slave labour used by many sports brands.

Too bad it got virtually no coverage in the UK press.

I'm also perplexed about the whole drug issue. There seem to have been an inordinate number of athletes failing drug tests before the Olympics. British hurdler and Olympian Colin Jackson said on radio yesterday that positive drug tests where a good thing becuase it showed that the tests worked. A view echoed by Michele Verroken former head of anti-doping in the UK:


These are exciting times because the science is finally catching up with the athletes who cheat.
Surely, it's a bad thing becuase it shows how many athletes think they can get away with it? Or, you could argue, let them all take drugs. Afterall, there are stories that East Germany hardly ever fielded a "clean" athlete.
Monday, August 09, 2004
ICED DONUT





Another in an occassional series of photos from my time in the USA (97-01). This was during one of the big snowstorm, round about 1999 I think. My house was in a dead end street near the top a hill. When it snow, my street was one of the last to be cleared. It would get very icy and pretty darn difficult to get my car up the 20 metres to the cleared roads.
LIGHTS, CAMERA, UNCONSCIOUS MUTTERINGS

Sting :: who can forget that forgettable performance in Dune
BMW :: film product placement anyone
Jeremy :: Irons
Audacious :: T
Drag Queen :: Terence Stamp
Title :: A Film By...
Stamp :: Terence (see above)
Bad :: 90% of Hollywood's output (and Brit films ain't much better)
Snow White :: I think, probably, the first film I saw at the cinema
Delegate :: Second Unit



JUST EXPLOIT THEM

Just four days until the Olympics start. This is a big deal for the legacy of Steve Prefontaine, Adi Dassler and the rest of shoe marque pantheon.

Appropriate then that yesterday saw the resurrection of the Workers' Solidarity Olympics in Bangkok. Those exploited by the show manufacturers celebrated.

From the programme:


10:00 Symbolic ceremony, hitting a big capitalism jar to free balloons signifying workers' demands.
Float balloons hanging Workers' Olympics banner to stay in the air.
Sing the song "Thai Labour March"


Whilst I will enjoy the great competition in Athens, it would be nice to think that those that slave away to produce footwear for athletes get some recognition over the next two weeks. Guess I'm mistaken there.
Friday, August 06, 2004
THAT FRIDAY FEELING


Beer. Now there's a temporary solution.
SEX FOOTBALL SCREWS NEWS


[England soccer coach] SVEN GORAN ERIKSSON still has a job today — but he is holed below the water-line.
According to the Currant Bun:


Eriksson has to win every game from now on ...

Otherwise the screw will be turned harder and harder.
Screw, of course, being the optimum word.

Year's ago there was a Football Association employee call Mr Sweet. Apparently, he couldn't understand why when people phoned they used to fall about laughing.

"Hullo. Sweet, FA."

At least that's the story someone told me yesterday...
BORN IN THE USA*

What do Bruce Spingsteen, Dave Matthews Band, Pearl Jam, REM, the Dixie Chicks, Jurassic 5, James Taylor and Jackson Browne have in common?

They're touring this October to bring about regime change in the US. Bruce writes (reprinted on these shores.)


We will be performing under the umbrella of a new group called Vote for Change. Our goal is to change the direction of the government and change the current administration come November.

Through my work, I've always tried to ask hard questions. Why is it that the wealthiest nation in the world finds it so hard to keep its promise and faith with its weakest citizens? Why do we continue to find it so difficult to see beyond the veil of race? How do we conduct ourselves during difficult times without killing the things we hold dear? Why does the fulfilment of our promise as a people always seem to be just within grasp yet for ever out of reach?
* -yeah, ok, that's a very predictable title, but it is Friday lunchtime and I'm dying for a beer.
Wednesday, August 04, 2004
SOLUTION TO THE DIANA FOUNTAIN FIASCO?


A 14-year old boy has had three stitches in his finger after being bitten by a piranha while playing in a public fountain in Hong Kong.
YOUR COUNTRY NEEDS YOU


Owing to the summary rejection by the German Government of the request made by his Majesty's Government for assurances that the neutrality of Belgium will be respected, his Majesty's Ambassador to Berlin has received his passports, and his Majesty's Government declared to the German Government that a state of war exists between Great Britain and Germany as from 11 p.m. on August 4, 1914.

How the Government broke the news, 90 years ago, that the United Kingdom had declared war on Germany.

There is, of course, a commemoration of the event today at the Cenotaph.

And, yes, I get fed up with the press or, worse, officialdom dragging up the anniversary of this and that. It was the 100th anniversary of the ice cream cone last week. Today is also the 300th anniversary of Gibraltar being in British hands, an event no doubt celebrated by money launderers the world over (enquiries/complaints to my lawyers - Sue, Grabbit and Run).

However, the First World War anniversary gives me an opportunity to post the potted history of my grandfather, John McClymont. A native of Ayrshire, he moved early in his life to Glasgow and thence found himself working as a groom in rural Hertfordshire. In August 1914, like thousands of other men throughout Europe he rushed to join the war effort.

As a horseman, John enlisted in a cavalry regiment. But, the cavalry was cut to shreds and he signed on as a regular infantryman in the Lancashire Fusillers. John was gassed twice, once blinded temporarily. He was promoted twice; demoted once (court martialled for drunkenness); and, served throughout the '14-'18 war. Towards the end of the war, he received a Military Cross for leading a group ambushing a German stronghold.

A few years back, my family returned to Houthulst Forest near Ieper in Belgium to the military cemetery near the site of my grandfather's daring raid. Flanders crawls with Brits and others tracing family members who served in that awful conflict. It could be seen as mawkish. Yet, it is a visit that I would recommend to anyone who has any doubt about the foolishness of militarism. I challenge anyone to see the sight of thousands of graves of young men - many of them to the unknown fallen, many too from far lands - and not be moved.

I never met my grandfather, but his memory lives on in my family. He was surely brave. He was certainly lucky to have served throughout the war and lived. So many left these shores - indeed, left the towns and villages where they were born and had not left until travelling to France or Belgium - and rest beneath simple headstones.


"...this massed multitude of silent witnesses to the desolation of war..."
Monday, August 02, 2004
HOWDYA LIKE DEM APPLES





Next door's apples look ripe for scrumping in a few weeks if the birds don't get to them first.

England was until recently a producer of fine apples in many varieties. Those are sadly gone as many orchards have been ploughed for housing or other cash crops; or worse still left to go wild. I don't know what happened first. Whether Britain started to import more apples from abroad because they were cheaper or that apple orchards disappeared because there was no money in them.

Whichever way it is a sad day that supermarkets in this country are reduced to selling primarily foreign apples, most of them tasteless.

Sainsbury's, the other week, was stocking Chilean braeburns for godsake. Braeburns are passable, but I suspect have become so prevalent because they have a tough skin meaning thereby easy to pick and transport without damage.

Recent shopping trips have revealed the nasty Empire from the USA, Chinese apples and an array of horrid French fruit.

The British apple season will be upon us in a month or so. But, barring a few weeks in September I doubt we'll see much in the way of English apples in Sainsbury's.

This segue's nicely to the outcome of the trade talks in Geneva. Headlines over the weekend and this morning herald that this is a good deal. The agreement will reign back agricultural subsidies by the richer nations, thereby helping the developing world compete on that infamous "level playing field".

Patricia Hewitt, trade and industry secretary, said: "This is a crucial step on the road to delivering a trade round that will benefit all of us, especially developing countries.

Oxfam don't think so.


"Negotiators may trumpet breakthroughs on export subsidies and cotton but there are no cast-iron commitments here and no clear timeline for reform. We need a far more ambitious and radical approach. If rich countries do not immediately put their promises into action, this declaration will become just one more stage in a long journey of disappointment and deception."

Other press reaction indexed here.

And, if you think buying trimmed beans from Kenya helps out poor subsistence farmers think again. Not only does it rob local farmers, but the carbon expended transporting the produce helps destroy our environment.

Moral: Buy British, in season.
Or, scrump next door's apples.
THE MIND WORKS IN MYSTERIOUS WAYS UNCONSCIOUS MUTTERINGS

Testicles :: thankfully not suffering any reaction in that region from cycling
Ribald :: don't you find risque jokes a bit tedious?
Auction :: can someone please tell the spammers that I don't have and eBAY account
Inch :: worm
Tony :: Cozier, West Indian cricket commentator
Phony :: is not an abbreviation of telephony
Stool :: you can tell a lot from someone's stools
Coyote :: it's pronounced ki-OAT-ee, not KI-oat
Cinderella :: 1969 New York Mets, they were a Cinderella team
Battery :: do lithium batteries require special disposal