Wednesday, September 27, 2006
Brussels
This post typed zith q europeq, keyboqrd in qn inter,et cqfe in q dodgy pqrt of tozn:

Tine for q beer8
Monday, September 25, 2006
7 More Reasons to Leave London
1. I forgot to mention in the Mogwai post below that on my train journey back into town after returning bedraggled and sleepy from Heathrow Airport a guy threatened to pull a knife on a ticket inspector. Nice.

2. It rained. Today. Monday. Okay it rains in most places - except the Atacama Desert - but soggy, almost steamy Mondays in London aren't much fun.

3. Our neighbours had a drunken birthday party at the weekend. I recall hearing one of them on the phone at 3:30 am Sunday shouting "We're partying until we die!" Well, die already.

4. Utility works in the street. Again, this happens everywhere. But, does it have to happen when the house is on the market. The street is like the Somme.

5. I had to drive to a decent pub on Saturday. Because there are no decent pubs within walking distance. That meant I had to drive back. You do the figuring as to how much drinking I did.

6. Nothing against Poles: they're helping the UK economy and those that are paying taxes are funding my retirement, but how the heck do your pronounce all those Ws and Ls? (Also, you might be able to get a plumber in London now, but can you get one in Warsaw?)

7. Smell of sick on the Tube. On a Monday morning. In the wet.

On the plus side, I'll miss nights like Friday.
Sunday, September 24, 2006
This Post Features Strobe Lighting Effects

Do you remember that scene in "This is Spinal Tap" when Nigel explains how if they want that little bit "umph", the group can go up to 11? Well, I think Glaswegian noise terrorists Mogwai might have found 12 Friday night at the Royal Albert Hall.

"The quiet-loud/quiet-loud formula that was our trademark became pretty cliched..." according to chief noise maker Stuart Braithwaite. Well, not that I really complain about the quiet-loud formula. Mogwai still construct beautiful little concise melodies yet blown to landscape proportions by subtle arrangements and the non-too-subtle quiet-loud formula.

Mogwai and the RAH did not quite seem to be the perfect fit. I've seen at small clubs in Washington DC and Philadelphia and medium sized London venues. Though I understand they suit large festival spaces, the RAH is a horrid volume to fill. For classical concerts the acoustics continue to be horrid - flying saucers or no. Mogwai's extreme noise can fill most barns, but I worried about Friday's encounter.

And, hardly eschewing the quiet-loud formula, the setlist was packed with prime examples of the oeuvre. Kicking off was the classic of that genre, "Xmas Steps", with its rich first riff, building dynamics and sonic bursts. More examples were to come, reaching a pinnacle in the "Tracy"/"Fear Satan" segue. The former, an insubstantial whisper is never the greatest of live tracks, but setting up the whirlwind of "Satan" it is a perfect foil. "Satan" itself is but a three note song manipulated into a maelstrom. Obviously the work of the devil. The coda, on Friday, nearly blew the roof off.

Mogwai are always an enigma: slabs of aggressive Deep Purple influenced noise punctuated by mumbling vocals and the quietest electric rock around. That's the premise of another classic track "Helicon 1" followed by "2 Rights Make 1 Wrong".

To end the regular set finished off with Mogwai distilled to 4 minutes - "Glasgow Mega Snake". Here, "Mega Snake" was a bit muddy, lacking that edge found in the album track and several performances found on line.

The second encore, "We're No Here" was a further attempt to raise the roof. At that point, I think they hit 12. As punters were leaving, Mogwai returned for "Jewish Song: My Father, My King", what's become a staple encore and another chance to blast away. The lighting rig took off into space as white noise seared around the old concert hall.

All around: success. Good setlist. Sound was generally crisp. Group seemed to enjoy it. Crowd, even in the boxes, in raptures.

Second Spinal Tap moment: the Mogwai Young Team symbol done in lighting rig that was revealed halfway through the gig (see pics linked below).

Prog Rock moment: snippet of "And You and I" by Yes played between the Kid 606 set and Mogwai.

Math rock roolz! Don Caballero track in said incidental music.

:-( Missed most of the Kid606 set.

I didn't take my camera, but lots of other people did. Here's a few pictures from other punters.

To while away a few moments, here's a selection of complete live songs; quality indifferent.

- "Sinewave"

- the classic "Xmas Steps" with Luke Sutherland on violin.

- the first time I saw Mogwai was at the Black Cat Club in DC back in 1999. Stuart Braithwaite was at the front of the audience wearing an "I Love Jesus" baseball cap watching support act Ganger. "You Don't Know Jesus"

- cracking live version of "Helicon 2" (though crappy video direction)
Saturday, September 23, 2006
Ali Fresh
If you are in the Southampton area tomorrow (Sunday), why not get down to the Joiners to sample to sounds of Ali Fresh.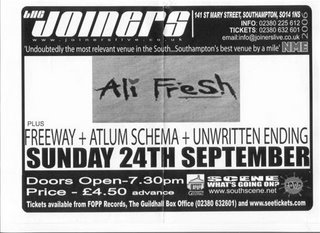 It's a first headline gig for nephew Ali and his band mates. Here's a clip from the local paper.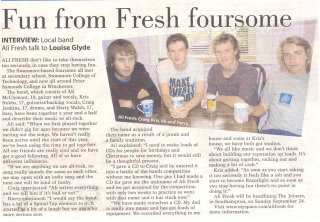 Rock on, Ali!
Wednesday, September 20, 2006
Statutory Wednesday Post
Trouble with this new template is that if I get bored or lazy and don't post, then the nice snazzy layout goes wonky or down the crapper (depending on browser).

There's other quirks which our crack design and coding team is working feverishly to rectify.

In the meantime, it's Wednesday. So, what's going on...

"Could not connect to Blogger.com. Saving and publishing may fail."

Well, that stinks.

Earlier today in sunny London, my bottle of lunchtime orange juice was intent on dropping to the ground. It achieved two drops to the pavement as I struggled with my office keys. Once back at my desk the bugger jumped out of my hand again. It was probably my conscience punishing me for buying a packet of crisps. (Crisps are evil according to everything I see on TV. Actually, I have given them up along with cheese, biscuits (er, y'know, cookies) and other sweet stuff (except fruit: love the berries). The results are a loss of about a stone (14lbs for our American cousins or 6kgs for most of the rest of the world) over the last 3 months.)

Anyway, no orange juice was spilled in the writing of this post. And, no orange juice through the nose.

In other news, these nice people have linked here recently. Thank you nice people. Readers are encouraged to go visit these nice people.

If anyone in North Devon is looking to employ a hard working, willing to accept low(ish) pay, honest, conscientious, team player/leader. Then please send an e-mail!

I might be movin' to Montana soon
Just to raise me up a crop of
Dental Floss

Raisin' it up
Waxen it down
In a little white box
I can sell uptown

By myself I wouldn't
Have no boss,
But I'd be raisin' my lonely
Dental Floss
Tuesday, September 19, 2006
Love and Other Planets


Dinosaur Comics by Ryan North. Lyrics by Adem. Inspired by Heck's Kitchen.
Wednesday, September 13, 2006
Thunder Road
These two lanes will take us anywhere
We got one last chance to make it real

I'm not really running away from slashed tyres.

Or, vandalised railway stations.

Scuzzy buses driven by maniacs? Nah.

Perhaps it's just a yearning for the west.

Hit the open road - well, the North Devon Link.

Head for the sunset.




Well I got this guitar
And I learned how to make it talk
And my car's out back
If you're ready to take that long walk
From your front porch to my front seat
The door's open but the ride it ain't free
And I know you're lonely
For words that I ain't spoken
But tonight we'll be free
All the promises will be broken
Tuesday, September 12, 2006
New Life
Bridges are, as this is written, burning.

The house is on the market. The ink on the resignation letter is dry - and it wasn't invisible. Even the boss has come to terms with the news.

Last weekend saw stage one of hunting a new home. Not quite gunning for bear, but you get the idea.

There was a scan of the local newspaper for the desultory choice of current vacancies. Luckily there appears to be a thriving "street people" scene in North Devon. And, you need no qualifications or sit an interview.

Ah, that fresh air! Too bad Barnstaple suffers from chronic traffic problems.

Anyway, apart from burning bridges (not the Barnstaple Western By-pass) there are a few hares being chased. And, there's (mixed metaphorical) fields to (metaphorically) plough!

Green acres is the place to be
Farm living is the life for me
Land spreading out,
so far and wide
Keep Manhattan,
just give me that countryside.
Monday, September 04, 2006
Créer le message
I'm sitting in an internet café in delightful Brussels Airport. The terminal is determined to stay Francophone, which is nothing to do with Franco's spaghetti or Spanish dictators.

Work brings me to this anonymus place. AS my meeting doesn't start for a couple of hours, I'm catching up on the world through the wonder of the interweb.

Just been reading about the death of the "Crocodile Hunter", apparently the first person to die from a stingray sting since 1945. Well, he was never going to suffer a heart attack on the 0830 to Waterloo.

That reminds me of one of my previous journeys to Bruxelles. As usual it was a ridiculously early start. Arriving at Heathrow Terminal 1 about 6:00am when dropped off by minicab, passengers were diverted away from the normal entrance. There were screens erected and dozens of paramedics standing around. I caught sight of one of them administering CPR. What a way to go. Rushing to an early morning flight to some pointless meeting in some horrid office block in some vapid provincial town.

Brings me neatly to the latest development. Thursday night I handed in my letter of resignation. It's been nearly two-and-a-half years in this job. I've lost count of the Brussels trips and wasted hours in bland hotels and coffee bars. No more day long trips for 2 hour meetings with 15 minutes substance.

Simply, we've had enough of London and had enough of our jobs. It's time to make a new start. The plan, if you could call it that, is to sell up and relocate somewhere in the South of England. North Devon is the current plan. Next weekend, we're off to have a look at Barnstaple and the coast.

It's been a long time coming and admittedly I've put off resigning for too long. The money has been too good and the prospect of having no job is daunting.

How we'll pay the bills is a question to be resolved. We should be able to buy a place with the proceeds of our house sale - assuming we can sell quickly - with perhaps a very small mortgage. But, we've still got to live. Right now, I'm open to offers. Just ask and I'll send me CV/resumé.

Deep breaths all around.

Okay, time to find some coffee and a comfy chair to read the paper while I wait for my boring meeting.

Au revoir!