Monday, January 31, 2005
COUNTDOWN

Nothing to do with Richard Whiteley...

Quick get over to fellow McClymont, 3rd Daughter. You might be here 10,000th visitor. Don't know if there's a prize involved.
Sunday, January 30, 2005
UNCONSCIOUS MUTTERINGS

Coroner :: vivisection
Mystify :: tantilise
Corroborate :: validate
Misinterpret :: lies, damn lies, statistics
Humorless :: (sorry) Germans
Calculus :: Mr Holmes, 12th grade
Eye for an eye :: Kronos concert (see below)
CPR :: Campaign for the Protection of Rude words
Stitched :: up
Facility :: overdraft



WELCOME TO SNYDERVILLE



I want to fly this airline. Take you all the way to your hotel.

Shamelessly nicked from Flight International.
Thursday, January 27, 2005
REVIEW: KRONOS QUARTET, BARBICAN, 22 JANUARY

050122-kronos0002.PDF

Should it be notable that American artists apologise for the re-election of Bush? Certainly, that's happened at a number of recent concerts. It happened again on Saturday night at the Barbican.

"All of our musician friends were dismayed by the election in November. And, what about that inauguration? Makes you wanna go back to the 60s: to Woodstock" At which point, the Kronos Quartet launched into a Hendrix fuelled version of the "Star Spangled Banner". "They play Hendrix, y'know" I'd told my fellow concertgoer all night. Sure enough they did as the first encore. For the second, Kronos played Bollywood film music. Go figure.

But, hey. This is Kronos and they could play just about anything they want. I'm talking ability, audience and chutzpah. Made their name playing Twentieth Century icons such as Bartok, linked with minimalists like Steve Reich, now the quartet commissions its own pieces by contemporary composers. The piece by Meredith Monk "Stringsongs" was a premiere on Saturday. It's a four movement piece of lyrical minimalism that stood out from the rest in form, content and texture.

Opening the concert was Michael Gordon's "Potassium", a collection of bent notes, discordant phrases, rather irritating reverb (which made the music seem as though it came from a public toilet), feedback and looping. The programme notes quote Gordon as saying he knew nothing about the element Potassium, which rather begs the question why name a piece that?

"Oasis" by Azeri composer Franghiz Ali-Zadeh literally dripped off stage, with a backing track of water drops.

After the Monk highlight came Jeths' "Intus Trepidare (Trembling From Within)" (UK premiere) tonally beautiful, delicately played.

Clint Mansell's "Requiem for a Dream Suite", music from the film left me a little underwhelmed, a bit limp I though, but it was well received by the audience. Mansell, by the way, was the man behind hip-hop deconstructivsts Pop Will Eat Itself. Before the encores, but like the first of those, politics entered the stage in Alexandra du Bois' "String Quartet: Oculus Pro Oculo Totum Orbem Terrae Caecat ("an eye for an eye makes the whole world blind")", written just prior to the Iraqi invasion.

There's no faulting the playing. Kronos are supremely confident playing music which would otherwise challenge the average string quartet. The encores in themselves were worth the trip. That Kronos can fill the large Barbican hall is both impressive and reassuring. That they apologised for Bush's election...Well, there's 50 million odd who need to apologise for voting for him. Wonder how many of them are Kronos fans?
Tuesday, January 25, 2005
WAR ON TERROR UPDATE


Bubba Carver, co-owner of a restaurant in Smyrna, Georgia, could be sitting on an interesting aviation collector's item. Carver recently purchased 500 forks and 250 knives previously used by Delta Air Lines. Apparently Carver's restaurant is not unique. Sightings of former airline tableware are being reported all around the country. Delta and other carriers sold their utensils to scrap metal dealers after the September 11th terrorist attacks transformed forks and knives into dangerous contraband. The name "Delta Air Lines" is etched on the underbelly of the flatware's handles. Unfortunately, proceeds from the sale of the knives and forks are not enough to stop the flow of red from the airline's bottom line.
Can't cut your steak at 35,000 feet. I guess the turrists have won then.

from ABTN
PHISH AND CHIPS

This message is not flagged. [ Flag Message - Mark as Unread ]

Date: Tue, 25 Jan 2005 12:32:10 +0000 (GMT)
From:
Subject: Re: Official security information from HSBC Bank plc
To: "HSBC Bank plc"


Dear "Official"

For security purposes you have been rand0mly sellected for this e-mail! This is important message:

"phuck-off phish phace"

Sincerely
someone who is not an hsbc customer so knows that you are scam merchant. go get a proper job, bastard.

HSBC Bank plc wrote:
Dear HSBC Bank Customer!

For security purposes your account has been
randomly chosen for verification. To verify
your account information we are asking you to
provide us with all the data we are requesting.
Otherwise we will not be able to verify your identity
and access to your account will be denied. Please click
on the link below to get to the HSBC Bank plc secure
page and verify your account details. After verification
you will be redirected to the HSBC Bank home page.
Thank you.

http://www.ukpersonal.hsbc.com/internet/logon.jhtm

(c) HSBC Bank plc 2002-04

Sunday, January 23, 2005
BLAST FROM THE PAST



My brother sent this picture today, as he's been sorting through some of my parents stuff.

The photo, of the extended family on my dad's side, was taken in the summer of 1966 - I think the day England beat Argentina in the Quarter-finals of the World Cup - in the garden of my aunt and uncle in Ongar, Essex. The was the last family reunion before my branch emigrated to the US. That's me bottom left, if you were wondering.
UNCONSCIOUS MUTTERINGS

Material world :: global warming
Satin sheets :: night of passion
Blizzard :: northeast US digging out this morning
Real estate :: selling the family home
Dress up :: see satin sheets
Wesley :: Wanderers - my Subbuteo team, aged 6
Robber :: baron
Saliva :: dribble
Slave :: ...to the bottle
Shift :: 9-5



Friday, January 21, 2005
SNIP


he learned of the procedure on the Internet
This

was irresistable.
..."CHANGE THE CHANNEL, MARGE"...

I'm being a bit of a lazy blogger at the moment, cadging stuff of others.

Here's another link that's worth following - Home Sweet Road, which promises to be the journal of a couple travelling the byroads of the vast American expanse in search of ... well whatever gets in their way. Here's the tag:


to explore the less-charted areas of America and capture what we find in words, still photography, and moving images;

to audition thousands of small American towns for the role of our new hometown.
There is something romantic and enticing about the open American road. I have plenty of fond memories of driving without a care in the world along the interestate or on a back road to nowhere. And, you do meet some intersting people. As I was discussing the other day, Americans will take an interest in a stranger. Many, especially outside the big cities, have a naturally curiosity and no hang-ups about engaging in conversation with anyone.

So, I think I'll try to follow HSR once they get on the road. One of my favourite web sites of all time is Enlightment With a Vengance - EWAV - the journal of NYC based Scott who packs up his day job and wanders across the US twice or maybe three times (sadly, Scott has dumped the site). It was a humourous, quirky, sad and delightful journal - something for blogger/journalists to aspire to.

Meanwhile...what do you mean you haven't visited Donut's Daily Daguerreotype yet?
FROM THE FRONT LINE

Daily read, Bears Will Attack, reports from downtown DC on Shrub's re-coronation.


It is Inauguration Day here in the federal city, and the air is loathsome with the iron taste of dread.
Deep depression in the District.
MORE HOUSEKEEPING

Mostly, the Donut adds links. Sometimes, though, you have to excise redundant bits from the blogroll and that. Unless anyone out there can correct me, Blogchalking seems not to have paid the bills lately, so has been erased from this blog's blackboard.
MINE'S A PINT

The Electric Landlord is a new blog I stumbled upon via the mighty Yorkshire Soul. EL is a bloke in IT who is contemplating giving up the rat race to open a pub, probably oop nawth. The blog will, hopefully, record the success of this venture.

As someone who has idlely wondered about chucking in my career and setting up a business (ok, so everybody else has too), thought it'd be a good story to follow.

(If you must ask, my idea's setting up a mailorder/online new and second hand CD and book store - and, no, it's not very original.)
Tuesday, January 18, 2005
STRING 'EM UP, THAT'S WHAT I SAY. IT'S THE ONLY LANGUAGE THEY UNDERSTAND.

I nearly ran off the road driving back from Hampshire this evening. Two black cabs drove past in succession, for hire! In South London!
Sunday, January 16, 2005
UNCONSCIOUS MUTTERINGS

Yoda :: Jim Henson
Mensa :: smart arse
Pink :: pyjamas
Text message :: imgr8
Galactic :: Milky Way
Chicks :: with d!cks
Quesadilla :: in Nicaraguan restaurant in Miami, back in 1997, the cheese quesdilla was the only item on the menu I could eat. It was one of those bar-b-q joints where they were incinerating whole sides of dead cow.
Backpack :: sore shoulders
Socket :: wrench
Compromise :: cop-out



Thursday, January 13, 2005
BLOG NEWS

Unlike this poor fellow I haven't lost my job because of my blogging. But, it was with some irony that my employer circulated its new whistleblower policy the other day. Now, I have no reason to blow the whistle. In fact, I hardly ever mention more than passing details about my job. A lot of what goes on in my job would probably be a bit more interesting than what I blog about. I have "issues" with my employer, but I've no reason to spread news about the place. So far, nothing has been worth it though the company's policy on Tsunami donations caused a raised eyebrow or two. I'll leave it to others to break this news.

Meanwhile, the Iamadonut family has a new member. Commuterland has been a bit of a bust and unless the other members disagree it will soon be cut adrift. My holiday blog never got off the ground because I couldn't get regular access to the internet.

But, for 2005 I've kicked off a new photo blog. Each day I plan to post picture which tells something about my day. It'll be part of story, something that takes my fancy, something quirky or just a pretty picture that just happened to be in the way of my camera.

Please take a look over at Donut's Daily Daguerreotype.

This week's shots...


FAMILY AFFAIRS

Heir to the throne commits a faux pas, apologises.

Heir to the throne probably involved in crime, cops a plea and flees the country.

Heir to the throne misleads millions into war, doesn't apologise, has yet to be taken to court and still runs the bloody country.

P.S. - is it just me, or is Harry's "crime" worse because it was a pretty rubbish Nazi outfit? I mean. What kind of swastika is that?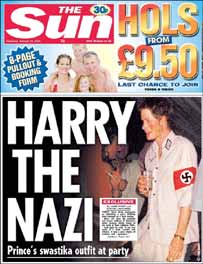 Wednesday, January 12, 2005
GRATUITOUS PORN REFERENCE (TO AID HIT COUNTER)

ITV were replaying the movie Airport at the weekend.


Passengers at an Indian airport were shocked when a hardcore porn movie was played on television screens for 20 minutes.
How's that saying go? The travelling is more exciting than the arrival?


Passengers were shocked by the sex scenes accompanied by moans and groans which echoed around the terminal.
Presumably the actors where members of the Mile High Club?

The Full Monty (so to speak)
Sunday, January 09, 2005
UNCONSCIOUS MUTTERINGS

Pistol :: Pete (Maravich)
Rick :: Astley
Full circle :: Pat Metheny
I wish :: I didn't have to go to work tomorrow
Frame :: wedding photo
Adult :: entertainment
Photography :: snaps
Stew :: Stu, Stuart the lunchbox (it's a long story)
Cheat :: sheet
Brad :: all



Saturday, January 08, 2005
STORM DAMAGE

Pales into comparison with Earth's worst, but a bit of damage our way over Friday/Saturday.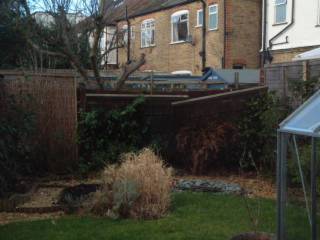 Wind damaged fence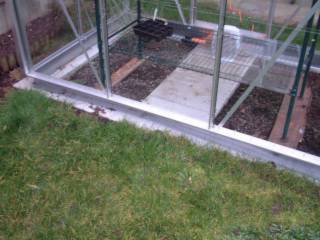 Bent greenhouse - it moved about a foot.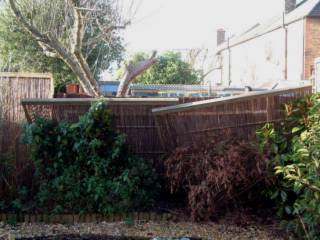 Fence clobbered by 70mph gusts.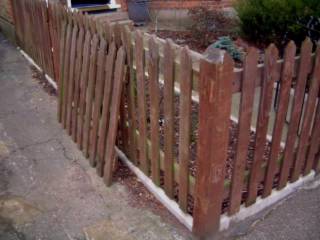 Gate ripped off it's hinges.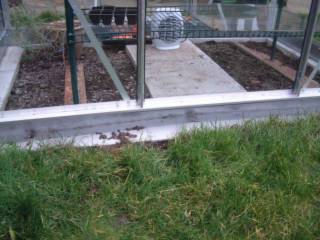 Wind damaged greenhouse - frame bent in Friday's gales.
Thursday, January 06, 2005
THAT GOAL AGAIN

For the uninitiated, Pedro "Sergio" Mendes punted upfield late in Spurs tussle with Scumchester United on Tuesday night. United's custodian, Roy Carroll, fumbled the lob. The ball crossed the line. Carroll over-dramatically retreived the ball in vain/shame - one yard over the line. Referee and linesman did not signal the legitimate goal that it should have been. Final score 0-0. Specsavers offer a discount to all Premiership officials (not).

However,


William Hill is to honour bets on 20-1 chance Mendes to score first
Only for Ladbrokes to refuse to follow suit. Meanwhile, Paddy Power (another bookie) has refunded punters who bet on Mendes scoring (why any fool would've made such a bet I do not know).

Clear?

P.S. - undefeated and 8 points from 4 Xmas/New Year matches is not that bad considering two of those matches were against teams in the top four. Though knowing we dropped two points to a soft Palace goal and two more to the Old Trafford referee curse is galling.

P.P.S. - you really ought to see that "play". In which case, why is there a picture of Carroll diving (in vain) at a sunny US stadium rather than a dank dark Theatre of Dreams (sic)?

Wednesday, January 05, 2005
WHERE'S THAT BLOODY RUSSIAN LINESMAN* WHEN YOU NEED HIM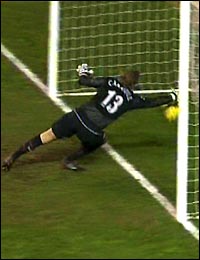 the most amazing blunder ever by match officials
according to the Currant Bun. I reckon it was the worst one since Sol Judas scored against Portugal (N.B. I ain't lovin' it).


[FIFA] President Sepp Blatter (sic) is convinced [a micro-chipped ball] could stop any repeat of last night's Old Trafford fiasco.
It's the old "technology can solve it" gambit. The Donut's solution? Get bloody better referees and line-os.

* - of course, he was an Azeri, not a Russian, but back in Soviet days there wasn't such a distinction and the Russian "slur" stuck.
Tuesday, January 04, 2005
TIDYING UP

Well, that's one New Year's resolution out of the way:

Cleaned up the Blogroll. Sorry if your blog has disappeared from the roll. I checked through all the blogs and discarded those 404s and a few moribund blogs, but kept a few of my favourites which are quiet. Drop a comment or an e-mail if you want to link. The easy way to blogroll the donut is to click this link.

Today, I signed up to BloggerBot which looks a really neat way to post pictures. I can already post to Blog*Spot because I signed up for a "premium" account some time back.
ALLIGATORS IN THE MIAMI, IT'S NOW SAFE TO INVADE TOILETS

Miami Herald columnist, Dave Barry, is taking a rest from toilet humour. Here, he reminisces on his literary career. (Registration may be required.)


After I made fun of North Dakota, the city of Grand Forks, N.D., invited me up there one January, and, in a deeply moving (also deeply cold) ceremony attended by a crowd of dozens, the mayor of Grand Forks, Mike Brown, dedicated a new sewage-lifting station in my honor.
Thankfully, for all those in need of exploding toilets and other hilarious funny things from life, Dave's weblog is still running, so items like this will still whiz around the interweb.
CAN SPAM

A web site devoted to poorly drawn cartoons based on spam e-mail titles.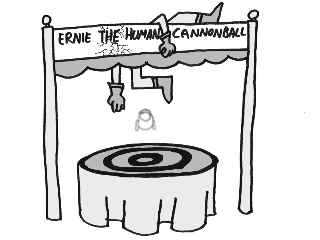 This is why the internet was invented.
Monday, January 03, 2005
D'OH IS FOR Y

Just when you thought it was safe...

Ok, I forgot Neil Young's "Harvest" from way back in 197-uhum. The tracks "Harvest", "Heart of Gold", "Alabama" and "The Needle and the Damage Done" - pretty good. "A Man Needs a Maid" (title?) and "Words (Between the Lines of Age)" - jeezsch!

Somethings (and people) don't age well.

Whilst we're on it, I still don't forgive Young for bunking out of a gig at the Brixton Academy a few years ago. Bum.
Sunday, January 02, 2005
REMEMBER THERE'S A BIG DIFFERENCE BETWEEN KNEELING DOWN AND BENDING OVER


Those Jesus Freaks
Well, they're friendly but
The shit they believe
Has got their minds all shut
Frank Zappa concludes this journey through the musical alphabet.


Do what you wanna
Do what you will
Just don't mess up
Your neighbor's thrill
That is all...
X IS FOR ECSTACY

Inevitable, I suppose, that XTC marks the spot. Once a fine pop band from Swindon, compared with Ray Davies' Kinks, and tipped for superstardom. The story goes that singer/songwriter/bandleader Andy Partridge suffered terribly from stagefright. His affliction stopped the group from touring in the early eighties and that put paid to aspriations of greatness.

Maybe.


I put a bullet in his sugar head
He thanked me kindly
then he lay down dead
Phoney roses blossomed where he bled
Then all the cheering angels shook my
hand and said
"Wasp Star" (Apple Venus Vol. 2) was hardly the group's best effort.


I'm the man who murdered love
Yeah, what do you think to that?
I'm the man who murdered love
Yeah, what do you think to that?
WISDOM FROM "HARRY" - ER, NOTHING TO DO WITH POTTER

Pete Astor is yet another of the burgeoning list of man in the attic recording artists. Astor records under the moniker The Wisdom of Harry. It's my CD collection, so Harry's going to be a bit quirky. "House of Binary", one of the CDs on the mini-disc, is somewhat lacking in spirit. In contrast, "Stars of Super 8", the first release, bustles with ideas and good tunes. Binary is the Coldplay to Super 8's Travis.

Whatever happened to the guitar band?
V IS FOR CRAZY FINN

Time to mop up the rest of the alphabet. Truth be told, I finished ploughing through my A-Z of the CD collection in about mid-December. Taken this long to get my brain (and rear) in (sort of) gear to finish the list.

"Ode to the Death of Jazz" filled the best part of a mini-disc for a day or so. Gives the chance to open up the debate about the origin of the tango. Apparently a debate rages between Argentina and Finland about the origins of this seductive dance music. Really, I kid you not.

Edward Vesala, a man with serious Coke bottle glasses, encourages the debate with a few tango inspired tracks on this ECM platter. But, as Vesala is one of music's most quirky composers, not quite the usual take on the tango. The accordion plays notes you think it shouldn't. And, when it should, it doesn't.

Vesala is listed as both composer and percussionist. Not many composer/perscussionists about. Vesala was much the quirky character.

This is an ode not so much to the death of jazz, as to the individualistic nature of Vesala's sometimes difficult, sometimes comical music.
UNCONSCIOUS MUTTERINGS

Newspaper :: Gruaniad
DVD :: The Prisoner
Resolution :: New Year's bollocks
Intimate :: undergarments
Song :: No. 2
Essential :: undergarments
Whistle :: rocket (one just exploded outside!)
Glass :: onion
Countdown :: Richard Whiteley
Child :: prodigy