Monday, June 28, 2004
MORE EURO 2004 HUBRIS

Unfair Refereeing Swiss Makes Every Impressionable Englander Rage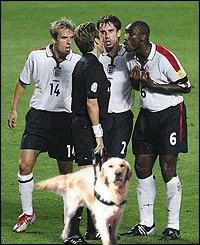 Yes, I know it's been around the web since Thursday night, but it's still funny. via We Were Robbed
Sunday, June 27, 2004
EURO 2004 UNCONSCIOUS MUTTERINGS

Lounge :: where I watch in horror as Postiga scored that equaliser
Photograph :: pictures of Beckham, head in hands
Catacomb :: where poor Darius Vassell would like to bury himself
Crucifix :: how many Portuguese players crossed themselves before Thursday's match
Fire drill :: all hands to the deck as England defend
Tube :: Metro, Standard, Mail, Sun headlines on the day after
Dropped :: Figo, jettisoned - in his place, Postiga
LTD :: Utd surely...
Panther :: Rooney, the man
Formica :: no, 4-4-2



REFLECTIONS ON LISBON

Hotspur Electrifies Lisbon Downing English Resistance

Portugal Overcome Stubborn Tackling Inglês Galaticos Aargh!

THE LIFE AND TIMES OF HELDER POSTIGA



My friend, Mees-ter Hod-ell, believe in me. He very funny man.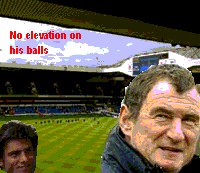 Pleat. He sex-fiend.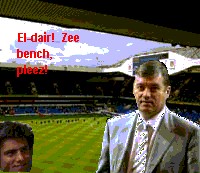 My future bright after Euro 2004!
Saturday, June 26, 2004
I HAD A CHEESE SANDWICH TODAY

The dullest blog in the world.

via Knobby
THE POSTIGA ALWAYS STRIKES TWICE

Without a hint of irony, Spurs sent me the latest club newsletter yesterday.
Friday, June 25, 2004
WHO'S LEG DO YOU HAVE TO HUMP TO GET A DRY MARTINI AROUND HERE

Lacking blog inspiration, Iamadonut turns to the old quiz standby...



Which Family Guy character are you?

via Scornfate
Monday, June 21, 2004
WARNING: FOOTBALL/SOCCER POSTING

Okay, so I didn't make any predictions beforehand, but believe me when I say that France and Portugal were my pre-Euro 2004 favourites. Perhaps if I add in that Spain were my dark horses (they're always my dark horses on the basis that they must win something at sometime, musn't they?), you might believe me.

France and Portugal remain my favourites. Can I add in Germany as my new dark horses? Are you allowed to claim Germany as a dark horse?

This has got to be one of the worst German sides in any major tournament. Okay, the Euro 2000 team might have been worse. The World Cup 2002 side made the final, but had such an easy ride there that they were flattered.

But, I've got a nasty feeling that the Germans will hit a spawny patch. Their next opponents, the Czechs, have already qualified for the quarter-finals. Holland should beat Latvia 18-0. But, that'll make no difference if the Germans can ease past what's likely to be a below strength Czech side.

And, watch out for the distinct possibility of Germany coming up against England in the Semi-Finals.

Of course, the latter relies on England avoiding a banana skin against the skillful and dogged Croatians. I hate games against these kind of teams. There's bound to be at least one sending off and one player reaching his second yellow card thereby missing the quarter-final. This blogger has a sneaking feeling that Croatia will win 2-1 overcoming an early goal by Rooney (who'll go on to get booked).

Portugal: uninspiring. Figo looks a tired player and Nuno Gomes aside the host nation did not look sharp. If I see one more Ronaldo step-over I think I'll be sick.

France: also uninspiring. Zidane has been a tower - overcoming his poor form for Real this season. But, several French (Thierry Henry, raise your hand) look like they don't fancy it.

All is bound to change in the knock-out phase.

STOP PRESS: Owen Hargreaves has recovered from the shits and will be available on the bench. Good news, methinks.
ICH BIN EIN BERLINER

The blog that ranks third in Google searches for "body piercing places around kempston".

Try a cork and a needle...
Sunday, June 20, 2004
NOW, THAT'S WHAT I CALL MUSIC

This blog is doing its bit for the long overdue Prog-Rock revival.

Today's playlist makes the case for guitar solos, keyboard noodling and sequined capes:

1. The Wire Tapper 11 - latest collection of goodies from music's left field - including Jah Wobble, To Roccoco Rot (that's a palindrome, y'know), Green Milk from the Planet Orange (hmm, yeah).

2. Laika "Silver Apples of the Moon" - best group named after a astromut.

3. David Sylvian & Robert Fripp "The First Day" - ex-Japan man teams up with Mr Frippertronics for a slice of new-Age-y/Prog Rock grooving.

4. Locsil "Triple Point" - excellent ambient/electronica from the Kranky label recommended by a geezer in Smallfish Records.

5. Robert Fripp "A Blessing of Tears - 1995 Soundscapes - Volume Two - Live in California" - Mr Fripp updates his trademark looping guitar pieces through the latest technological gizmos. Back in 98 I drove from DC up to Philly for a Fripp Soundscape double bill. In the second set I sat on cushions placed around the great man. His jeans could have done with some good ironing.

6. King Crimson "Live in Central Park, NYC 07-01-74" - Crimson at its zenith: the seminal 73-74 lineup in its last ever gig. Fripp controlling all from his seat stage right. John Wetton's booming bass and strangled vocals. David Cross, by then marginalised in the group, his violin struggling against Wetton's bass. Backed by one of the best rock drummers ever, Bill Bruford. "Fracture" still sends shivers down my spine.

I last saw Fripp in the Central Lobby of the Houses of Parliament sitting with wife Toyah Wilcox waiting for who knows what.
MEANWHILE, BACK AT FREDDY WATCH




"Fifteen-year-old Freddy Adu served as a reserve for the second consecutive game...

It's a team game, Freddy. Celebrate the victory.
WAKE UP AND SMELL THE, ER, BREAD




I'd describe the smell of baking bread, but a picture tells a thousand words.
DAY 17: SWISS MISS

Why did you do whatever it was that you did?

More a case what I didn't do: failure to press the right buttons to tape the England-Switzerland Euro 2004 soccer clash.

What did it mean?

Missing the second half though I was able to watch the first half on a small TV at work.

What went through your mind when it happened?

My mind was a complete blank.

Why did the wheels come off?

At 7:30 in the morning there's too much to think about - wash, boil, eat, drink, brush, gel, dress, iron, water.

What did you tell your mother about it?

Mum has hearing troubles so recalling the tale would be too much for a phone call.

What, more importantly, were you unable to tell your mother about it?

Mum can handle it.
(BUMPER) UNCONSCIOUS MUTTERINGS

with a gardening feel...

Abundance :: bumper harvest
Casino :: (Jersey) Royales (geddit?)
Shell :: cover those delicate sprouts
Overpriced :: produce
Cancellation :: John from Cetral Gardens who was supposed to erect our greenhouse
Eternal :: perennials
Lyrics :: "...blowing in the wind..."
Faith :: that the tomatoes will fruit
Because :: we want our own, home grown, semi-organic vegetables
Wimp :: out of weeding

meanwhile, in Week 71...

Colorblind :: all men are...
Shallow :: grave
Erotica :: posh word for porn
Figment :: see above
Eviction :: [sigh] Big Brother
Composed :: decomposed
Chill :: margarita
Girl :: go girl
California :: the O.C.
Bond :: licenced to kill

and whilst we're at it, Week 70...

Charity :: NGO
Scale :: fish
Jennifer Lopez :: no talent bum
Coercion :: see charity
Meter :: metre, even
Pressure :: 980 millibars
June :: of 44
Infestation :: ooh, bugs!
Serial killer :: don't take it out on Corn Flakes
Anguish :: 90th minute, 13 June, Lisbon's Estadio do Luz...



Saturday, June 19, 2004
PICTURE TIME





Beautiful summer twi-light in Sarf London.
Tuesday, June 15, 2004
SPORTS NEWS





Gooooooooooooal! Van Nistlerooy levels the score for the Dutch - an undeserved draw.
Monday, June 14, 2004
RED SKY AT NIGHT...





End of a long day...5:15am start for a day trip to Bruxelles/Brussel.
Tuesday, June 08, 2004
MARX OUT OF TEN

Calling all Marx Brothers fans: quiz at the Guardian site:

You scored 8 out of a possible 10
You are Harpo, the silent, soulful heart of the Marx Brothers. There's little you don't know about the siblings' life and times. Trouble is that you have trouble articulating it

"Honk, Honk"
WORLD NEWS UPDATE

Q. Patti, Covington, IN
Can Barney swim?

A. No, Barney does not swim. He has three layers of hair, so to make sure he doesn't sink, he doesn't try swimming.

More "first" dog crap.

What I want to know is whether the mutt "marks" his territory around the Oval Office ... to add to Bubba's semen stains.
Monday, June 07, 2004
EVERYTHING IS LOVELY IN THE GARDEN

"There's only one thing better than beating the Poms at cricket," writes Aussie regular Neil Stork-Brett, "and that's seeing our ugly dwarf cousins the Kiwis getting a good stuffing from anyone. Looks like I might get to bed at a reasonable time tonight."

Crikey!

England beat the sad Kiwis (poor old Papps has to bat with a broken finger, but surely Vettori could have been wheeled out and had a runner?). Er, are England now the cricket world's number 2?
Wednesday, June 02, 2004
TREBLES ALL ROUND

Amused to see that Network Rail bosses have taken their respective bonuses despite the company failing to meet its targets for train punctuality. Apparently it's okay because the company (or public corporation or whatever it is) met its financial targets: i.e. they only lost £758 million despite taking the tax payer for a (metaphorical) ride.

"All staff will receive a bonus on their salary, which is worth around £100,000 at chief executive level."

Wouldn't have been fairer to all around if they could take their bonuses if they met all of their targets?
DRUG NEWS

"HARDCORE addicts are turning to cow dung and a concoction of Panadol and carbonated drink as alternatives to drugs..."

All I've gotta say is I hope that's good shit.