Monday, November 29, 2004
REVERB

Quick recap for new readers: a mini-disc a day (more or less) filled with as much as crammable, A-Z, in order, one disc per letter (more or less).

Mark Beazley makes up the "group" named after intense colourist Mark Rothko. This "R" were originally a trio of bassists. Nowadays Beazley paints intense and large swatches of colour, sonic tapestries, gentle layerings of bass and electronics. Two lovely examples here: "a continual search for origins" and "a negative for francis".
Sunday, November 28, 2004
GREEN FINGERS

Just in from the greenhouse...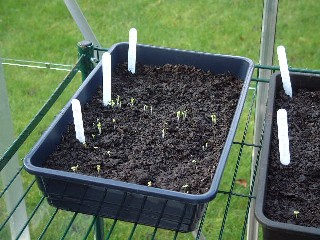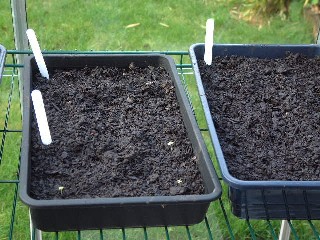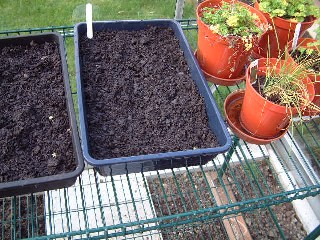 Chard, rocket, lettuce, spinach and other green stuff.

UNCONSCIOUS MUTTERINGS

Limited time only :: not available in stores
Voluptuous :: Diana Dors
Nutritionist :: calories
Belt :: way
Star crossed :: lovers
Snakeskin :: boots
Athlete's foot :: Fungus the Bogeyman
Boom :: boom, shack-a-lack-a-lack-a-lack
Freezer :: burn (ironic, huh)
Store hours :: closed for lunch



Thursday, November 25, 2004
ER, HAPPY THANKSGIVING

...to any American readers out there. (Canadians, of course, had their Thanksgiving last month.)

Being a veggie, I don't eat turkey. I seem to have an intolerance to pumpkin pie. Being an atheist too, not really much into the giving of thanks bit. However, when I lived in the US I did partake in that quasi-religious festival of day after Thanksgiving shopping.

More humbug to follow - I'll get started on Christmas soon.
NO PUSHING IN THE QUEUE

No Queen, Queensryche, Queens of the Stone Age...

Not a Q on the shelves.
Tuesday, November 23, 2004
"P" IS FOR PAJO

That's Dave Pajo, formerly with legendary post-punkers Slint and more recently teamed up with Smashing Pumpkins front man Billy Corgan in the rather forgetable Zwan.

Pajo's reputation has survived the Zwan era thanks to his continuing excellent work as Papa M - one man, many instruments, occasional guest, several former aliases (Band Called M, Aerial M). There have been a couple of Papa M longplayers and a host of singles and EPs. It was his "tour singles" collection, plus the quirky Travels in Constants, disco laced effort that filled up the mini-disc last week.

In contrast to the bombastic Zwan, Papa M is stripped down acoustic guitar driven folk/country with warm melodies. Pajo has gone through several phases, including a period of bog standard post-rock near wankiness. He's moved on these days to a simple little middle America groove of good songs, grade A drugs and down home vibe.
(NOT THE) UKRAINE AND OTHER STUFF

The full story of an extraordinary night in Kyiv.

Given my attention to events in Georgia last year, perhaps I should have been following this.

But, I'm a bit tired and not all that enamoured with democracy at the moment. After all we live in a fucking police state run by madmen* planting bogus terrorist stories.

Well, who's for marching on Parliament to protest the result of next May's election?...And, who exactly would we be heralding as our new saviour?

* - I could have said bug-eyed madmen, but that would very un-PC.
Sunday, November 21, 2004
UNCONSCIOUS MUTTERINGS

Reconnect :: brain patterns
Gearshiift :: cluutch
Mania :: railway
Manhattan :: 24 dollars
First date :: Susan, 13, braces, attitude
District :: Line
Yearbook :: awful picture
Breakup :: iceberg
Episode :: One
Costume :: drama



Friday, November 19, 2004
DON'T FORGET TO FLUSH

Today is World Toilet Day.

Please refrain from saying it's a load of crap and, gentlemen, seat up when peeing - seat down when leaving.
Thursday, November 18, 2004
IT MEANS NOTHING TO ME...

It mean nothing to me!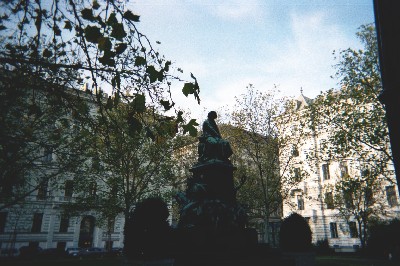 AHHHHH! VI-ENNAR




World Capital of Musick.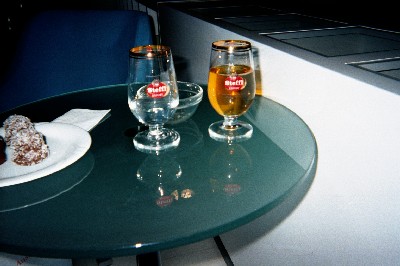 ...and here's ein Steffl bier.
Tuesday, November 16, 2004
"O" IS FOR THE O.C.

Er, not really.

Instead, it's more psychedelic stuff, this time from Olivia Tremor Control - "Black Foliage: Animation Music Vol. 1". Seem to have a rich vein of this kind of stuff. Lots of references to the Beach Boys and other sunny harmonies from the 'Sixties.


The Olivia Tremor Control arose from the remnants of the now-defunct Synthetic Flying Machine (who themselves were the remnants of the even more defunct Cranberry Lifecycle.
So, now you know.
Sunday, November 14, 2004
RAILWAY ECONOMICS

Heathrow Express: 15 minute journey, service every 15 minutes, price £25 return.

Vienna City Airport Train (CAT): 16 minute journey, service every 30 minutes, price €16 return (about £10).

London Underground service to Heathrow: 35-40 minutes, price Zone 1-6 day fare £3.80.

Vienna local train, 22-24 minutes, price €3 single (about £1.70).

Update: Brussels Airport to Brussels Central, about 10 miles, a long bloody time, €2.60.



THIS, THOUGH, I'M SURE IS IRONIC

Crazy loon, Richard E Grant, doing commercials for favourtie store of the great unwashed, Argos.
I'M NOT SURE IF THIS IS IRONIC

Snatches of music turn up in unusual places. The mighty Mogwai featured in a BBC documentary about drug abuse a while back.

Austrian Airlines, mein hosts for my recent trip to Vienna, use snatches of Pan American's 360 business/360 bypass (on the damn fine Kranky label) as "mood" music when you board the aircraft.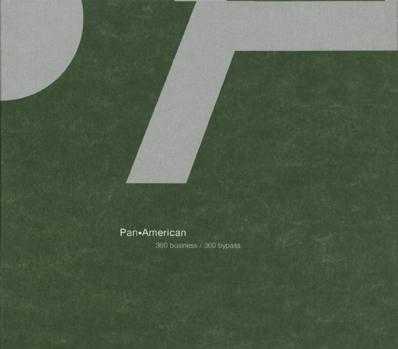 UNCONSCIOUS MUTTERINGS

Childhood :: bad haircuts and long finger nails
Ransom :: midfielder for Man City in the 80s
Melissa :: Allman Brothers' Band
Trust me :: I'm an Antidisestablishmentarianist
Report :: card
Give up :: resistance is useless
Nightgown :: the Home lost my mum's...
Smokes :: too much
Cookies & cream :: Ben & Jerry's Ice Cream
Gameshow :: host



SONGS OF PRAISE




Warning: I am in an ironic mood.
Wednesday, November 10, 2004
"N" IS FOR NEW SHOES

After 10 years or so of mediocrity, German hard rockers The Notwist reinvented themselves as post-rock sweeties and put out "Neon Golden" a few years back. Lots of polyrythms, unusual instrumentation and obscure lyrics.


Neon Golden is replete with textured sounds, drifting (and occasionally driving) pulsations, and mesmerizing hypno-rhythms. It's been quite a while since the last time I actually felt I've been with a record like this. Sounds odd, but that's exactly the feeling I've received over the last two weeks. And when you've got that much time to spend with a record, it becomes an entity in and of itself. Most times with a record review, you get a few precursory listens and then by number five or six, you're spitting out a review. Not so here. With well over fifty listens to this disc, it's like a relationship has begun to spring forth out of the ether. I guess you could say Neon Golden and me have become well acquainted and it's already akin to hanging with an old friend. Given that amount of time, realizations occur. One of my first was that, in many ways, this record is about textures: electronic bleats, pulsing waves, the mixture of organic instruments with digital blips and loops, and most notably the serenity of Markus Acher's voice.
Quite a change of pace. For the better.
LUMP IT UP THE FIELD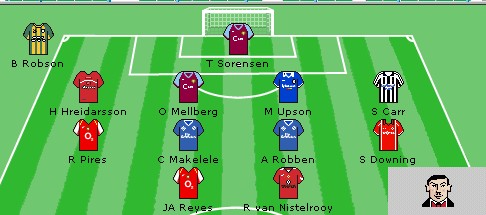 Poor neglected boys, languishing mid-table in the Guardian Unlimited Fantasy Soccer League.

Chairman Colin Combover has brought in drinking pal top flight manager, Bryan Robson. GBH had got just about all there was to get out of Harry Redknapp - should've dumped him immediately after the Man U win. Robbo is a temporary measure - and he was the only affordable option (unless you count Ian Dowie or Steve "will he last the south coast derby" Wigley).

In midfield, "Combs" transferred the underperfomring Simon Davies. In his place comes Stuart Downing, whose price has shot up nearly 3 million - a million in demand alone. Arjen Robben is a not very straight swap for Francis Jeffers.

There's still a few passengers - step forward Stephen Carr and Hermann Hreidarsson. But, Combover needs to winkle out a few more tenants to raise some cash.

Clever readers will note that there are now no Tottenham players in my squad and two Arse cloggers. The shame of it.
Tuesday, November 09, 2004
MORE "M's"

To recap, I'm trawling through the alphabet in the CD shelves. Each day or therebaouts I record a mini-disc of a selection from one letter. Given a disc takes 74-80 minutes, sometimes it's two CDs or parts thereof.

For the letter M, I cheated a bit by recording two discs. There's a good selection and recording Thelonius Monk's classic 1956 "Brilliant Corners" whetted the appetite for more jazz. I chose a trio that pushes boundaries as much as Monk: Medeski, Martin and Wood. "Uninvisible" sees them welding hip-hop beats and sampling to good jazz-funk grooves.

Double pleasure. Just don't say M&M.
Monday, November 08, 2004
"L" IS FOR LOVE (WHOLE LOTTA)

The greatest rock band in the world™.


There's a feeling I get when I look to the west,
And my spirit is crying for leaving.
In my thoughts I have seen rings of smoke through the trees,
And the voices of those who stand looking.
Ooh, it makes me wonder,
Ooh, it really makes me wonder.
"K" IS FOR KING

Might that be Convenience, Leon, Crimson, B.B., Carole or Albert?

Next on this little trawl through the musical alphabet winds up in post-rock psychedelica land. Kingsbury Manx have produced two delicious slices of dream music - their eponymous first album and "Let you Down".


"By that time we were sick of the slow & quiet," says the band, something made evident when the big, white noise guitars answer the line "I'll stay quiet" at the end of the second verse. Sick of the slow and quiet? Say it ain't so...
OK.
DATELINE: WASHINGTON

Coyotes Roam, Not Far from White House


Coyotes, the rangy animals associated with the American West, have been spotted in the U.S. capital for the first time, sparking gossip in precincts where talk usually turns on politics.

"Unlike the cartoon character [Wile E. Coyote], they're not dumb..."
Unlike, Mr Shrub.
Sunday, November 07, 2004
...AND THE SPURS GO MARCHING ON...

...or as the Mirror headlined:

"Santini Jacques it in"

So, it's back to Tottering Clotspur. What is it with this club that just cannot sort itself out off the field. Meanwhile, on the field Spurs continue the pattern of conceeding a first half goal and having to chase the game for an hour or so.

Nice quote in the Gruaniad:


"I don't have Sky or anything in the hotel."
Having started a new job recently, I have a bit of sympathy with the upheaval caused. But, no Sky?

Update: "For He's a Jol-ly Good Fellow"

Martin Jol, who makes Andy Gray look pretty, looks set to get the top job full-time. Roll on the summer when he quits too.
UNCONSCIOUS MUTTERINGS

Small Talk :: Elephant Talk
Evidence :: forensic
Drifting :: log
Hostage :: to fortune
Beauty :: is in the mark
Automatic :: for the People
Asking for it :: one digit salute
Visene :: smoke gets in your eyes
No string attached :: void were prohibited
Frizz :: 80s hairdo



Saturday, November 06, 2004
"J" IS FOR JOLLY ROGER

Don't ask me why, but late '90s indie-rockers June of 44 had a seafaring fixation. All the more incongruous given they hailed from Kentucky or Chicago (or somewhere a long way from the sea).

"Tropics and Meridians", released in June of '96, contains June of 44's crowd pleaser "Anisette" and a nice set of home made, seafaring inspired stamps.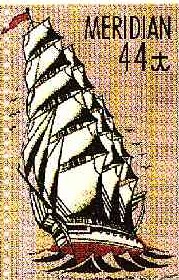 June of 95 saw "Engine Takes on Water". No stamps, but more of the same hard edged indie-rock.

Postscript: Shortly after June of 1999, Jo44 dispersed. Jeff Mueller and Jason Noble went on to follow up their other seafaring inspired creation Shipping News (yep, named after Annie Proulx's book), sometimes known as RMSN.
"I" IS FOR IBUPROFEN

Scots boys have been raising havoc in my earholes for the last day or so. Idlewild pump out high energy, thrashing about noise. "Hope is Important" and "100 Broken Windows" were part of a major purchase of Idlewild's catalogue on a return visit to the UK. I can't quite remember the review that piqued my interest, but I must have been impressed to scoop up three of long players and a single.


It felt cold inside, so we threw the radio onto the fire
It felt good to watch it, burn away to nothing
Thursday, November 04, 2004
BUSH WINS, PLANET LOSES

Blogger went pop last night probably everybody trying to post taunts or cries following the Shrubster's win. So you missed out on my rant, lost in the ether.

In a nutshell. Congrats Dubya. We'll be watching you and taking you to task. Your policies have a direct impact on all of us and not just Iraq or the Middle East. The US is responsible for most of global carbon emissions linked to global warming. The science connecting the two is not 100% conclusive, but it's pretty convincing. By the end of the century we could be sweletering or swimming in Britain. Are you willing to take the risk, Mr Shrub?
Tuesday, November 02, 2004
BLOG UPDATE

Fixëd the archives. Now you have access to all 900 posts done here by the Donut.

Meanwhile, it seems like MyMediaList has gone knackers up. So you can't see what I'm reading (Edward Abbey's classic tale of anarchy in the American West "The Monkey Wrench Gang") or listening to (a load of noisy young men called Idlewild).

Any road, it's about 105,000 words on this blog. That's a lot of steam let off, a shed load of twaddle and nonsense. Going by the 80:20 rule (or it could be 90:10), that means there's maybe upwards of 100 or so decent posts. Or, it could be that rules applies to blogs and not posts. In that case, why are you here?

This site does get a bit of traffic - maybe 20-30 hits a day. I know there are a few regular readers. Hello out there! Then again there's quite of lot of speculative traffic from Google and other search engines. I hope you found what you were looking for.

Could I ask just one more thing:

leave a message or post a comment just to say "hello".
ELECTION LATEST

After much time and effort and at great expense, the Donut has managed to track down the undecided voter in Florida whose vote will decide today's US Presidential Election. Here's the transcript of the phone call this morning:

I am a Donut: Hello, is that Mr Ratzenkatzer?
Ratzenkatzer: Uh, what time is it?
Donut: This is the I am a Donut blog, Mr Ratzenkatzer. From England?
Ratz: England? Where's that? (er, Honey, what's the time?…)
Donut: It's a small island off the coast of Maine.
Pause
Ratz: Hey asshole, it's four in the morning!
Donut: Mr Ratzenkatzer, I understand that you are the final undecided voter in the United States.
Ratz: (I dunno, this guy says he's selling donuts or something…)
Donut: Hello. Mr Ratzenkatzer. Can I trouble you about how you might be voting in the election?…
Ratz: Erection? You some kind of pervert?
Donut: …for President of the United States.
Pause
Donut: Mr Ratzenkatzer? Do you know there is an election?
Ratz: …Election?…
Donut: That's right, Mr Ratzenkatzer. For President. Bush versus Kerry. Haven't you seen the lawn signs?
Ratz: Er, I thought those Bush signs were left by gardeners. You know, where they were going to plant a shrub.
Donut: What about Kerry?
Ratz: uh, Kerry? Oh, that's Spanish for shrub isn't it? Y'know we gotta lot of high-spanics around here.
Donut: No, Mr Ratzenkatzer. They are the candidates. For President. Leader of the Free World.
Pause
Donut: Don't you watch TV?
Ratz: er, um. What's a Nader?

UPDATE: Mr Ratzenkatzer said he would vote, but then couldn't decide how to get to the polling station.

In fact, there are nine voters who will decide the election. Their names are:

William H. Rehnquist
John Paul Stevens
Sandra Day O'Connor
Antonin Scalia
Anthony M. Kennedy
David Hackett Souter
Clarence Thomas
Ruth Bader Ginsburg
Stephen G. Breyer
Monday, November 01, 2004
ELECTION FEVER

...And for once I'm not focussing on the former Soviet Union. Though, yet another crooked election took place over the weekend - this time, Ukraine.

Back in the US of A, it's down to the wire and all the pundits are predicting a close race. Thanks to the Bears Will Attack campaign blog, here's a link to an excellent poll of the polls site. Great analysis of the numbers and, if you believe polls, it shows Kerry scraping through.

I say "polls be damned". Remember 1992? John Major was about to become the shortest serving PM in the UK. Neck-and-neck said the polls. Despite Labour clawing back at a huge deficit, they just couldn't push that final mile. Major's last minute campaigning was credited as saving his bacon; Kinnock's "Presidential" rally in Sheffield was instrumental in turning off voters said the critics.

Balderdash, methinks. Plain and simple - the polls got it wrong. For all the scientific precision of polling, there are just too many variables and too much margin for error. In that infamous '92 election, it became clear that a large number of people simply lied to pollsters. Variable that one.

For this and other reasons, I'm distrustful of polls. They are only an indicator. The only poll that matters... Well, you know the rest.

My gut feeling remains that Kerry, even with a surge of support since the debates(according to those polls), will fall considerably short. Like Gore before him, he's a Washington insider. My pet theory is that those inside the Beltway start with a handicap in a national poll. Clinton and Bush Lite have shown that - and before them Reagan and Carter.

Incumbents are difficult to beat in any election. Recent exceptions include Bush Sr, who won the first Gulf War, but got blamed for an economy in the tank and ran up against a man with charisma (and a rocket in his pocket). Carter lost mainly because he botched the Iran hostage crisis. In turn, Ford lost to Carter because of Watergate.

"But what about the Iraq fiasco" you might ask. Does that make Bush Lite vulnerable? Of course it does. However, you've got to ask about who's running against him. I just can't see Kerry as an alternative to Bush. Despite being criticised as a liberal and a flip-flopper, I think on Iraq his hands are pretty much tied. If he tries to extricate US troops, it will look to much like the humiliation of Vietnam. My guess is that he'll have to tough it out much like Johnson had to (though Johnson's continual micro-management of the war, blundering and reliance on hawkish advisors sealed his fate).

Bush will probably win wholly on the strength of the new world order since 9/11. Heck, don't change commanders-in-chief when we're "winning" the war.

Check out what former blogger Howard Owens says. Howard is a conservative, libertarian even. Despite his dislike of Bush on several counts, he'll vote for the guy who he thinks is most decisive on Iraq. I don't share Howard's view on Iraq, but I do agree that Bush appears more decisive. Only, in my view, he's taken the wrong decisions, which is why he deserves to be dispatched with undue haste.

Kerry, although a bit more animated than Gore, and certainly running a better campaign than the former veep, still won't overcome the DC handicap and fighting against a war president.

I do hope I'm wrong. Kerry wouldn't be my choice, but Bush's conviction, good vs. evil politics are anathema.

I also came across Republican Switchers, a site devoted to persuading conservatives to vote Kerry. Sort of countering the Zell Millers of this world.

The Guardian ran a story over the weekend on all those UK Conservatives supporting Kerry. Seems it's a tactic to isolate Blair over Iraq. Er, I thought the Tories would have supported the invasion (WMD or no)? Oh that's right, the Tories haven't got a f@cking clue.

Of course, Bush can count on the support of a leading Iranian politician and that nice Mr Berlusconi.